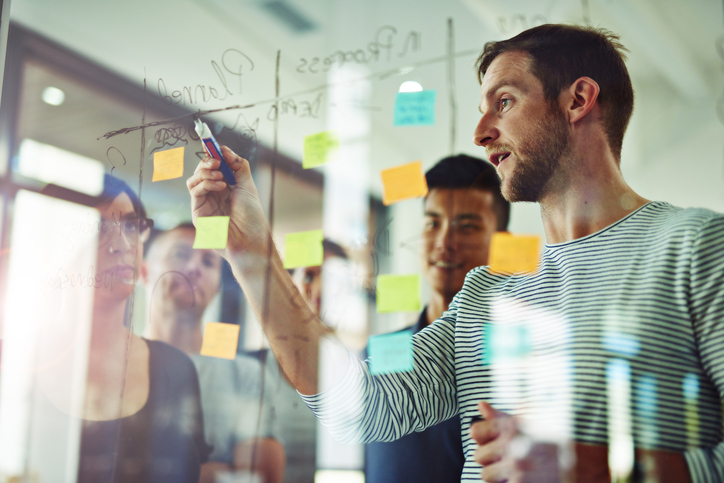 8 Steps To Winning Repeat Attendees: Part 1
Are you keen to climb the career ladder? If you'd like to land a new job in 2017 or position yourself for a promotion, this is the post for you.
We asked 10 senior managers from across the event industry just what it is they're looking for when recruiting new team members.
Read on to discover what they believe to be the most important skills for event managers in the current day and age. Use their advice to shape your job applications and to identify areas for development, ensuring you've got what it takes to make it to the top.
Download: The Essential Event Leadership Pack
Juliet Freud, Head of Event Planning, The Brewery
Leadership skills
"Regardless of your role or position within the company you need to be able to manage – whether its expectations or people. That could be supporting and directing a junior colleague, or organising your senior manager so they can advise you in a punctual manner.
"At times you'll need a thick skin, so take things on the chin and move on, but don't be afraid to be the person that gets stuck in and challenge yourself.  While it puts you in the firing line more often, it'll be recognised and rewarded.
"It's important to be able to think on your feet too and have the ability to be proactive and reactive to things; being a good juggler wouldn't go amiss either. While you cannot be in two places at once, there will be occasions where you are dragged in different directions by more than one person, and being able to monitor and appease scenarios when they arise is something that should be learnt quickly."
Tracy Skinner, Head of Sales, Newbury Racecourse
Customer service skills
"Customer service matters more than ever. Out of all the skills we now need to succeed in the workplace, I believe this is the most important one. It's particularly fundamental because 'good customer service' itself is made up of so many essential character traits and skills. Without the patience to help customers, the attentiveness that motivates you to go the extra mile, clear communication skills, the crucial knowledge of your product, positive language, the ability to stay calm in a crisis, time management and tenacity (I could go on), what are you left with?
"At Newbury Racecourse, as a sporting venue we are aware of the competition in our sector. We deal not only with our existing customers who are with us every year, but also a new and growing casual market that is using racing as a popular leisure activity.
"Exemplary customer service shows that you care about getting things right. It also illustrates that you are willing to keep working at something, until it's right, and that you acknowledge the customer is the one who decides when this is, too."
Jon Noonan, Group Sales Director, Eventist Group
Resilience and work ethic
"It sounds surprising and perhaps obvious, but resilience and a strong work ethic are absolutely crucial. In today's competitive markets and with uncertain times ahead, resilience is the ultimate tool whole teams can use to ensure success; not just through challenging times, but through positive ones too.
"Closely linked to this is a strong work ethic. It isn't always enough to rely on expertise alone, and so at Eventist Group we work incredibly hard to build the relationships between all team members, so that all members of staff feel truly invested in the business and its success."
Christopher Cashman, Sales and Events Manager, LSO St Luke's
Communication and time management skills
"It's important to be able to discern the needs of your client, ensuring that all parties share the same expectations. In addition to listening to and understanding what your client is looking to achieve, you must also be able to communicate that concept to external parties such as AV teams and caterers.
"Managing an event can require the coordination of a number of responsibilities and moving parts, often within pressurised time frames; so good time management is essential. Being solution-oriented is also important. In any event, things can change within a moment's notice. A good event manager is able to think on their feet in order to solve challenges quickly and with the resources at hand.
"A lot of these skills can be developed on the job and ultimately, nothing beats hands-on training. However, a degree will undoubtedly equip you with some key skills such as time management and the ability to work in an organised and structured way."
Judith Sloane, Deputy Manager, Meet Cambridge
Creative, strategic and analytical thinking
"Creativity is important. Delegates want value for money and organisers need to be able to think outside the box to find a way to deliver excellent, memorable experiences often on a tight budget. This is increasingly important in industries where there is a move away from traditional meeting formats.  Have the courage (and good negotiation skills) to try something new!
"We also think you need analytical skills to help with reporting throughout the lifetime of the event and to ensure that you can illustrate that the event met its objectives.
"Be strategic on social – it's a great way to build communities around events and to continue conversations afterwards but it can require a lot of resource. Think strategically so that the most appropriate social platforms are used.
"Last but not least, be in the know. Keep up to date with the latest trends in meeting design, technology and food. The more you're informed, the more confident you will be when dealing with venues, suppliers and technicians."
Robin Parker, General Manager, Church House Westminster
IT and social media skills
"There hasn't been a significant shift in the skills that industry professionals need to be successful. As always communication, organisation and initiative are high on the agenda of skills employees need. But we have to recognise there has been a shift towards increased use of technology in meetings and events, so proficiency in this area has become more important.
"Social media is also a relatively new phenomenon that is being used more and more, but this is a skill that is second nature to Generation Y, in the same way that reading and writing were to previous generations. Above all, what Church House looks for in its team members is the right attitude. Our policy is to recruit team members and provide them with the training required to develop their skills and broaden their abilities whilst on the job."
Sean Spencer, Head of Venues and Facilities, IET London
Content marketing skills
"Anyone wanting to succeed in this industry needs to have a good reading and knowledge of the power of technology. We have to be able to connect delegates, whether they are sitting in the same room, watching elsewhere or reading online. Being able to use multiple platforms to develop and re-distribute content easily and succinctly is becoming increasingly necessary.
"Immersive events and engaging delegates is here to stay; you now need to be able to take it further and personalise as much as we can through utilising data. Not every event needs to stand out as ground breaking, however personality needs to shine through, and that comes from asking the right questions and working to ensure that memorable content is delivered."
"Understanding what makes a delegate or client tick has become the golden ticket. Showcasing an ability for social listening, whether online, or by networking, will provide you with the tools to create more in-depth and personal content for your audience"
Liz Young, Head of Events, Historic Royal Palaces
Transferable skills
"Today's event industry is so multi-faceted, requiring all manner of skillsets. So for me, it is transferable skills and attitude that are without a doubt the most important skills in 2017.
"Looking specifically from a recruitment angle, for example, while on paper someone may have no direct relevant experience of a job, if they can demonstrate transferable skills – skills they have honed in previous roles that can be applied to the job in question – as well as a good attitude, they are someone I would want to speak to.
"Whether an event industry stalwart looking for a new opportunity or a newbie looking to secure their first role in the industry, they can be trained up to learn specific elements of a particular role, but what employers want to see is a certain attitude – a strong work ethic and a real passion for the job and commitment to continual learning and improvement."
Ellie Jones, National Account Manager, Center Parcs
Ability to cope with stress
"We are all negotiating incredibly busy schedules both in our work and home life, and seemingly never getting the rest our mind and body require. As such, mindfulness and taking time out to focus on our own health and wellbeing is a skill we would all benefit from working on more in 2017.
"Whether an early morning yoga session, a walk outside at lunchtime, or an evening spent relaxing at home in front of the TV, it is a time to clear your mind and (hopefully) reduce some of the stress that we face on a daily basis as we juggle all manner of tasks as part of our everyday lives."
Download: The Ultimate Guide for Health & Wellness
Lucy Mears, Group Sales Manager, Science Museum Group
Sales skills and tech knowledge
"Rather than spending vast amounts of your marketing budget on exhibitions and direct marketing to generate business, hone your research skills and target specific organisations that have similar values/interests as you and approach them in a more personal, informed way."
"LinkedIn and other social media platforms are amazingly powerful – you can find out so much before connecting, so that when you do it will be a much warmer, two-way conversation and you can offer solutions rather than appear to be selling."
"You don't have to be a complete tech wizard but you should take the time to equip yourself with as much knowledge and insight as possible. Take every opportunity to learn as much as you can – including attending free seminars and workshops. Just recently we hosted the Blitz|GES Connection, a half-day forum showcasing the latest event technology developments, which saw over 250 event professionals from companies such as Barclays, ITV and B&Q attend."
Conclusion
The core skills for event managers, such as organisational and problem solving abilities, remain largely unchanged, but what is constantly evolving is the tech and tools used for the job.
You can gain an upper hand by understanding how different resources – like Eventbrite – can streamline your work, provide valuable insight and help you connect with clients and customers.