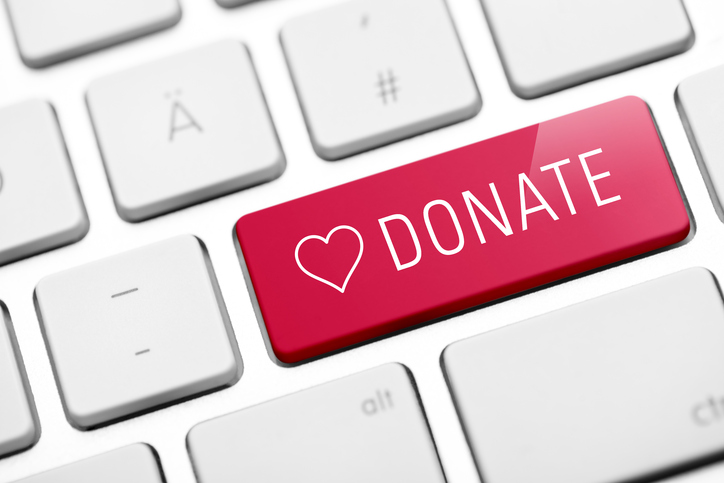 How Technology Helps Boost Revenue for Fund-Raising Events
This is a guest blog by Givergy, an award-winning fundraising technology company who offer a range of tech solutions to help non-profits raise more at their events and online.
Fundraising, like many things, is most effective when kept simple. Most fundraising events typically have a target to hit before the close of the event, but that doesn't necessarily mean achieving that goal is always guaranteed. The good news is that there is a method to the madness – with the right fundraising technology, targets are made far more attainable.
According to npt-uk, a massive £2.4 billion was donated using online technology last year alone, including social media, websites and phone apps, accounting for 26% of all donations in the UK.
Using the right technology
An effective implementation of technology while fundraising at events can not only be the catalyst for increased donor retention and an overall improved user experience, but it can also be the driving force behind greater engagement and interactivity. For example, before the implementation of silent auction technology, partaking in a silent auction at a fundraising event was quite a tedious task requiring substantial time and effort. A bidder would have to physically walk up to a table to put their name against an auction prize, get up multiple times throughout the event to see if they had been outbid and wait days after the event closed to uncover if they were the winner and to pay for their prize.
Givergy, a global leader in supplying silent auction technology at events – such as gala dinners, award ceremonies, corporate events and more – has seen first-hand how effective technology can be at raising funds during such events. As a result, countless charitable causes have broken their fundraising records and are using silent auction and pledging technology to get more out of their events than ever before.
At the fund-raising event
Interactive silent auction software removes the need for any manual process as it offers event guests the ability to bid directly from their table whilst all activity is transmitted to a leaderboard strategically placed on screens around the venue. New bids are highlighted on the leaderboard showcasing how much has been raised and gives recognition to those supporting the fundraising effort. This allows guests to engage in friendly competition which ultimately helps the organiser create a high energy event that has the potential to drive bidding through the roof.
The same can be said for pledging, or digital donations. Traditional fundraising events pass around 'donate envelopes', making it easy for guests to opt out of giving. With pledging software, event organisers can highlight information within the app relating to where the funds are going and the MC can create a specific pledge-drive or fund-a-need moment where they direct the entire audience to take out their phones and make a donation directly, right there and then. As the digital thermometer fills up and is broadcast on the screen, individuals can physically see how they are contributing to the wider goal, making it much more likely for it to be achieved.
In addition, real-time data is shared with the event organiser on how much the auction has raised thus far and if any particular auction items need to be promoted during the event, giving you full transparency to enable you to achieve your target. A full report post-event is also provided, not only giving you a clear indication of ROI, but also helping you to improve the event the following year. Additionally, it's a great way to measure how engaged your guests actually were.
3 reasons why using technology will boost revenue at your next fundraising event:
1. Ability to display a fundraising goal
Having a fundraising goal is the first step to measuring your success. Importantly, sharing this with your guests will increase your chances of achieving your goal -this can be done by having the MC strategically making announcements throughout the event duration. But, importantly, technology such as totalizers will allow you to showcase the goal on screens placed around the room, keeping everyone up to date with how much has been raised thus far and how much further the fundraising element needs to be encouraged. Ensure that the total amount raised "so far" is constantly shown, with a thermometer to show the progress of the night. There is no better feeling for you, the organiser, and for the guests, to fill that thermometer up!
2. Silent auction technology brings fundraising events to life
Silent auction technology can transform a typical event format into a more engaging and competitive environment. Guests are encouraged to bid on an array of fun auction items, either through tablets provided or their own smartphone, all in aid of a good cause. When new bids are made they are often displayed as a pop-up on screens in the room, encouraging those who have been outbid to keep the competition strong. This technology has transformed what has been typically a long walk across the room into fundraising success with a simple tap of an event guest's finger.
3. Data gives event organisers greater insight
Fundraising technology systems often have great data points behind them. It's encouraged for event organisers to make the most of the data the system captures, and use it to push items that aren't doing well by sharing it with their MC in real time. It's often recommended to also congratulate the individuals or tables that have contributed a substantial amount. After the event, the data can be instrumental in planning next year's event by gaining a deeper understanding of the guest demographic and which auction items raised the most amount of funds.
Watch this short video that shows you exactly how an effective use of Givergy's technology allowed Right To Play's Big Red Ball exceed expectations, offering guests the ability to bid before and during their recent fundraising event using fundraising technology.