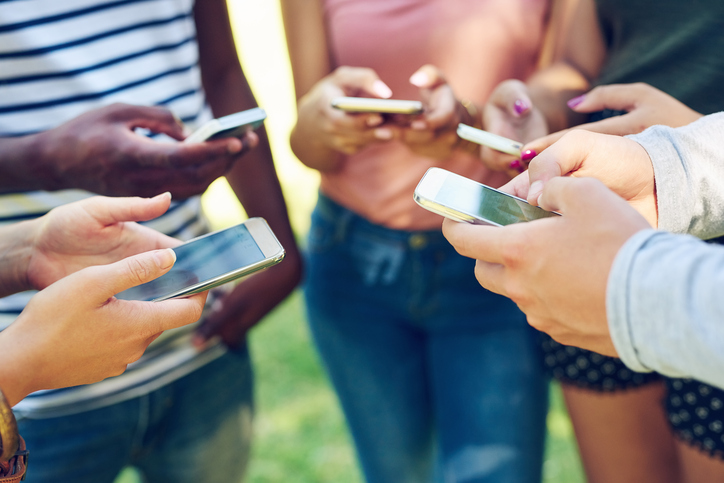 Top Tips on Social Media from 20 Industry Experts
Building a strong social media following for your event might feel like one of the most challenging tasks you face, but it's a vital part of creating brand awareness.
It can be especially daunting if you're starting from scratch – sending those first few posts out to an audience of three can seem rather pointless. Social media, however, is like a snowball – the more you roll it, the more snow it picks up. You just have to get your gloves on and get to work!
Use the expert tips below, provided by 20 professional social media managers, to get a head start and your social media will soon be snowballing…
Get our free eBook: The Essential Guide to Social Media for Events
1. Christy Saia Owenby, MOXY Company
"We specialise in social media strategy for over 30 clients from the medical field, retail, fashion and beauty, law, construction and more. Facebook is the perfect place to promote an event. Creating a Facebook Event allows you to cross promote and gain more awareness for your event with your followers as well as the organisations or speakers that will be part of the occasion. For our clients, we also create dynamic highlight videos and then promote with Facebook Ads using custom audiences, a powerful Facebook marketing tool.
"Hashtags are searchable links and a very powerful tool for your event. When creating your event hashtag, make it unique but easily remembered.  Also, make sure to use the event hashtag on all promotional and marketing materials allowing people to search online for the event using the hashtag. Hashtags allow you to gain the greatest opportunity to draw in your followers creating a social media buzz!"
2. Damon Gochneaur, Aspiro Agency
"We help brands like Evernote, Avocados from Mexico and countless others manage their social media presence. My top tips for social media success are to be authentic and tell your story – save the fluff, industry jargon and buzzwords. Have conversations with your audiences in their language, with your voice. Don't be afraid to let the personality of the business come through.
"When you feel good about your story, and your authenticity, spend a little to promote your posts. Organic posts average between 1%-5% reach, which means without a little budget, your authentic story might never be heard."
3. Heather Taylor, MyCorporation
"Participate in Twitter chats as often as you can. These chats are great for networking with other brands and potential customers and allow you to grow your following while further establishing yourself as an expert in a specific field.
"I have hosted several Twitter chats on company handles (as myself and as the company I represent) and found the experience to be incredibly fun and a good boost for the brand's impressions. Focus on creating tweets that serve as good sound bites (this comes in handy for subsequent Storify recaps!) and add relevant (and fun) GIF images."
4. John G. Courtney, Stockwood Ventures
"This is a very simple but very effective tip for Twitter. Post more often. Some social media managers are so scared of being thought of as a spammer that they just post too infrequently on Twitter. It's a different game on Facebook or LinkedIn, where once a day is fine and twice a day the absolute maximum. Twitter posts just don't have a long lifespan; minutes not hours. No-one is sitting there all day and looking at their Twitter feed.
"So what's the right volume? People disagree, and you have to experiment for you and your sector but I find for me it's not one a day but one an hour. Yes, 20-25 a day. If you mix your hashtags around as well then you are reaching different audiences all the time and your Twitter following will keep growing. My Twitter handle @JohnGCourtney is ranked at no.7 in the list of Top 100 Digital Influencers (Directors Centre). Much of this is down to the volume I tweet."
5. Peter Polgar, Clikz Digital
"Having managed a team that handled 150 different client social media accounts, my top tips include producing authentic content (try to avoid using too much stock imagery), and not spreading yourself too thinly; we think it is better to be great on one social media platform rather than being weak on five social media platforms.
"Additionally, when there are new features on any social platform, try to implement as quickly as possible.  We noticed Facebook and Instagram reward those by giving extra exposure by using those feature first."
6. Huib Matt, Pairfum
"We targeted a specific board on Pinterest with the aim of becoming a "collaborator". On becoming a collaborator, our pins received much higher visibility, as the board we had targeted had a much higher number of followers than our own company page on Pinterest. The board fitted well with the subject of our company's listing on Pinterest. It might be an unusual tip but one that worked well for us."
7. Kristien Matelski, Vizion Interactive
"Something that's been a success for us when it comes to social media marketing is knowing where our target audience is going to be, such as events/conferences, and then targeting social ads to them while they are there. For example, if we're going to be attending a popular digital marketing conference and we know that's where our target audience is going to be, we'll pay to target the conference hashtag on Twitter as well as target marketing professionals in the geographical area on Facebook and LinkedIn.
"We've also created our own Snapchat filter at conferences so that attendees can enjoy snapping with our filter and sharing with their friends during the event. Targeting hashtags on Twitter is particularly powerful, because everyone at the conference is going to be following and posting with that hashtag, and if you can pay to get your tweet in front of all of those eyeballs, you're one step closer to connecting with your target audience!"
8. Huseyin "The Brain" Aksu, Fantasy Couch
"Make sure your name, bio, cover art, profile pic and URL look amazing. This seems like a basic tip, but for those just starting, it is the most important tip. If your profile page doesn't look good, you already lost.
"Strive to get a cult following. Having 1,000 followers that go to the ends of the earth for you and have your back is much more valuable to your social media account than having 10,000 "ghost followers" who don't care much about you/your brand.
"Use your analytics to find out which time of the day is best to post for each platform. And finally, always reply to comments and messages right away. If you make a habit of responding after 24 hours, you are losing the social media game."
9. Michael Baker Pitts, Modern Influence
"Giveaways are a great way to build followers across Twitter, Facebook and Instagram as well as filling out an email list. My rule of thumb that I always tell clients is, "If it sounds like too much, it isn't."
"There are tons of great services for building out giveaways, and Facebook has so many tools built-in to help you get the word out to not only your current followers but all your future followers as well."
10. Leigh Langston, DangerousLee.Biz
"Business owners have to stop saying that they don't have time to blog. If they're posting on Twitter, Facebook, or Instagram on a daily basis they are already blogging. In order to make it work for your business you need to do it from your own domain. Blogging has to become a top priority."
Get our free eBook: The Essential Guide to Social Media for Events
11. Lucas Bornert, Canard Influencers
"My top tip is to use influencers with a smaller number of followers – what we refer to as"micro influencers" – due to higher levels of engagement. There exists a correlation between the number of followers a social media influencer has and engagement rates.
"Engagement decreases as the number of followers of an influencer increases. A recent study found out that Instagram influencers that have less than 1,000 followers had an engagement rate of 8%, while those with more than 1 million followers had an engagement rate of 1.7% from their audiences."
12. Geraldine O'Callaghan, Follow the Camino
"My tool I can't live without for social media management is Hootsuite. It helps me plan and schedule most of the content for all our social media platforms for the week ahead.  I leave a post open each day for something that is trending on that day and jump on the # in order to display ourselves to a wider audience.
"On Facebook, we have run "like and share" competitions, where the entrant has to get as many of their friends to like and share their photo in order for them to win. The photo with the most activity wins – this grew our FB following by almost 4,000 in two months!
"My best tip for FB growth is to click on all the people who've engaged with a post (bottom left of the post, likes, hearts and smiles) this will open up a window where you can invite all these people to click "like" on your actual business page."
13.  Stephen Seifert, Day Translations
"One of the most successful Facebook strategies we have used is to ask our 110k followers intriguing questions. We also pair this with a timely blog post to ensure we remain a high authority on the subject as well.
"Another social media tactic we employ is the time tested acronym, Keep It Simple Stupid (KISS). We found that daily things people generally go through are fantastic to tweet about. The post below, for example, racked up impressive impressions of 23,052 and total engagements of 1,785, just for being so simple."
14. Mary Anna Mancuso, Mav3n Digital
"I've worked in the social media space for nearly a decade and managed over 500 social media profiles for everything from businesses to politicians. My top tip is to use a call to action in all social media posts; this will help boost engagement.
"Getting people to engage in the social media space is like herding cats and they have the attention span of a goldfish so if you don't tell them what you want them to do by using a call to action most people won't do anything at all.
"You can also get ahead by posting about trending topics, which can be found on the right-hand side of your newsfeed on Facebook. Facebook ranks posts by use of an algorithm and the way to stay in your fans newsfeed is by posting timely and relevant content."
15. McKinzie Brocail, McKinzieWrites.com
"If you have a local business and you have customers or clients who get to know you or members of your team through the service you provide, don't forget to share photos of your team and some of the things they are up to. This strengthens trust and their engagement.
"If you only share information and articles on topics your business handles, customers likely won't engage much, since they hired you to be on top of that information (think banking, investing, real estate, etc.), they won't likely click on that kind of information."
16. Brianna Valleskey, Brave Ink
"Be helpful. Don't just promote your own content. Follow people, publications and organisations and share the best information on the web to the most people. They will come to see you as a trusted source.
"Actively engage. The only way to build a reputation as an expert and thought-leader is to continuously serve your community without expecting anything in return. Say hello, answer questions and tag people in posts you think are relevant or interesting to them."
17. Joseph Luckett, Affluent Solutions Group
"Today, many brands are leveraging the power of crowdsourcing, co-creation, as well as user production and support, which allow for greater customer engagement, self-expression and creativity.
"Rather than trying to generate a high volume of quality content — which is a very daunting prospect — design a platform where your customers can serve as ambassadors for your brand and generate organic content on your behalf, uploading their own videos and photos.
"Once you have established active engagement on this platform, you can begin to solicit customer feedback by providing a direct channel where they can share their opinions on your brand in an unfiltered manner. Through this technique, you'll gain valuable insights that allow you to create better ideas, products and services to strengthen your brand. Ultimately, brands that recognise the incredible power of co-creation stand out for excellence even in an oversaturated market."
18. Daniel Thompson, Tom's Junk Collectors
"I took things into my own hands when it came to online marketing for the family business. I am pretty new, but I was able to get almost 400 reads for an article that I wrote on the very same day.
"My best tip for colleagues out there, especially newbies like me: Don't underestimate the power of online tools and NEVER skip a social group, even if it has 200 or fewer members – go for quality, not quantity."
19. Mihaela Mihaylova, Local Fame
"Researching your competitors can be extremely beneficial before you start implementing your Social Media Strategy. You can find valuable information on what kind of content is well accepted by the audience, which social media channel is the most relevant one, how often you should post and so on.
"In order to raise brand awareness and build a community, you should carefully select all the information that you share. I personally have seen best results while keeping in mind the golden rule – 70/30 (Content Creation/Content Curation). Another important rule that I strive to apply is to offer EDUTAINMENT content (comes from education+entertainment), otherwise, your audience will be bored and they will lose interest in you."
20. Natasha Kvitka, Gift Baskets Overseas
"As a digital marketing strategist, I create social media strategies for companies I work for. I like to use one technique that does not require much budget or effort from, but always increases engagement, brand awareness and improves brand perception;  sending an engagement email to customers that invites them to share photos, tagging them with the brand hashtag, to be featured on the official pages. It works best for such services like travel, where customers can share their wonderful travel photos.
"Funny thing: when I worked for a travel visa services provider, after that type of engagement its clients always thanked the company for their wonderful trip on their tweets or Instagram shots, though it's obvious that the visa company is not the major travel organiser and was not responsible for the whole trip."
Conclusion
No one's denying that social media success requires time and effort, but you can save yourself both by learning from these experts. Whether you're just getting started with social media or your existing activities need a boost, these shortcuts to success will have your metrics heading in the right direction.
Get our free eBook: The Essential Guide to Social Media for Events