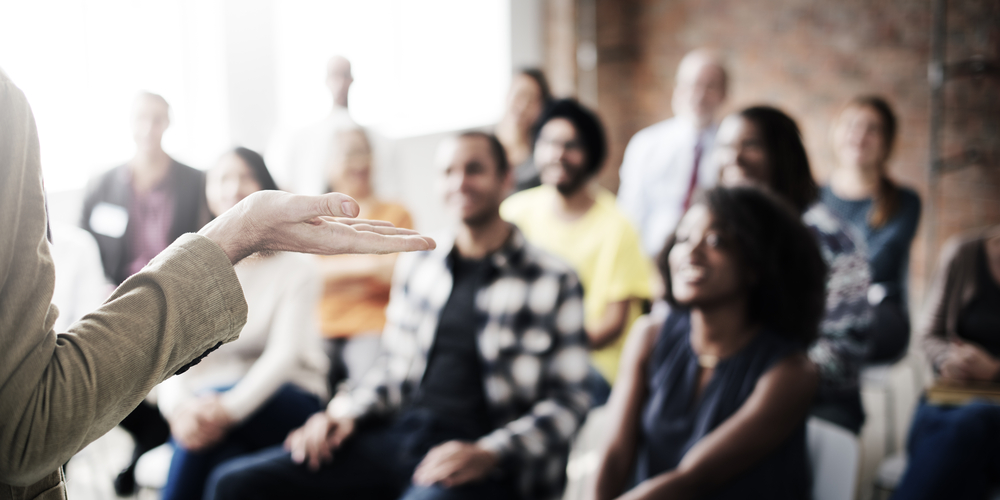 9 Experts Reveal How They Turn Attendees into Clients
If you're self-employed or running your own small company you might never have considered hosting a business event.
Perhaps you think you're too small, or you wouldn't have anything to say? Maybe you think it's too difficult or expensive or perhaps you just can't see the point?
However, recent research conducted by Eventbrite found events could be a highly effective method of client acquisition for freelancers and small businesses.
In our report 'How Freelancers, Consultants and Small Businesses Can Win Clients With Events,' which followed a survey of more than 500 people, we reported how a massive 83% of those who hosted events in 2015 believe it helped them to generate more business and win more clients.
To find out more, we asked nine small business owners about the type of events they hold and how they convert the attendees into customers. We hope the following insight will inspire you to host your own events and help you to replicate their success.
Roshni Assomull, Co Founder, Bella Kinesis
"Bella Kinesis is an ethical women's sportswear brand, which helps fund business education for women in rural India.  We started the company because we felt that a lot of the existing sportswear on the market was designed by fit people, for fit people and we wanted to create a friendlier, more approachable fitness brand with which women could identify more easily.
"We recently launched a campaign called #BkGiveItAnotherGo to encourage women who were put off sport at school, like we were, to give fitness another try. As part of this campaign, we have been hosting a series of workout events to introduce women to different ways of getting fit in a non-competitive atmosphere.
"These events create a great opportunity for us to interact with our potential client base. We usually hold a small pop-up sale at the end of the workout. This earns us both sales and most importantly, customer feedback on everything from pricing to fit and design. It also gives the attendees the chance to get to know our brand personality and to see the faces behind the company. We're just a tiny team of two at the moment, which isn't always obvious from our website!
"The main focus of the event is the workout, which means the clients don't feel like they are being pitched at or sold to, and this generally makes them more receptive to learn more about the business. Our event series has also been a fantastic way to grow our customer mailing list, which should hopefully in turn grow sales!
"We hold events on average, twice a month. These include our monthly 'Run Like a Girl' running club, and various different workout classes. So far, we've organised a Halloween-themed spinning session, a beginners ballet class, yoga and a pilates and brunch event. We like to keep these events quite intimate so they range in size from 10 -20 attendees."
Juliet Landau-Pope, Declutter Coach
 "As a declutter coach, I help busy individuals to sort belongings and decide how to reduce, reuse, recycle, donate or discard things they no longer use or want. My approach is positive and practical with an emphasis on shifting habits as well as clutter.
"Decluttering is a very personal service – trust and empathy are vital to my work – so workshops are a great way for clients to get to know me before they hire me. That's why I run clutter coaching workshops almost monthly to share motivational tips such as how to overcome procrastination and how to deal with specific challenges such as paperwork.
"These take place in a private space at The Clissold Arms, a lovely community pub in North London and are usually attended by between 10 – 20 adults of different ages. The atmosphere is fun and friendly, and there's always plenty of opportunity for questions and interaction. Although there's plenty of information about me and my business on my website, there's nothing like meeting someone face-to-face and hearing directly about the way they work.
"During school holidays, I also run study skills workshops for small groups of teenagers to discuss how to plan revision, boost memory and manage stress before exams. Students who come to my workshops often opt to continue with individual coaching, so again workshops help to build my client base."
Sarah Brockwell, Founder and Director, sarahBee marketing
"sarahBee marketing provides affordable, no-nonsense PR and marketing to SMEs. We have been using Eventbrite to host regional marketing and PR workshops, which are funded by local authorities so they are free for delegates to attend.  Typical workshops include: 'The PR Guru', 'Marketing – Make a plan and make a splash', 'Launch your business with minimum dosh'.
"Because the workshops are funded by local authorities (using tax-payers money) there needs to have been full audit trails of the events and who booked onto them. We also carry out in-depth feedback and KPIs post-event.
"Audiences are typically 15-20 people who either own or work in an existing or new business. The workshops cover all industries and cohorts and attendees have included companies in the fields of IT, insurance, sustainable energy and construction, for both B2B and B2C.
"The workshop participants frequently go on to become clients of sarahBee marketing. They also have the opportunity to opt into our mailing list to receive newsletters and useful how-to guides.  Eventbrite allows us to maintain the momentum of each event through its great data capture facility."
Vanessa Butz, Managing Director, Interchange
"Interchange is a coworking and events space in the heart of Camden, London. We provide a range of facilities for entrepreneurs, startups and creative companies, including coworking, industry events and access to advice and support.
"We hold a number of different events every week, on a wide range of subjects – everything from how to pitch to investors, to the latest technology trends and stories from successful entrepreneurs. For example, at the moment we're running a series called 'Game Changers' featuring visionaries from various industries, with the purpose of inspiring young companies.
"Our events generally attract around 100 people and provide existing tenants with a great opportunity to network, gain knowledge and find out about other businesses and also provide potential new members with a chance to see what it would be like to work at Interchange.
"Once an attendee has signed up for one of our events, we keep in touch with regular updates, including our email newsletter, which highlights interesting news, as well as future talks and networking opportunities they may want to get involved with."
Ian Christelow, Co-Founder, ActionCOACH UK
"ActionCOACH helps business owners to work fewer hours, get better results from their staff and make more profit. ActionCOACH is a franchise business, and in 2015 it received the ultimate testimony when three clients, having been coached to build a commercial, profitable enterprise that works without them, bought the ActionCOACH UK franchise to help other local business owners achieve their goals and dreams.
"A major reason why ActionCOACH has been named 'Best UK mid-priced Franchise' for the last two years, is the franchise has coupled its best speakers and some of its most powerful intellectual property to create compelling free or low cost seminars which give business owners a taster of what ActionCOACH could do to help them grow their business.
"Franchise partners learn how to form strategic alliances with local professional services firms such as accountants and banks. We understand the fastest way to build this business is by getting in front of prospects en masse.
"Brad Sugars, ActionCOACH Founder ​speaks at eight venues across the UK every year to get our franchise partners clients. The seats are mainly filled through marketing efforts of B2B companies and the tour is funded by ticket sales – not our franchise partners! Whether a franchise partner or Brad presents an ActionCOACH seminar, approximately 10% of business owners attending become paying clients."
James Davies, Account Director, Compass Media Relations
"I'm part of a six-strong team that organises Ignite Cardiff; a bi-monthly speaking event, which runs mid-week at the Glee Club, Cardiff Bay. With a tagline of 'Enlighten us, but make it quick', Ignite Cardiff talks are accompanied by 20 slides, each of which automatically progresses after 15 seconds
"Being involved in the organising of Ignite Cardiff doesn't directly help me in getting new customers; it's much more than that. It helps me raise my profile and associate my business with a brand that is well liked, respected, and above all, trusted. It is the association to Ignite Cardiff that is far more valuable to my business than any direct sales from contacts I meet at the event.
"We are really protective of the type of environment at our events. It's not a business card-thrust-a-thon, and neither is it a networking event. However, you'll find like-minded people that enjoy the company, thoughts and ramblings of others that educate and inspire, with the odd laugh thrown in. We pride our event on the community it has created, and close and trusting relationships have all been born out of Ignite Cardiff; for organisers and attendees alike."
Elizabeth Malone-Johnstone, Director, Digitise This
"The digital marketing workshops and seminars I run are invaluable ways to get in front of my target audience and make a good impression. However, simply making a good impression often won't translate into business on its own. The event itself is only one part of the overall brand experience. Plan a suite of supporting activities to promote your event and to help squeeze as much value as you can from it.
"Take advantage of great opportunities to communicate with attendees before and after the event. Email them with a pre-event questionnaire to get insights and impress attendees with solutions to common problems at the event itself.
"During the event, feature a special discount or exclusive offer and incorporate brand offer reminders seamlessly into the event experience with flyers, an easy to remember shortened web link and even a unique hashtag.
"After the event, be sure to contact attendees with a simple thank you and follow up message. Proactively seek out testimonials from event attendees too! If you can't quite convert to a sale, a glowing testimonial could encourage an enquiry or a sale from the next visitor to your website."
Sean McPheat, Managing Director, MTD Sales Training
"MTD Sales Training specialises in B2B and B2C telephone and retail sales training. I have spoken at various major sales conferences around the world as well as hosting my own 'Sales Summits' here in the UK.
"We usually have around 100 people at our sales summits and we host these annually. What you do before, during and after the event is crucial to converting these attendees to clients in the future.
"Beforehand, we send out a survey to all attendees which allows me to tailor the content to the general needs of the group. During the event we use social media to give a chance to the floor to ask questions and make the content more interactive.
"After the event, we use the email addresses provided at these summits by attendees to send them weekly tips that are concise, actionable and will improve their performance in the workplace. We also make follow up calls to ensure that what was said at these events is being actioned in the workplace and see how we can help them further."
Sybil Wong, Head of Marketing and Communications, Sparrho
"Sparrho is a free-to-use online platform that helps scientists and science students stay up to date with scientific content. As a tech startup, it's very easy to stay working on our product at our desks, behind our screens. That's why the Sparrho team makes an extra effort to make sure our entire team, from our Head of Engineering to our CEO, meets regularly with the people that use and love our product.
"By holding monthly informal drinks, to which we invite all our users and anybody else they'd like to bring along, we give each attendee the experience of having contributed to our product and vision through discussing their feedback and suggestions with a team member in person.
"For our B2B business development purposes, these monthly drinks events are a great opportunity to convert cold leads into warm leads, and indecisive decision makers into internal champions for our product. When you have a great product, there's no better testimony to the value that your product brings than when your users, unprompted, praise your product directly to your BD leads. Our informal drinks events facilitate these serendipitous conversations, help us build a better product, and accelerate our BD discussions."
Conclusion
Hosting events works for a wide variety of companies, helping them grow their reputation and gain new clients. What could events do for your business?