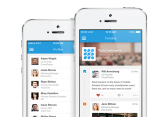 Use Attendify to Create a Beautifully Designed Event App
We're excited to announce that Eventbrite has partnered with Attendify, a service that creates beautiful mobile apps for events! We've been admiring their attention to detail and polish since we first chatted with them and checked out their product.
They've been working over the course of the past few months on an integration that leverages Eventbrite's leading ticketing platform to improve networking and sharing at events that use Attendify's Social App. Here's an overview of the integration and the benefits of connecting your Eventbrite and Attendify accounts:
Automatically Sync Attendees
With a few clicks you can easily connect your Eventbrite account to automatically sync attendees to your Social App. Every time someone registers for your event using Eventbrite we'll create a social profile for that person in the app. With a full list of attendees that's constantly synchronized with your registration data you'll have a community that's ready to go as soon as your event gets underway.
Simplify Login & On-Boarding
Syncing with Eventbrite simplifies on-boarding by enabling attendees to use their ticket information to login to your app. Attendees can enter the Order ID# or scan the QR code on their ticket with our built-in reader. We'll automatically pull all the registration data for a given person and allow them to complete their profile and get started sharing.
Sell Tickets
If you choose to sell tickets through your app, we'll automatically include a "buy tickets" button on the login page or in the navigation menu. Once a ticket is purchased attendees can login and join the community right away.
Getting Started is Easy
Most importantly connecting your Eventbrite account to Attendify is a snap. When you start building your app click the "Connect Eventbrite" button on Step 1. All you have to do is enter the name of the event you want to sync, configure a few simple settings, and you're done. We'll take care of the rest and automatically sync your registration data to your Social App.
If you're interested in checking them out and learning more, head over to the Partner page or directly to Attendify.com!