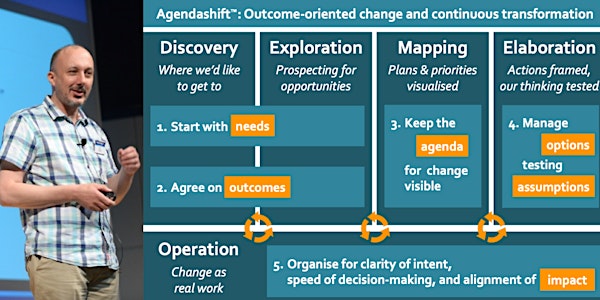 2-day Advanced Agendashift: Coaching & leading continuous transformation
Location
Space 8
Jerwood Space
71 Union St
London
SE1 0LN
United Kingdom
Refund policy
Refunds up to 7 days before event
Description
Expanding on (and including) the core Agendashift workshop Facilitating Outcome-Oriented Change, this 2-day workshop is aimed at coaches, consultants, and managers wishing to:
Develop their coaching and leadership skills in the areas of enquiry, facilitation, strategy deployment, and change leadership
Broaden and deepen their appreciation of the Lean-Agile landscape and related bodies of knowledge and their strategic application to organisational development
Who should attend?
The advanced workshop is aimed at agents and leaders of organisational change – whether internal or external, specialist practitioner or sponsor. Whilst the majority of attendees have been coaches and consultants, a significant number have held managerial and business leadership roles .
Public workshops are focussed primarily on skills. You will however have ample opportunity to put them into your organisational context and demonstrate Agendashift's ability to meet organisational needs in ways such as these:
Launching, refocusing, or reenergising continuous transformation in your organisation
Enhancing your organisation's internal coaching and change management capability
Embedding outcome-orientation and continuous transformation through leadership development
Participants will receive a print copy of the book Agendashift: Outcome-oriented change and continuous transformation


---
Overview
Day 1: Learning the language of outcomes
Discovery: Describing where we would like to get to
Exploring organisational context, objectives, obstacles, and outcomes
Celebration-5W and our Clean Language-inspired coaching game 15-minute FOTO
Plan on a page
Culture, values, and Systems Thinking
Exploration: Prospecting for opportunities
Mission, purpose, and identity
Self-awareness and empathy
Debriefing your Agendashift delivery assessment (set as prework, sent out a week in advance)
Generating outcomes
Understanding and supporting the learning process
Day 2: Structuring the response
Mapping: Building a visual transformation plan
Multiple tools and models for transformation mapping – Cynefin, (Reverse) Wardley Mapping, User Story Mapping
Strategy model reconciliations
Other mapping tools
Elaboration: Framing actions, testing our thinking
& Operation: Change as real work
Changeban: a Lean Startup flavoured variant of Featureban, our popular simulation game
Creating options, framing hypotheses, developing experiments
Cross-checking your experiment design
Authenticity: stories, requirements, and needs


---
Outcomes
Practice in a range of outcome-centric facilitation techniques
Recognition of the role of outcome orientation in the modern organisation
Understanding of the integration of techniques and concepts from Lean-Agile, Kanban, Clean Language, Cynefin, Lean Startup, and A3.
Awareness of the power of feedback loops in organisational behaviour and evolution


---
About us
Your facilitator will be Agendashift founder Mike Burrows. Mike is the author of Kanban from the Inside (2014) and Agendashift: Outcome-oriented change and continuous transformation (2018); his third book Right to Left: the digital leader's guide to Lean and Agile is due in 2019. Mike is known for Kanban's values model, the Featureban and Changeban games, and as a strong advocate for participatory and outcome-oriented approaches to change, transformation, and strategy. Prior to his consulting career, Mike was global development manager and Executive Director at a top tier investment bank, and CTO for an energy risk management startup..
About Agendashift | Resources | Slack | LinkedIn


---
Discounts
Current members of the Agendashift partner programme and attendees of previous Agendashift workshops are eligible to a £50 discount. Attendance at this workshop qualifies new partners to the same discount off their first year membership. We are also happy to offer discounts to employees in the public, educational, and charitable/non-profit sectors. Please email support@agendashift.com for details and discount codes.