Description
20|30 x Fantom x LTO Network Meetup - Building Ecosystems and Gaining Adoption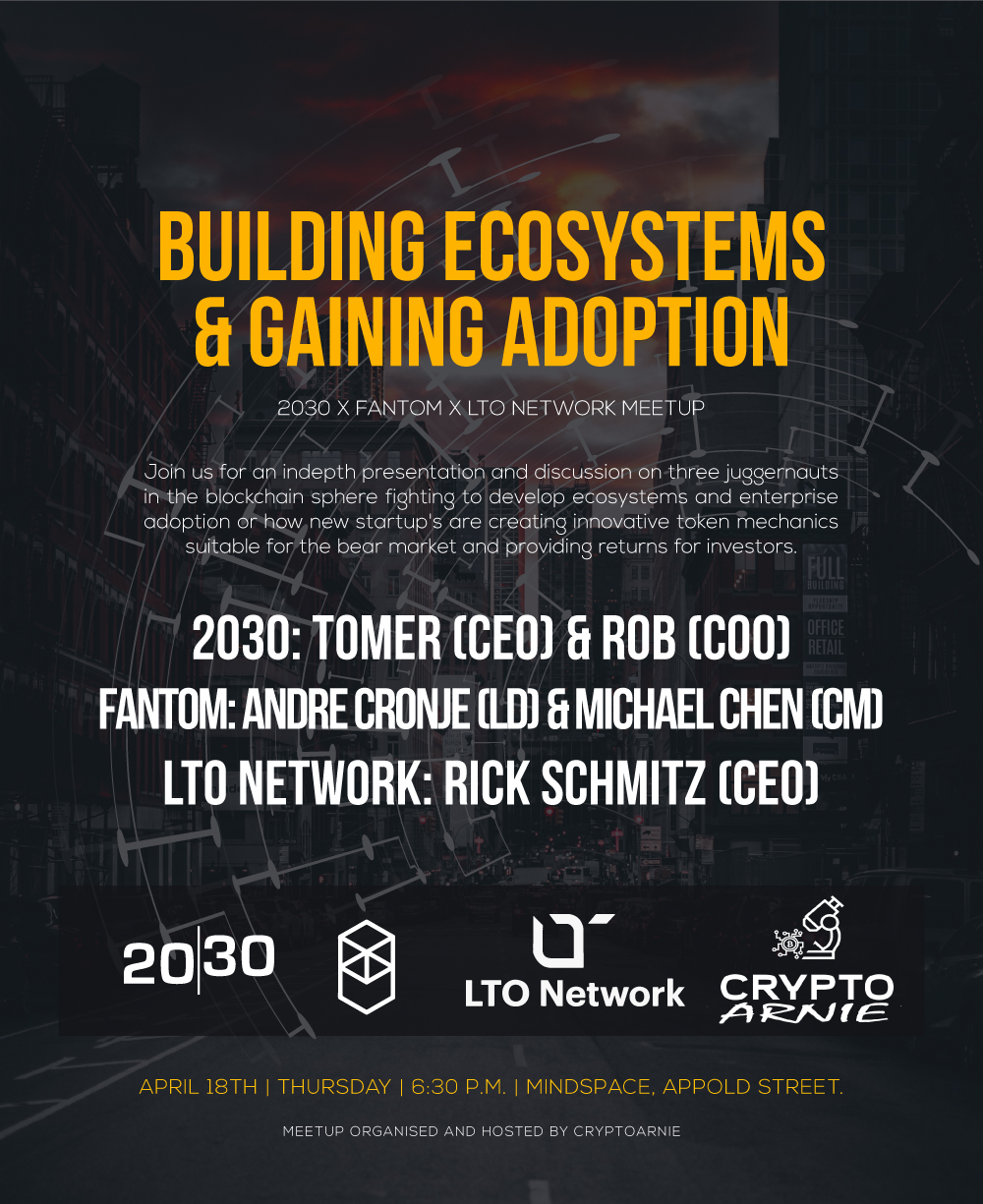 Join us for an indepth presentation and discussion on three juggernauts in the blockchain sphere fighting to develop ecosystems and enterprise adoption or how new startup's are creating innovative token mechanics suitable for the bear market and providing returns for investors.
▬▬▬▬▬▬▬▬▬▬▬ WHEN & WHERE ▬▬▬▬▬▬▬▬▬▬▬
18 April: 6:30PM. MindSpace @ 9th Floor. 9 Appold St, EC2A 2AP.
Located behind Liverpool Street Station. 5 Minutes walk from Shoreditch High Street Overground. 5 Minutes walk from Old Street Underground Station.
▬▬▬▬▬▬▬▬▬▬▬▬▬ WHAT ▬▬▬▬▬▬▬▬▬▬▬▬▬
Speakers:
20|30: Tomer Sofinzon (CEO) & Rob Gaskell (COO)
Fantom: Andre Cronje (Lead Dev) & Michael Chen (Community Manager Officer)
LTO Network: Rick Schmitz (CEO)& Arnold Daniels (Lead Arc)
Refreshments:
Generous Amounts of Food and Drink Provided
▬▬▬▬▬▬▬▬▬▬▬COMPANY PROFILES ▬▬▬▬▬▬▬▬▬
FANTOM: Fantom is a new network that proposes a groundbreaking consensus mechanism which utilizes gossip to reach aBFT consensus, while still outputting a traditional blockchain structure. The developers behind Fantom consider themselves to be specialists in consensus, holistic consensus. They're building the network and the backbone to power smart cities and blazingly fast payments. Currently partnered with POSbank (Biggest Point of Sales Company in Korea), Oracle Korea, Danfoss, Hancom Secure (One of the Largest IT Firms in Korea), Siksin and Softbank Korea (SBCK)
20|30: 20|30 is a diversified portfolio of blockchain-based products and services. As a new kind of venture studio - different from Idea Lab, 500 Startups, Consensys, or any existing venture funds - we research and test ideas to deliver exceptional products that meet market needs. Projects that launch become part of the 20|30 portfolio.
LTO: Most blockchain projects focus on financial transactions utilizing Smart Contracts. However, this leaves an enormous B2B market untapped. The benefits those parties are actually looking for in blockchain technology are reduction of costs on paperwork, administration, and so on. They need a way to automate processes — not within, but amongst organizations — in a trustless way. They need a level playing field. This is exactly what LTO Network provides. By combining private and public layers, it allows organizations to meet GDPR and data privacy requirements, while preventing the scalability issues typically associated with blockchain projects.
(This is not a sponsored event)
#Blockchain #Crypto #Development #Cryptocurrency #SmartContracts #GDPR #DAG #SecurityTokens