Description
Back in 2008, Rob Williams gained one of only eight places on the BBC Writers' Academy, run by John Yorke. His success there led to writing scripts for BBC dramas like Eastenders, Holby City, Casualty and Doctors, then DCI Banks on ITV before writing his own series for ITV – Chasing Shadows with Reece Shearsmith playing the central role.
All this brought him to international attention and he was recruited to the writing team for The Man in the High Castle, based on Philip K. Dick's dystopian novel about what happened when the Japanese and Germans won the war and controlled America. You know you've arrived when you can turn jobs down - Rob shunned the third series so he could write more of his own stories. He's just got back from LA where he was set to work on a new drama, and there are other UK ideas bubbling up.
That means there will be lots to talk about when one of 26's founders, John Simmons, asks Rob the questions at this special event, part of Wordstock Deconstructed. Whether as readers, watchers or writers we all have a fascination with the dramatic storyteller's craft. Come along and find out how it's done. We're certain there'll be ideas aplenty that you can take away and apply to your own writing efforts, whatever the field of writing you're interested in.
John's new novel Spanish Crossings is out now. Read more about it here. Or buy it here.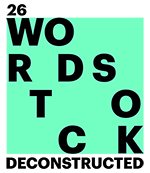 About cancelling
You can cancel up to four weeks before a 26 event or training, and we'll refund the full fee you've paid, minus a cancellation charge which is 50% of the full fee. If you cancel any later than this, you'll lose the full fee you've paid – unless we can find someone to take your place. If we find a replacement for you, we'll refund your payment minus the cancellation charge. If we need to cancel an event or training, we'll refund the full fee you've paid, but no other costs.