Event Information
Location
ASDA House
Great Wilson Street
Leeds
LS11 5AD
United Kingdom
We are marking the life and death of David Oluwale with a Civic Trust Blue Plaque on Leeds Bridge -- and working for a better life for all.
About this event
In partnership with Leeds Civic Trust, the David Oluwale Memorial Association is unveiling the Blue Plaque for David Oluwale on Monday 25th April 2022, at 5pm, on Leeds Bridge — very close to the point where Inspector Ellerker and Sergeant Kitching caused David to drown in the River Aire. This will be almost exactly 53 years since that fateful morning (on 18th April 1969).
Everyone is welcome to join us for this historic event. There is no need to pay -- this is an event for all the public. It's listed as 'pay as you feel' but that only requires £1. Registering helps us control the numbers and allows people to make a donation to the #RememberOluwale charity if they wish to.
We will assemble at 5pm in the new Leeds City Council gardens in Meadow Lane, close to the Leeds Bridge (opposite the Asda HQ), where the speeches will take place. There is some seating in the gardens. We will then move off in procession to the Bridge to unveil the Plaque and listen to the David Oluwale Choir.
There will be a short speech from #RememberOluwale's founding Patron
Also speaking are:
Cllr Abigail Marshall Katung,Co-Chair #RememberOluwale
Cllr James Lewis, Leader, Leeds City Council
Alison Lowe OBE, Deputy Mayor of West Yorkshire for Crime and Policing
Detective Chief Superintendent Carl Galvin, son of Police Cadet Gary Galvin, who exposed the crimes against David Oluwale
DOMA Co-Chair Dr Emily Zobel Marshall will host the event.
And there will be poetry specially written for David Oluwale by Ian Duhig and Joel Leigh.
We will be accompanied by the David Oluwale Choir, singing the songs composed by Leeds United fans after the imprisonment of Inspector Ellerker and Sergeant Kitching in 1971. This will be led by Leeds singer-songwriter Ellen Smith (see NOTES below).
If you'd like to join the the choir (training sessions are on Saturday mornings in April at The Tetley) please get in touch -- rememberoluwale@gmail.com.
Afterwards,around 5.45 to 6pm, everyone is welcome to come with us to The Tetley Centre for Contemporary Art (just over the Bridge) for a drink and conversation.
We are very grateful to Leeds Civic Trust and Leeds Inspired for their support for this event. And we are also most gratefull to everyone who contributed to our Crowdfunder campaign for the Blue Plaque.
NOTES
Caryl Phillips' essay on David in his book Foreigners — Three English Lives (2007). This prompted us to form the David Oluwale Memorial Association.
Versions of the Leeds United songs, composed and sung by Ellen Smith, can be heard here https://ellensmith.bandcamp.com. They were commissioned by Tony Phillips for the BBC Radio 4 documentary Remember Oluwale, available here https://www.bbc.co.uk/sounds/play/m0010n8c
The Leeds United songs' words are included in Kester Aspden's ground-breaking The Hounding of David Oluwale (2008).
Our photo shows Dr Emily Zobel Marshall, DOMA Co-Chair, while making the film for our Crowdfunder campaign for the David Oluwale Blue Plaque. © Max Farrar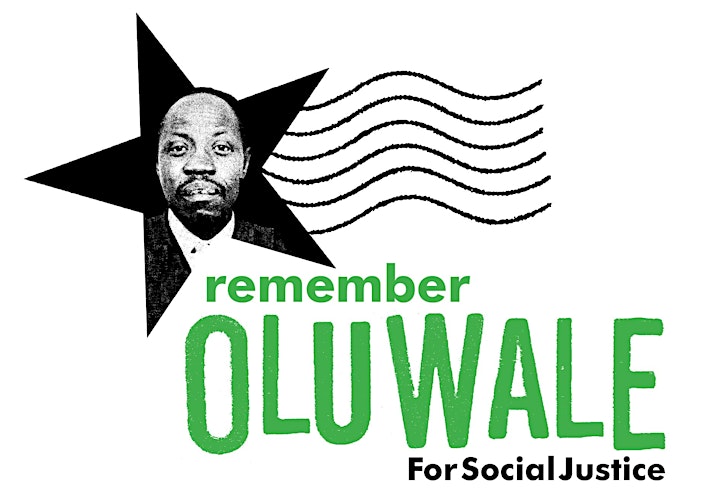 Date and time
Location
ASDA House
Great Wilson Street
Leeds
LS11 5AD
United Kingdom