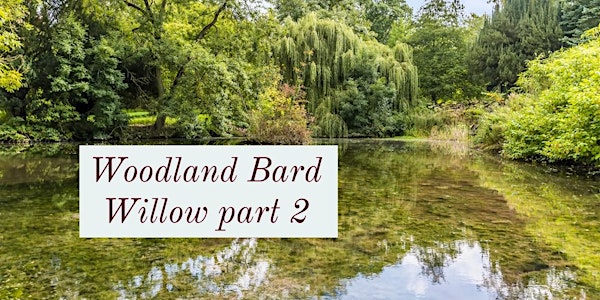 A magical evening of meditation, poetry, ritual -connecting to the Willow.
Refund policy
Contact the organizer to request a refund.
Eventbrite's fee is nonrefundable.
This fortnightly group will take you into the heart of Celtic traditions through nature. This event will focus on the Willow Tree.
About this event
About this Event
Our focus in this session will be on the Willow tree, continuing the lore we explored in the previous session and bringing in new aspects to enable us to go deeper into the mysteries of Willow.
You do not need to have attended the previous session.
The themes of the willow are intrinsically linked with the waterways, invoking a feminine presence which breaks up the skyline and encourages wildlife where the land meets the water.
The beauty of our rivers, brooks and streams is a joy to behold and one can see why our ancestors gave names to the rivers linking them to the Goddess. The terrible pollution of our waterways is in direct contradiction to the tradition and importance of their function.
Through the willow we shall connect with our deep ancestors bringing an awareness of the role we can play in bringing healing to the earth and peace in our lives through a nature connection.
Regular attendance will enable you to build up a worthwhile practice and connection to nature which will help you in your everyday life and enable a connection with a community of like-minded people.
What to expect in a Woodland Bard session:
- A peaceful time listening to prose and poetry that will give you an experience of Nature Connection.
- Learn the profound poetry, lore and uses that surround trees and plants.
- Develop a meditation practice that will help create peace and strength in your life.
- Explore the wealth of Nature Traditions sourced from Western sources connected to this land.
About the organiser:
Jonathon Huet offers over 30 years experience of working with Trees, plants, meditation and nature connection. He has been running the initiative Walk with Trees for over twenty years which promotes the beauty of the landscape and the importance of our connection to it. Each evening is packed with information and inspiring poetry from the British traditions.
All are welcome to join us and connect with the Nature traditions of their own locality.
What people say about Jonathon:
Jonathon is a very kind and caring manner. Very knowledgeable and perfectly grounded in the earth and the traditions of this land. - Mark Lloyd
Beautiful lyrical words and music to celebrate the inspiration of trees with like-minded people - Yvonne McDermott
Jonathon is an incredibly talented individual and brings magic to bushcraft and method to poetry and story. highly recommended - Abbie Simmonds