Learn powerful breathing techniques that will quickly quieten your mind and make meditation easy.
About this event
Did you know that breathwork can quickly help you to release stress and reduce anxiety?
Join us for a free introductory session and learn more about Sudarshan KriyaTM - a technique to instantly get rid of stress and manage your emotions - right from your own home.
Maybe you've tried everything from positive affirmations, mindfulness and relaxation apps, but still nothing seems to last - It's not easy to manage the mind and emotions, is it?
Especially now, the whole world could use some peace of mind.
And we're not talking about something that works for just a few minutes.
We're talking about something so powerful that it makes peace, strength and resilience your very nature. (these are already within you! You just need to learn how to access them.)
That's why meditation and breathwork are not a luxury anymore, they're a necessity.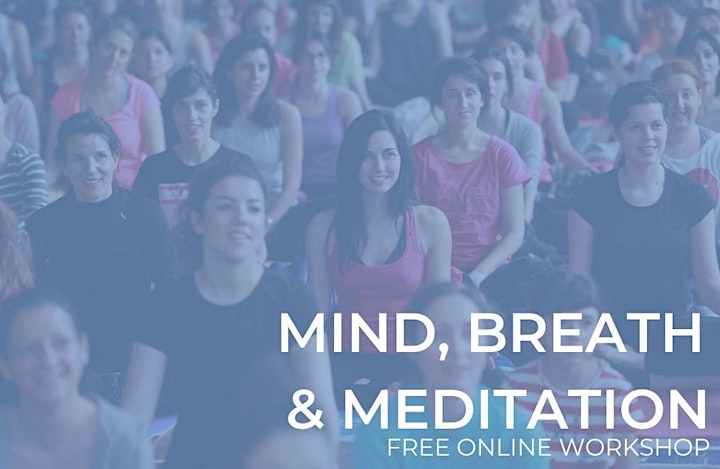 Join our free online Introduction to Meditation and Breath workshop and start experiencing the benefits right away:
100% FREE and Online:
In this free intro session, learn all about the Sudarshan KriyaTM and why it's inspired millions. You'll also get to discover the tendencies of the mind, and experience a unique guided meditation.
90 Minute Personalised Session:
Interact LIVE with our breath meditation experts! This is not a recorded webinar. You'll get to enjoy real-time, exclusive guidance. We'll be there at every step to make sure you get the techniques right!
40 Years of Experience:
Learn from the pioneers of breathing meditation techniques!
Our experienced Art of Living instructors have contributed to spreading the Sudarshan KriyaTM to over 40 million people across 156+ countries.
Why should I attend this workshop? Here's what you'll learn:
✔ A calming breathing technique to help quiet racing thoughts.
✔ A LIVE guided meditation that will instantly leave your mind focused, clear & stress-free.
✔ About the tendencies of the mind and how to overcome negative patterns using your breath.
✔ All about the benefits of SKY Breath Meditation, a powerful technique that works at a deeper level than regular meditation, for long lasting effects.
Reduce Stress and Anxiety with a technique that works. Every Time.
Our mind and emotions are directly connected with our breathing patterns.
Just think about it: How do you breathe when you're feeling happy, sad, or angry?
It changes, right?
And the reverse is also true. Through specific techniques, you can harness the power of your breath and actually have a say over your mind and emotions in any situation.
Imagine being able to CHOOSE how you feel every day!
Science-Backed- From Harvard to Yale, the Sudarshan KriyaTM breathing technique is bringing peace to millions!
Check out what Yale and Harvard have to say about our signature technique the Sudarshan KriyaTM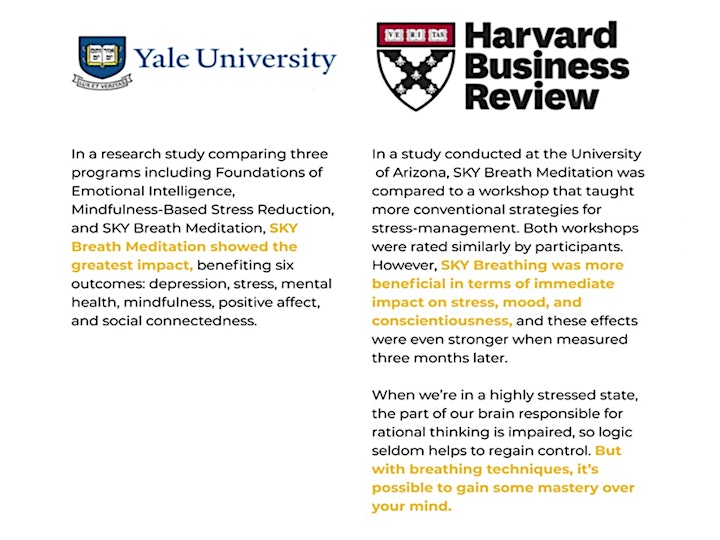 100+ studies conducted on four continents have demonstrated a comprehensive range of benefits of practising the Sudarshan KriyaTM
Independent research has shown that the Sudarshan KriyaTM:
Reduces cortisol - the stress hormone
Supports the immune system
Increases optimism
Relieves anxiety and depression
Increases antioxidant production
Enhances brain function (increased mental focus, calm and recovery from stressful stimuli)
Enhances well-being and peace of mind
Connect with your breath at our free intro session and join millions who have already transformed their lives.
For more details please contact-
Anjali - anjali@uk.artofliving.org
Organiser of An Introduction to Meditation and Breath Workshop
Operating in 154 countries, the Art of Living is an educational and humanitarian organisation founded in 1981 by the world-renowned humanitarian and spiritual teacher Gurudev Sri Sri Ravi Shankar. All of Art of Living's programs are guided by Gurudev Sri Sri's philosophy: "Unless we have a stress-free mind and a violence-free society, we cannot achieve world peace."

The Art of Living community is diverse and attracts people from all walks of life backgrounds and religious orientations.

Art of Living offers numerous highly effective educational and self-development programs and tools that facilitate the elimination of stress and foster deep and profound inner peace, happiness and well-being for all individuals. These programs, which include breathing techniques, meditation, yoga, and practical wisdom for daily living, have helped millions around the world to completely transform their lives.

Gurudev Sri Sri Ravi Shankar's message is simple: "Love and wisdom can prevail over hatred and violence." Happily, this message is not just a slogan, but through the Art of Living has been and continues to be translated into action and results.