AngularNL Online 2020

Friday, 24 July 2020 from 14:00 to 21:00 (CEST)
Event Details
AngularNL Online Conference Friday July 24th 2020
Limited Discount from € 149 to € 49 
Angular Conference Of The Netherlands
10+ speakers | 1,000 viewers | 100+ Countries Attending

AngularNL Conference will take place online after a successful return in Amsteram in 2019 and Online Special in April 2020.  
In 2019 AngularNL Conference was attended by almost 300 Angular & Javascript Enthusiasts
You will get an unique opportunity to watch Angular experts provide you with the latest and greatest on Angular. 10-15 Presentations from the World's Angular Leaders covering all the new terminologies, principles and tools to apply when building components with Angular.

AngularNL is a developer run and community-driven conference brought to you by Frontend Love. 
Join an active network of Angular Developers online looking to enjoy a great day of fun, learning, sharing knowledge and being inspired while being offered the chance of in-person Q&A's, exclusive panel discussions and access to all knowledge tech chat channels 

Take your chance to learn from the best Angular Developers on the planet as they talk through their experiences and whilst sharing their knowledge.


> Talks by Angular Experts & Core Contributors
> HD Video Quality
> Panel Discussions
> Q&A Sessions
> Chat with Speakers
> Advice Lounge
> Most comfortable seating you will be able to find at home
> World Class Catering prepared to the best of your own capabilities. 
> Learning from 10-15 amazing talks on topics such as Ivy, RxJS, E2E Testing and more..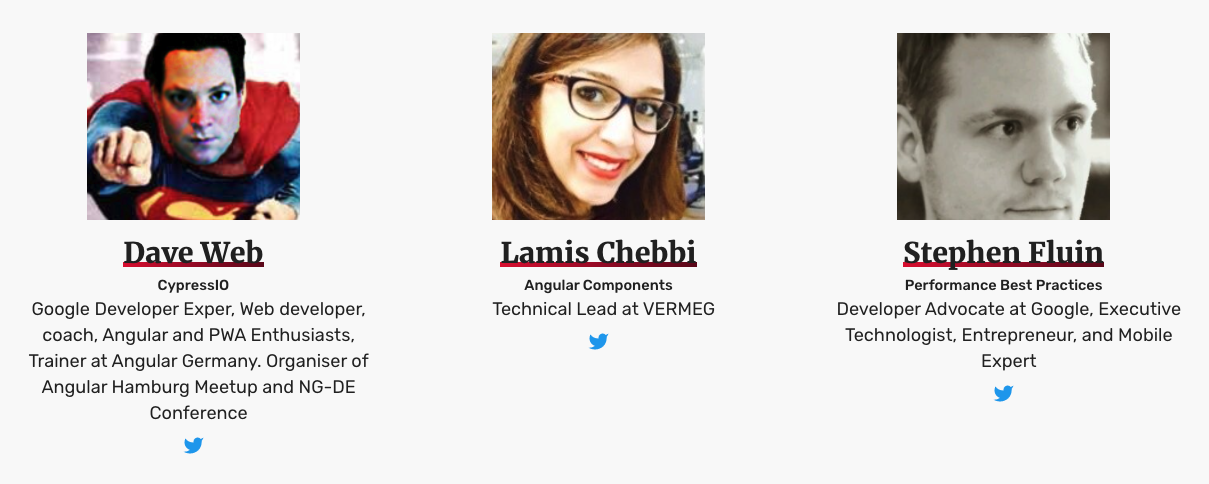 Speakers

 >> Natalia Venditto
Principal Front End Software Engineer & Tech Lead Netcentric

Natalia is an AEM Certified Lead Developer - Angular Developer and Frontend Architect. Last April Natalia spoke during the AngularNL Meetup Special about ScullyIO for Angular Static Pre-Rendering. Next to this Natalia is the Chair Woman for Women Techmakers for the Barcelona Chapter.


>> Stephen Fluin
Developer Advocate at Google

Stephen will be giving us insides on performance best practices, he is a Developer Advocate at Google, Executive Technologist, Entrepreneur, and Mobile Expert. Consultant to hundreds of startup, mid-sized, and Fortune 500 companies. Combines a deep understanding of modern technology and business practices to build great software products, strategies, and experiences. Avid fan of wearables and the Internet of Things.
Did you know that Stephen also like Drone Flying, Photography/Videography and Traveling? 

>> Manfred Steyer
Trusted Collaborator Angular Team

Speaker, Trainer, Consultant and Author with focus on Angular. Google Developer Expert (GDE) and Trusted Collaborator in the Angular team. During the AngularNL Meetup Special Manfred spoke about Angular's Future with Ivy. 

>> Lamis Chebbi
Technical Lead & Senior Software Engineer at VERMEG

During the AngularNL Meetup Special Lamis spoke about how to keep calm en to embrace real-time Angular Components. Lamis is a member of WWCode and has a strong passion for the modern web. Did you know that next to Lamis her enthusiasm for Angular she loves music and traveling. Finally, you can also find Lamis on Medium where she has written several articles on RxJS.


>> Stefanos Lignos
Angular Athens Community 

Stefanos will be educating us on the State Machine in Angular - A new development approach. Stefanos is telling us on how to stop trying to make a complex system reliable by testing it, test yourself by trying to rely on simplicity. In this talk, I'm trying to explain the factors that increase the complexity of a web application and I'm trying to propose as a solution to this problem the usage of state machines and a new development approach that comes with it. By the end of the presentation, you'll have some tools in your hands in order to start from the day after the development of your Angular application using state machines.

>> Dave Web
Trainer at Angular Germany

Dave will be talking about CypressIO, Dave is an Angular consultant and Google Developer Expert who offers support for your Angular applications and projects. He is also part of the AngularJS.DE team. They adapt Angular to your teams that need to find the perfect fit, and get the most out of Angular's platform. For individual developers or small groups they offer monthly workshops in Berlin, Munich, Hamburg and Essen. 

Workshop

>> Angular Architecture Workshop
>> Thursday 23rd July
>> Workshop online by Manfred Steyer
Business applications must be scalable, extendable, and maintainable in the long term! This creates several challenges for the underlying software architecture.
In this workshop you get to know how to master these challenges for your Angular project. You learn how to subdivide a big application into libraries and manage it within a monorepo. You see how to define a Strategic Design for your needs, implement it with Nx as well as how to use access restrictions to enforce your architecture.
Also, we split our monolith into separately compiled and deployed micro frontends using brand-new approaches like Module Federation. For all these approaches we discuss pros and cons as well as alternatives.
In the end, you know how to make your Angular architectures robust. You can choose different options and evaluate them for your specific projects.
>> Reactive Architecture and UX Patterns
>> Thursday 23rd July
>> Workshop online by Michael Hladkey

Overview
Welcome to my course! My name is Michael and I will lead you through
this content.
The title of this course is reactive architecture and UX patterns.
As those are pretty broad terms let be elaborate a bit on the scope and
target audience.

Level of this Course
First the level. For this course, you definitely need some fundamental
knowledge about RxJS,
and you should use it regularly in your Angular projects.
General terms like subscription handling, multi-casting, or hot/cold
Observables should at least ring a little bell.
If this is not the case no big deal. As this, in an online course, you
can consume it as fast or slow as you like.
It's all about fun and explores new things, so the most important to
enjoy it! :)

Content and Learning Goals
This course starts with the fundamentals of the different operator
groups we will use,
and points out some interesting details.
With that in mind, we will start to work on our first patterns.
Exercises we will master are:
- Combining streams
- Overview of combination the operators
- Deriving state from HTTP calls
- Prevent over fetching with simple Http Caching
- Editing and user-controlled opt-In updates
- Optimize View updates and Performance
- Comparison of the combination patterns
- Reactive State-Management
- State aggregation
- Model vs ViewModel
- Sharing state and instances
- Lazyness and component initialization
- Immutability and gotchas in operators
- Higher-Order Operators
- Overview of the different flattening operators
- Avoid race-conditions and over-fetching in UIs
- HTTP optimization strategies
- Resilience and Error-Handling
- Error handling operators overview
- How to encapsulate error-prone code
- Load balancing and polling
- Offline friendly and exponential backoff
- Comparison of the different retry & repeat mechanisms
REGISTER YOUR ACCESS TICKETS TODAY 
Keep up to date: https://twitter.com/angularnl

Organiser
Frontend Love Conferences runs the Largest and Most Epic Javascript Conferences.

We bring together Global Javascript Leaders for the benefit of the Frontend Javascript Community.

We have had over 6,000 paying customers to our conferences so far.

But our Frontend Developer Conferences attract people from all over the world with people traveling and tuning in from over 100 countries to visit our events in person or online.

We are proud to run www.frontenddeveloperlove.com, www.reactlive.nl, www.angularnl.com, www.productupconference.com alongside running other smaller events in Barcelona, Paris & Berlin.

We are proud to give back to the Javascript Frontend Community alongside our technical partner www.passionatepeople.io