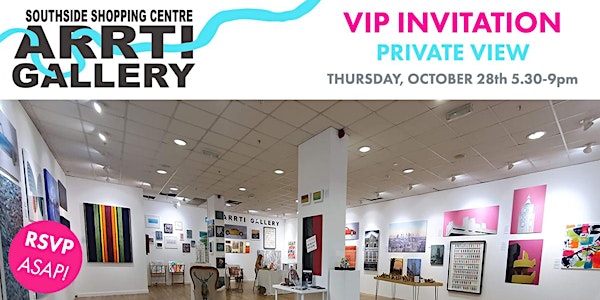 ARRTI GALLERY PRIVATE VIEW
Location
Southside Shopping Centre
Garratt Lane
London
SW18 4TQ
United Kingdom
AN ART EXHIBITION - IN REAL LIFE! JOIN US FOR A SPECIAL EVENING OF ART, DRINKS, PRIZES & INSPIRATIONAL GUESTS IN THE ARRTI GALLERY
About this event
A staggering 9,000+ people have visited ARRTI GALLERY - the brand new local gallery run by local artists in Southside shopping centre.
We would be delighted if you could join us for drinks and much much more at an exclusive preview of our latest art collection at ARRTI GALLERY on Thursday October 28th 5-9pm.
PLUS...
Meet the artists in person and the heroes of London's Air Ambulance crew, our charity partner.
AND enter THE GREAT ARRTI RAFFLE to win some of our original art and a whole host of fabulous prizes kindly donated by local businesses.
SENSATIONAL ART. SPARKLING DRINKS. FABULOUS PRIZES. INSPIRATIONAL GUESTS.
THURSDAY OCTOBER 28th. 5 - 9pm. ARRTI GALLERY, SOUTHSIDE.
(Numbers are strictly limited so please book early to guarantee your place)
________________________________________________________________________________________________
ARRTI GALLERY is a breath-taking mix of uplifting, colourful, and affordable art brought to you by local artists LoveJordan, Rose Long, Susan Bunn, Ella Freire, and Michael Wallner.
You'll be dazzled by spectacular light installations, delicate paper sculptures and vibrant screen prints; fall in love with exquisite paintings and wafer-thin aluminium pieces; marvel at remarkable reclaimed art made from bits of London, and badly behaved bottles. And watch out for the real flowing river Thames, complete with a whale and a shopping trolley!
ARRTI GALLERY – THE LOCAL GALLERY RUN BY LOCAL ARTISTS
OPEN: 12-6pm Thursday to Saturday, 1-6pm Sunday
Find out more at www.ariverrunsthroughit.london
Enjoy our images of the gallery on Instagram @riverrunsthroughit_gallery