Tapas Revolution Beach Tennis Tournament
About this event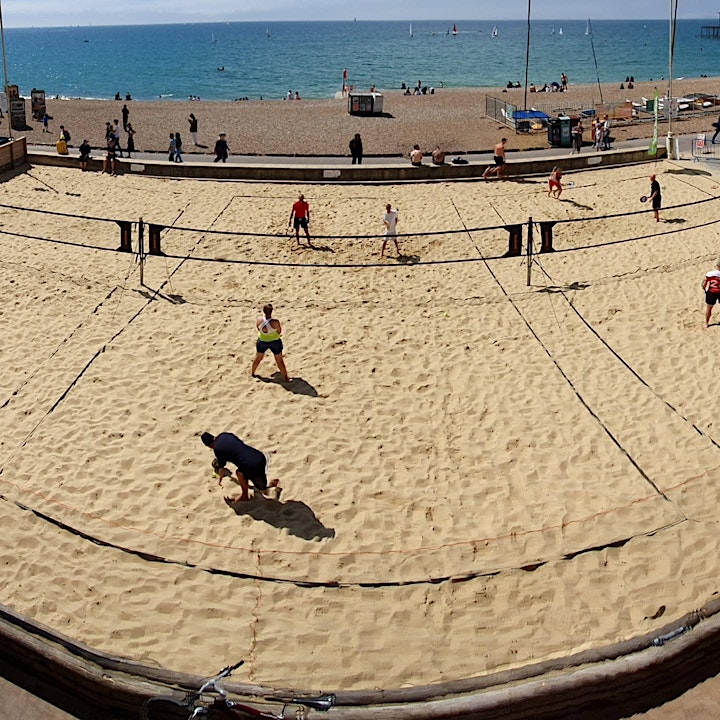 We are delighted to present the 2021 Tapas Revolution Brighton Beach Tennis Tournament, hosted by Beach Tennis UK in conjunction with Tapas Revolution.
***IMPORTANT NOTE - ENTRIES THAT DO NOT INCLUDE ALL PLAYERS (REAL) NAMES AND CONTACT DETAILS WILL NOT BE ACCEPTED***
Beach Tennis is a cross between tennis, volleyball and badminton. It's very easy to play and you don't have to have played tennis to play beach tennis! It's suitable for most abilities and ages. The court is the same size as a beach volleyball court (16 x 8), net height is 1.7m, you play with mini orange balls (less pressurised) and rackets similar to padel rackets. As the ball does not bounce, it's all volleying! Scoring is similar to tennis, the only difference is you get just one serve, there's no let and on deuce (40-40) you play a deciding point.
The Tapas Revolution Tennis tournament will kick off on Saturday Lunchtime with players registration from 12PM.
All equipment will be provided
After the tournament, we will head over to the Sailing Club for some Paella & Tapas!
Players Entry Fee - £7.50
Players Guests Food Ticket - £5.50
Format:
12:30 – 16:00 Tournament
16:00 – 19:00 Prize giving and post-tournament drinks/food
Tournament Format - American
No partner needed, each match is played with a different partner
Each player carries their own points.
There will be a winner, runner up and 3rd place
If 2 or more have the same points, we will do a point shoot out
Matches will be timed, so everyone starts and finishes at the same time
Judges decision is final
Prizes - Sponsored by Kingscote Estate & Vineyard
1st Prize - Wine Tour and Tasting voucher for Two plus a £50 Voucher for Tapas Revolution and a Bottle of Kingscote
2nd Prize - £40 Voucher for Tapas Revolution plus a Bottle of Kingscote
3rd Prize - £30 Voucher for Tapas Revolution plus a Bottle of Kingscote
**As things are still changeable due to Covid-19, please note that event details may have to change at short notice. All safety measures for safe play will be in place**
If entries are showing as sold out, please add yourself to the waiting list and also contact us directly - andysmithard@tapasrevolution.co.uk - thank you
See you all on the lovely Brighton Beach!