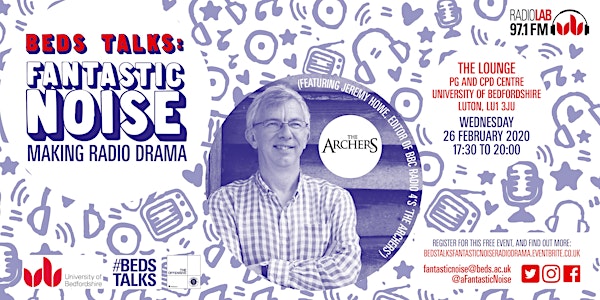 Beds Talks: Fantastic Noise – Making Radio Drama (featuring Jeremy Howe, Ed...
Location
The Lounge
PG and CPD Centre
Luton
Bedfordshire
LU1 3JU
United Kingdom
Description
Audio drama has been prevalent and significant in the UK for decades. A significant reason for that being BBC Radio 4's 'The Archers', the world's longest running drama, with around 19,000 episodes since 1951. In February 2019, the contemporary rural drama was voted as the second best radio programme of all time by a panel of experts.
But how is this form of radio drama made? What are the processes involved? Who better than Jeremy Howe, Editor of The Archers, to tell us. We'll be focusing on the scripting, the recording, the editing and how the process has evolved over the last 69 years.
We'll also be joined by Adam Jarrell from The Offensive, an award-winning mockumentary podcast that follows fictional Premier League club Ashwood City FC. They will answer questions about the challenges of creating new audio drama and establishing an audience without a radio station backing.
Agenda
17:30 - Registration and refreshments
18:00 - Welcome and introduction
18:10 - Recording of talk
19:15 - Quiz at the end (prizes to be won!)
19:30 - Networking, drinks and nibbles
This event will appeal to radio makers, drama specialists, script writers, and anyone interested in finding out more about the production methods that get the stories of Ambridge on air on BBC Radio 4.
Join us for this very special recording of the Fantastic Noise podcast (https://fantasticnoise.podbean.com) at the University of Bedfordshire.
Fantastic Noise launched in summer 2018 as an audio platform for themed discussions on what good radio and audio is.
Host Terry Lee is a Senior Tutor in Radio & Audio at our Luton campus, and also oversees our award-winning community radio station Radio LaB 97.1FM.
The event will be recorded, both as a podcast (to be published soon afterwards), and as a video (for the Fantastic Noise Facebook page).
Before and after the recording there will be an opportunity for networking, and further discussion about audio/radio and our evolving media landscape.