Pianist Samantha Ege performs Black Renaissance Music from Harlem and Chicago. World Premieres of Florence Price, Margaret Bonds, & others
About this event
Black Renaissance in Harlem and Chicago
7:30pm Performance
Post-Concert Q & A Session with Dr. Samantha Eg
In recital on Thursday 16 September, British pianist and musicologist Dr Samantha Ege traces the lives and legacies of a vibrant creative network of Black composers in the transformative Black Renaissances of Harlem and Chicago, including Florence Price, Margaret Bonds, William Grant Still, Nora Holt, and Zenobia Powell Perry and William Levi Dawson. Ege's programme includes the first public performance of the complete set of all four of Florence Price's virtuosic Fantasie Nègre showpieces, following her discovery and restoration of Price's Fantasie Nègre No. 3 following research in Arkansas.
At the beginning of the twentieth century, thousands of African Americans moved to Chicago as part of the Great Migration. The Black Chicago Renaissance was born out of their desire to create better lives than the ones they had left behind. Within Chicago's South Side neighbourhood, numerous women came together to build communities for Black classical musicians. In doing so, they broke down boundaries in American music and placed African American heritage front and centre.
The Black Chicago Renaissance is understood as an offshoot, picking up after the Harlem Renaissance in the 1930s and continuing through to about 1960. But when we look at the classical music roots of Chicago's cultural rebirth, a different narrative begins to emerge, one that really suggests that this movement began much earlier and that women were a driving force.
It was said that you could not think of music in Chicago without thinking about the Bonds family and this is where my story begins. SamanthaEge
PROGRAMME
Florence Price Fantasie Nègre No. 1 & 2 WORLD PREMIERE
Margaret Bonds Spiritual Suite UK PREMIERE
William Grant Still Summerland UK PREMIERE
Nora Holt Negro Dance UK PREMIERE
Zenobia Powell Perry Homage to William Levi Dawson
William Levi Dawson Anxiete/Anxioso UK PREMIERE
Irene Britton Smith Passacaglia UK PREMIERE
Florence Price Fantasie Nègre No. 3 & 4 WORLD PREMIERE
Samantha Ege piano
The four Fantasies were recorded and released by Ege on Odaline de la Martinez's LORELT label in March 2021 to glowing reviews:
"Ege is adept at revealing the contours of the melody underneath the profusion of Price's rich harmonies, and moulds the beautifully judged transitions between sections with a sure hand … a fine introduction to Florence Price's music, but is only a glimpse of a life's-work we've barely begun to appreciate."
★★★★ The Telegraph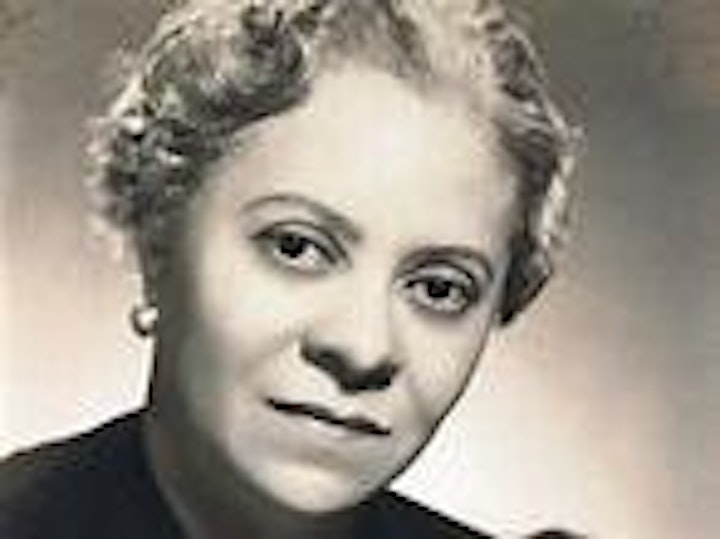 Florence Price
Florence Price (1887-1953) is best known for her Symphony No. 1 in E minor, performed by the Chicago Symphony Orchestra in 1933, the first African-American woman to have her music presented by a major American orchestra. Born in Little Rock, Arkansas and taught by her mother, Price graduated from the New England Conservatory aged 19, with two degrees in piano teaching and organ performance. While there, she presented herself as Mexican as her black racial identity could preclude her success.
Race riots and routine lynchings forced Price and her family to move to Chicago's South Side after her studies, where she found a vibrant community of African American musicians, composers, critics, and sponsors; Michelle Obama was later raised in the same area. Her first symphony premiered to rave reviews following the intervention of the African American community leader Maude Roberts George, after taking first place at the Rodman Wanamaker Music Awards. Price, George, and a number of other women including Margaret Bonds and Nora Holt belonged to what would later be recognised as the Black Chicago Renaissance.
Price's 300 compositions are characterised by their blend of European Romantic idiom nd those drawn from African American traditional music.
Organiser of Black Renaissance in Harlem and Chicago
There are six events in this year's Festival
September 13th: Concert featuring the poems of the Harlem poet Langston Hughes and the AfroCuban Poet Nicolas Guillen together with works by Augusta Read Thomas and Fred Lerdahl
September 14th: Concert of Lin-Linder Piano Duo featuring the music of Daniel Asia, YuanYuan He,
Gabriela Lena Frank and2021 Pulitzer Prize winner Tania Leon.
September 15th, 17th and18th: The opera As One- a chamber opera in which two voice - Hannah before and Hannah after - share the part of a sole transgender protagonist.
September 16th: A concert of African American piano music by the exciting young pianist Samantha Ege. On the heels of her best selling CD Fantasie Negre - Piano Music of Florence Price. Samantha will be performing the four Fantasie Negre for the first time in a concert programme as well works by Margaret Bonds and other African American Composers.