Description
Are you a beauty enthusiast by nature? Do you love buying colour cosmetics? Have you got a beauty blog or a qualification in makeup artistry? Perhaps your goal for 2018 is simply to leave your house every morning with a face beat for the Gods!
If any of this sounds like you - be it personal or professional - join us for an evening of lively discussion about Black women and ourbeauty!
This event will bring together some wonderful women who are creating waves in the industry either independently or within an organisation. Come along, sip some wine and let's tap into their knowledge, experience, advice and stories of a sector that doesn't often consider us.
The kind of topics we'll be getting into on the night:
Why in 2018 are Black women still treated like an afterthought in beauty?
Along came Fenty...but did it do more harm than good?
Should we be buying Black-owned cosmetics or asking mainstream brands for inclusion?
What is best practice for tackling colorism/shadeism?
Do Black women really go harder in 'fakeup' than non-Black women? Are we doing too much?
What beauty trends can we expect in 2018?
How might misogynoir impact our beauty careers?
Peep our panel lineup: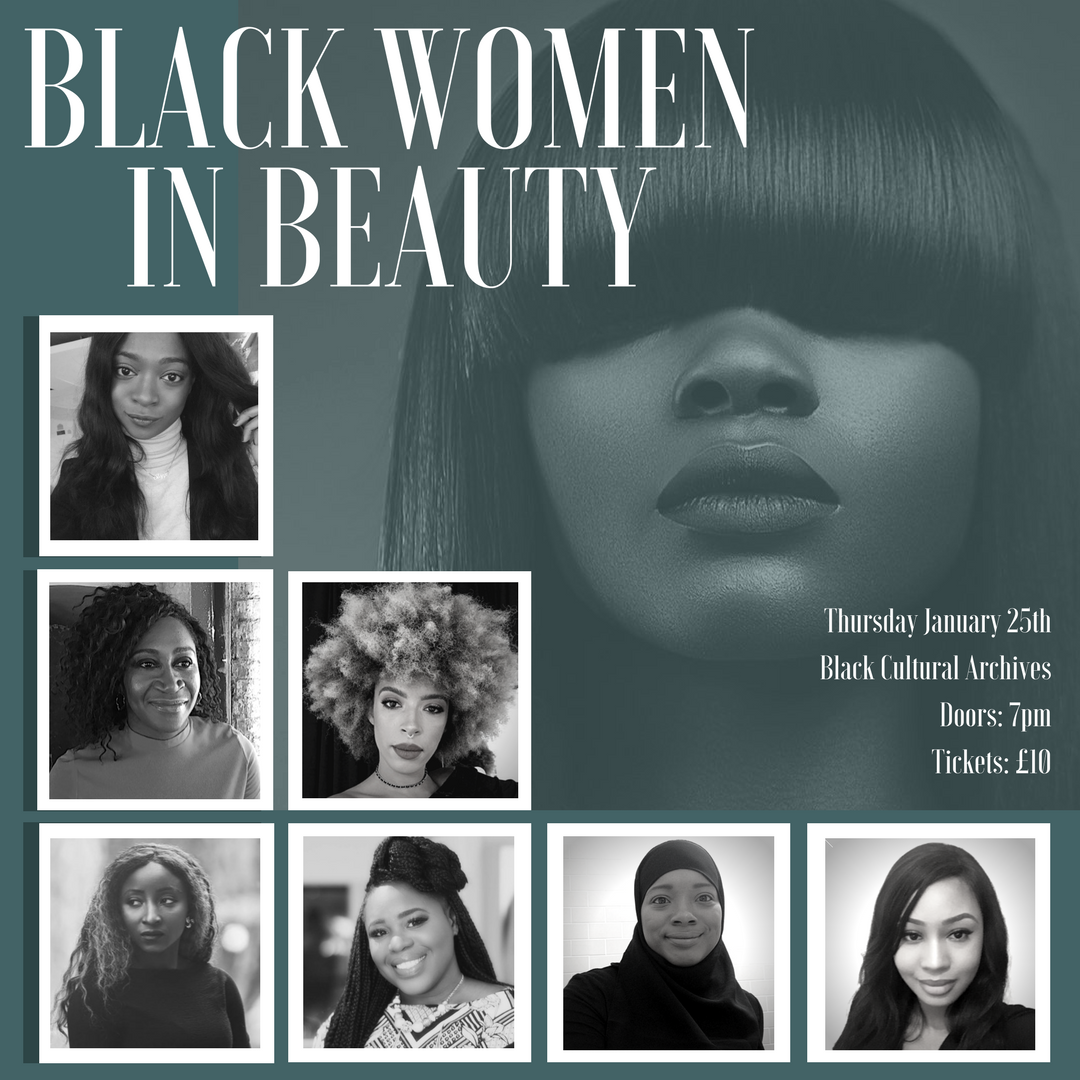 Jamila Robertson - Slapp
Our panel chair Jamila Robertson is fashion and beauty journalist, and creator of Slapp; the makeup app that appropriately matches cosmetics to our complexion. Jamila has an MA in Fashion Journalism from the London College of Fashion and after graduating she launched the digital beauty magazine Blush London. Attending launches as the editor of Blush, and as a contributor for CR Fashion Book and Grazia magazine, she was constantly reminded of how behind the industry still was in providing a diverse range of products, for every skintone. Frequently told by some brands that they 'couldn't' make darker shades, or that they'd be 'coming soon', she decided to take a stand with Slapp and only champion brands that championed everyone.
Ronke Adeyemi - brownbeautytalk
Ronke set up the brownbeauty discussion in June 2013 as a forum where Women of Colour (WoC) could discuss beauty issues that affect them. They have covered everything from finding the right foundation, WoC
who run their own beauty businesses, body image, sun care, WoC and going natural.
The discussion has gained a loyal following as well as lots of media coverage on the BBC, The Voice, Pride, Black Hair and on several beauty blogs. She has collaborated with several beauty brands such as Mavala, Antonia Burrell, Fashion Fair and Anita Grant. brownbeauytalk launched in April 2017 as an online magazine that covers beauty news, events and product reviews for WoC.
When not editing brownbeauytalk Ronke works as a freelance digital marketing consultant. She also runs a blog called Ondo Lady in which she was awarded Blogger of the Year at the Precious Awards.

Christelle Gbeudjeli - Smashbox MUA
Christelle Gbeudjeli is a young makeup artist and hair stylist that has been working in the industry for several years. She specialises in editorial, advertising and bridal makeup. She has worked with a number of brands and personalities including Vogue publisher Vanessa Kingori and singer Rebecca Ferguson. She aspires towards a more diverse industry that holds better knowledge in Black Beauty.

Natalie Clue - Keziah Connections
Natalie Clue is a marketing consultant, sought-after speaker, and the Founder of Keziah CONNECTIONS; a networking and mentoring organisation that facilitates the progression and encourages the empowerment of the Woman of Colour within the British Beauty Industry. The organisation has partnered with many large beauty brands, recently teaming with Twitter Women UK to host an inspirational debate on the 'Power of Representation'.
With an ardent passion for all things beauty, Natalie has garnered many years of experience working within the sector across several functions, for companies such as Estée Lauder, Dermalogica and John Frieda. Her blog BeautyPulseLondon, has garnered a worldwide following and she has collaborated with leading brands such as Mizani, Elizabeth Arden, Clinique , Estee Lauder, NYX, Boots, Superdrug, Black Up Paris and others.
Named one of Stylist Magazine's 'New Faces for Your Twitter Feed' and shortlisted as a finalist for the 2013 Precious Awards in the 'Blogger of the Year' category and the 2015 Wise Woman Awards, Natalie's breadth of experience and exposure has afforded her the unique position to be able to educate and advise others on how to succeed in the beauty industry in both the mass and premium markets.

Charlene Lavile - NIZZ Cosmetics
Charlene Lavile is the Founder and Creative Director of NIZZ Cosmetics, a vegetarian lipstick brand. Charlene's varied background in science, digital media and ecommerce provided the perfect foundation for NIZZ Cosmetics. As a self-taught cosmetic entrepreneur, Charlene develops natural, organic and halal products. Passionate about her brand and its possibilities, NIZZ empowers women to explore the healthy beauty option tailored to their lifestyle and beliefs. With product media coverage featured in publications such as Look Magazine, Huffington Post, InStyle, Cosmopolitan, NOW!, Health & Fitness, OK! and Daily Mail. No stranger to the health industry, Charlene has spent six years as a qualified burse, Where she gained experience in holistic living, wellbeing and dermatology.
Shirley De Lawrence - Miss Caribbean & Commonwealth UK
Shirley Dee is a former beauty queen and the newly appointed CEO of Miss Caribbean & Commonwealth UK. As a commercial model she has featured in various publications such as Black Beauty, Black Hair and Ebony magazine and hosted two successful TV shows. A BEFFTA award and Life Changers Award winner, Shirley is also Creative Director of Demur Magazine and an accomplished film producer with various film credits to her name. Her popular blog shirleydee.com often causes social media storms with its opinion pieces on a variety of subjects from dating to race and intersectionality.
Millie Sesay - Coty
Millie Sesay is passionate about representation of Black women in the beauty industry and works for one of the largest Global Beauty companies in the world, Coty. Serving in their Fragrance category which is currently number 1 in the UK, Millie is a Junior National Account Manager. Through her previous role at colour cosmetic company MUA and studies in Pharmaceutical & Cosmetic Science at university, she will lend additional insight into what is sure to be an interesting discussion.

Doors: 7pm / Discussion: 7.30-9pm / Networking: 9pm-9.30
'Cash only' beautystand available on the night

Complimentary glass of wine

Light refreshment

Copy of Glam Africa magazine
What we discuss here will broaden your understanding of the beauty industry and highlight the importance of our responsibility as Black women to take up space. Don't miss out, places are limited...
A NOTE ON PHOTOGRAPHY: We will be carrying out some non-evasive photography at this event for promotional materials only. By attending this event you are deemed to have granted permission to be photographed. Please speak to a member of the team on the day if you wish not to be included.
#BCACommunity #BWiB #BlackWomenInBeauty #BlackWomenIn #Codebene #WeAreNotAnAfterthought
Photo Credit: Model @Flowerbatts and Photographer: @asiko_artist
Organiser of Black Women in Beauty