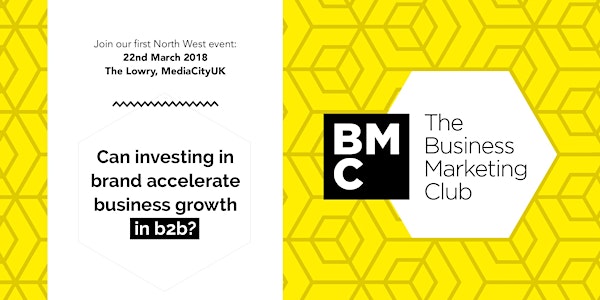 BMC Thought Leaders Event: Can investing in brand accelerate business growt...
Location
The Hexagon Room
The Lowry
Media City UK, Pier 8
Salford
M50 3AZ
United Kingdom
Refund policy
Refunds up to 7 days before event
Description
If you're looking to inspire your b2b brand thinking for the year ahead, join us at this early evening event to hear from recognised branding experts and business owners about the role brand can play in driving your business growth.
There's a widely-held perception that branding is less important for b2b companies. However, a recent McKinsey study claimed that some of the world's most successful b2b companies are on a par with consumer brand giants like Procter & Gamble when it comes to having business value tied up in goodwill and other intangible assets - better known as their brand.
In a world where companies are struggling to establish true differentiation, can a strong and recognisable brand make the difference? And should b2b businesses be investing in brand at a strategic level to accelerate growth, regardless of their size?
At this first Business Marketing Club (BMC) event in the North West, we're bringing branding experts and business leaders together to argue the case for strategic brand investment, both internal and external, within b2b companies.
The event will mark the launch of new research by Manchester Metropolitan University and brand creation and communications agency Upp B2B which explores the role of branding in driving growth for UK services businesses. Attendees will receive a free copy of the research paper, while two participants from the study will share their growth stories, giving practical advice and tips for brand growth acceleration.
KEY THEMES WILL INCLUDE:
The role of brand in the b2b customer journey

Which traits does a b2b brand need for success in 2018?

Does a strong b2b brand enable you to charge a price premium?

What drives brand recall in the b2b space?

How do you position your business-to-business brand for growth?

Why a focus on branding internally is just as important as external investment
OUR PANEL OF SPEAKERS:
Our panel of speakers have all worked on the frontline of brand growth strategies within the b2b space. They will share insight and practical advice to inspire your own b2b brand thinking.
Introduction by Max Clark, NW Chair, Business Marketing Club and Director of Strategy, Upp B2B

Kelly Grundy, Senior Marketing Development Manager, Brother UK Ltd
Allie Johns MSc, Senior Lecturer in Digital Marketing, Manchester Metropolitan University & Media Psychologist
Ann Rimmer, Director of Brand, Upp B2B
Phil Foster, Managing Director, Love Energy Savings
Beccy Irving, Client Services Director, Upp B2B
Graeme Lawrence, Director, Sales and Marketing, Join The Dots
Dr Tamara McNeill

, Senior Research Associate, Manchester Metropolitan University, Faculty of Business and Law
This is the first North West event for The Business Marketing Club - register today to receive our Early Bird ticket reduction or join the club and attend all BMC events for FREE in 2018!
The BMC is a not for profit organisation run by B2B marketers for B2B marketers. The cost of your attendance at this event will contribute towards the venue costs and the continued development of the BMC event programme in the NW region.