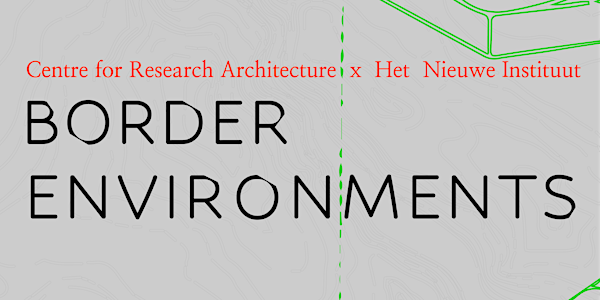 Border Environments: The entangled politics of ecology and migration
Event Information
Location
LG02, Professor Stuart Hall Building, Goldsmiths University of London
80 Lewisham Way
London
SE14 6NW
United Kingdom
Organised by the Centre for Research Architecture in collaboration with Het Nieuwe Instituut (Rotterdam)
About this event
The Centre for Research Architecture at Goldsmiths University of London is opening its monthly roundtable, which brings post-graduate students and staff together with key thinkers to discuss contemporary debates in spatial politics, to a broader public for two-days of conversations and screenings.
The ​​Border Environments roundtable programme sets out to critically examine the ways in which environmental systems become active agents in the management and control of migrant bodies and their modes of circulation, resulting in violent and even deadly consequences. Over the two-days of the programme we will address a number of urgent issues including the weaponisation of semi-natural landscapes in border struggles, the role of conservation projects and nature reserves in demolishing migrant camps, and the transformation of ecologies into tactical security regimes.
Please join us in exploring the political and material effects of environmental forces in bordering practices in order to generate a broader conversation around these pressing issues.
This special public roundtable is organised in collaboration with Het Nieuwe Institute, a cultural centre in Rotterdam focusing on architecture, design, and digital culture.
Thursday 12th May
10:00-10:30 Introduction by Susan Schuppli (Centre for Research Architecture)
10:30-12:30 Juanita Sundberg (University of British Columbia)
13:30-14:30 Gabrielle Wolf (University of British Columbia)
14:30-15:30 Stéphane Verlet-Bottéro (The School of Mutants), OVERTIME, 2019 + Hanna Rullmann & Faiza Ahmad Khan, Habitat 2190, 2019
16:00-18:00* Arun Agrawal (University of Michigan) in conversation with Avi Varma (CRA)
Friday 13th May
10:00-11:30 Nadine El-Enany (Birkbeck School of Law)
11:30-13:00 Uriel Orlow (Westminster School of Arts)
14:00-15:30* 'Shifting Geographies' panel, with Dele Adeyemo, Andrea Bagnato, Sara Frikech and moderated by Marina Otero Verzier
15:30-17:00* Border Ecologies Network
----
* available also online (Zoom Link)
----
for inquiries about the event, please, get in touch at cra@gold.ac.uk
Here, if you want to know more about the activities of the Centre for Research Architecture and Het Nieuwe Instituut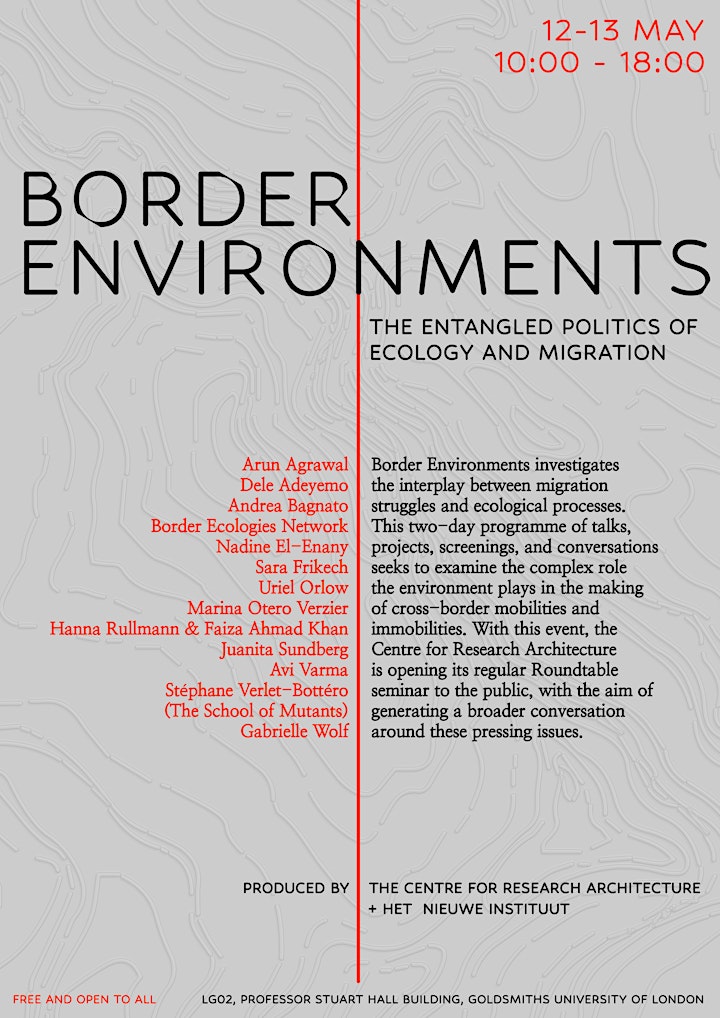 Date and time
Location
LG02, Professor Stuart Hall Building, Goldsmiths University of London
80 Lewisham Way
London
SE14 6NW
United Kingdom