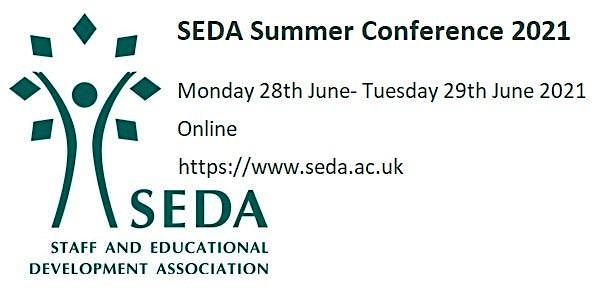 Brighter Future - Opportunities for Educational Change
Sales Have Ended
Registrations are closed
Unfortunately, registration for this event has now closed. For those of you who were not able to register or are unable to attend, a recording of the SEDA Spring Conference will be made available on the SEDA website six months after the event has finished.
The SEDA Spring Conference will take place, online, across 28 & 29 June 2021
About this event
SEDA will be holding its Summer Conference, online across 2 days on Monday 28th and Tuesday 29th June 2021; these are the revised dates from the original May 2021 SEDA Spring Conference which was postponed.
Because of the re-arranged programme, we may have to make small changes to the schedule listed below. Please check this website or the programme page on the SEDA website for updates.
The final schedule and necessary links will be sent to all delegates and presenters by June 25..
Opening with keynote, David Kernohan, Associate Editor of Wonkhe. This conference will provide opportunities to reflect, discuss and share lessons learned from the teaching approaches adopted during this academic year and discuss their implications, potential application and potential for further development. Some commentators argued that the 2020 crisis gave us unique opportunities to both 'transform' higher education and enhance our contribution to the broader society, e.g. the article by Fernando M. Reimers – 'Universities can be midwife to an education renaissance' (THE, 9/7/20). This event will allow us to explore how realistic these aspirations are and examine the most likely consequences of post-pandemic educational change.
This event will be of value to staff at all levels in Higher and Further Education who are involved in the enhancement of student learning, including educational and learning developers, course and programme leaders, Associate Deans and other managers of student learning, learning technologists, and staff in student services.
We will be addressing the following themes, via workshops, discussions and presentations:
• What have we learned from over a year of the 'new abnormal' in optimising the student experience through course design and delivery; learning, teaching and assessment; staff and student support; recruitment and retention; and academic development?
• How are we applying what we have learned in these, and other areas of educational change, to the design of the University Experience for the future?
• Reimagining how we engage in educational change to ensure the most positive student experience is now more critical than ever. What will be the main parameters of what will become the expected experience of those in HE&FE? How will we help ourselves, and support each other, to navigate them successfully?
You can find links to details of all the sessions here
DAY ONE
08.40 – 09.00 Virtual Coffee
09.00- 09.10 Welcome and Introductions
09.10 –10.10 Keynote Address: David Kernohan from WONKHE
10.10 – 10.30 Virtual Coffee
10.30- 11.45 Session 1: Workshops
1. Reflecting on student reflections: Lessons learnt from delivering an online pre- arrival course to prepare students for remote PGT study
~Anna Maria Jones, Alisia Southwell, and Danielle Kurtin
2. Ketso Connect - Learning together and apart
~Joanne Tippett
11.45- 12.00 Virtual Coffee
12.00- 12.30 Session 2: Presentations/ Research
3. Is there space for fun in HE learning and teaching?
~Laura Barnett and Cara Beard
4. Dimensions of development as a teacher in higher education
~ David Baume
5. The Big Wave of Apprenticeship: Hit or Miss?
~ Simon Leung and Carlos Gonzalo
12.30- 13.00 Lunch Break and Virtual Coffee
13.00- 13.30 SEDA PDF and Publishing with SEDA
SEDA PDF – short presentation and discussion about SEDA's Professional Development Framework
Publishing with SEDA – information, discussion and advice
13.30- 14.10 Session 3: Workshops
6. Harnessing the power of change and uncertainty to see our practices differently: developing a new model to inform our ongoing EdDev and TEL roles
~ Clare Kell, Elizabeth Jones, and Lyndsey Muir.
7. Co-creating the student experience: Accelerating and implementing change during and beyond the pandemic
~ Susan Smith and Dan Axson
8. Peer Observation of Teaching in a Pandemic: Implications for Educational Development
~ Dr. Morag Munro, Eddie Corr, Julian Nagi, Robyn Meyler, Katharina Kurz, Michaela Waters and Chris Abraham
14.10- 14.30 Virtual Coffee
14.30- 15.00 Session 4: Presentations/ Discussions
9. Employer Engagement in a Pandemic Environment for Connected Curriculum Design
~ Lois Gray
10. From Digital Resistance to Enhanced Capability: Negotiating a pathway of change
~ Isabel Lucas, Amanda Chapman, and Andy White
11. Enhancing authentic learning through the use of smartphone videos
~ Jonathan Wilson
15.00- 15.20 Virtual Coffee
15.20- 16.00 Session 5: Workshops
12. Expertise, student-centred learning and the 3 Circles of Presence
~Helen King
13. Shiny METaL: Commissioning a media-enhanced teaching and learning environment for connected learning
~ Andrew Middleton
14. Pracademia and shifting settings: Exploring applied learning within the 'new-abnormal' HE environment
~ Jill Dickson, Teri-Lisa Griffiths
16.00- 16.10 Plenary- Introducing Day 2
16.10- 16.30 Virtual Coffee and Close
DAY TWO
09.00 – 09.10 Welcome to day 2
09.10 – 10.05 Keynote : Student Papers plus Q&A
15. Rethink, reimagine, and redesign teaching, learning, and assessment: Lessons learned and moving forward from remote academic experience @ University of Limerick
~Dylan Scanlon and Niamh Kennedy
16. Student Engagement: Enhancing Our Learning Community @ Stirling Through Challenging Times
~ Sarah Gardiner and Arlana Yessenbayeva
10.05- 10.35 Virtual Coffee
10.35 – 11.05 Session 6 – Presentations/Discussions
17. Supporting New Computer Science Academics
~ Alastair Irons, Alan Hayes, James Davenport, and Tom Crick
18. Cascading conversations across Professional Development Open Courses and Community in teaching and learning in Irish Higher Education
~ Roisin Donnelly, Caitriona Ni She, Colin Lowry, and Terry Maguire
11.05- 11.25 Virtual Coffee
11.25- 12.30 SEDA Plenary Panel: Reasons to be realistically optimistic
A panel of SEDA experts will address the main conference themes and offer their own perspectives on future possibilities.Our panel is David Baume, Sue Beckingham, Catriona Cunningham and Mary Fitzpatrick, chaired by Peter Hartley.
Delegates will have the opportunity to raise questions and engage with the panel during the session.
If you have a specific question for the panel to consider in advance, please email this to Office@seda.ac.uk with the subject heading 'SEDA Plenary Panel Question'.
12.30- 13.00 Lunch Break and Virtual Coffee
13.00- 13.30 SEDA PDF and Publishing with SEDA
SEDA PDF – short presentation and discussion about SEDA's Professional Development Framework
Publishing with SEDA – information, discussion and advic On daye
13.30- 14.10 Session 7: Workshops
19. Supporting critical thinking through purposeful classroom talk
~ Marion Heron and Hilary Wason
20. Fostering a healthy remote learning environment for students and educators
~ Ruari O'Gallchoir
21. Establishing and maintaining Authentic Student-Staff partnerships in Higher Education
~Morag Munro, Nicole Carr, Eddie Corr, and Karla Doyle
14.10- 14.30 Virtual Coffee
14.30- 15.00 Session 8: Presentations/Discussions
22. Using student internship schemes to support Ed Tech innovation and build foundations for a Community of Practice
~ Kiran Gawali and Helen Walkey
23. Keeping positive staff changes: taking a chance or by deliberate design
~ Sandy Cope
24. Post-pandemic possibilities: reflections on likely developments in learning, teaching, assessment and the 'world of work' and practical suggestions to improve the student (and staff) experience
~ Peter Hartley.
15.00- 15.20 Virtual Coffee
15.20- 16.00 Session 9: Workshops
25. Getting Serious about Leisure: practical, research-led approaches to supporting staff and student wellbeing through leisure
~ Petia, Petrova, Sam Elkington, and Kat Branch
26. Turning challenge into opportunity: Building a learning design framework and support model
~ Mark Allinson and Lotte Mahon
16.00 END