Building Brum | Net Zero Carbon: What's Stopping Us? Hosted by Willmott Dixon
About this event
COP26 is just around the corner. What better time has there been for the built environment to lead the net zero transition? With COP26 focusing on governments and world leaders agreeing what they are going to do – how can the rest of us get involved?
We're pleased to be hosting this event with Willmott Dixon at the prestigious Grand Hotel in November, to bring together experts to debate the net zero challenges for the built environment. Willmott Dixon have committed to ensuring all of their building projects and refurbishments achieve net zero carbon in operation by 2030.
With networking opportunities, a panel debate and Q&A, it's guaranteed to be an insightful evening.
Julia Barrett, Willmott Dixon Chief Sustainability Officer and Director of the Aldersgate Group will be primed to share her valuable insights on the progress made at COP26, as well as hosting the panel debate.
We'll dig deep into the real challenges of net zero, understand how the private and public sector can collaborate in this endeavour, discuss commercial approaches, and share learnings, solutions and approaches.
We are delighted to that we will be joined by a panel including Deborah Cadman OBE, Chief Executive of Birmingham City Council, Belinda Morgan Partner - Cundall and Tim Carey Chief Product Director of Collida.
We welcome you to join us. It's Now or Never. What's stopping you?
Building Brum is a programme of cross-disciplinary events looking at different aspects of Birmingham's built environment, it is all about bringing together people who are passionate about Birmingham and sharing the projects that are shaping its growth and influencing its future.
Eventbrite registration is required to access this event.
Event organisers may be required to reduce the capacity of the event at a future date, you will be contacted if this affects you.
For more information please email conor@curzon-consultants.uk or visit www.buildingbrum.co.uk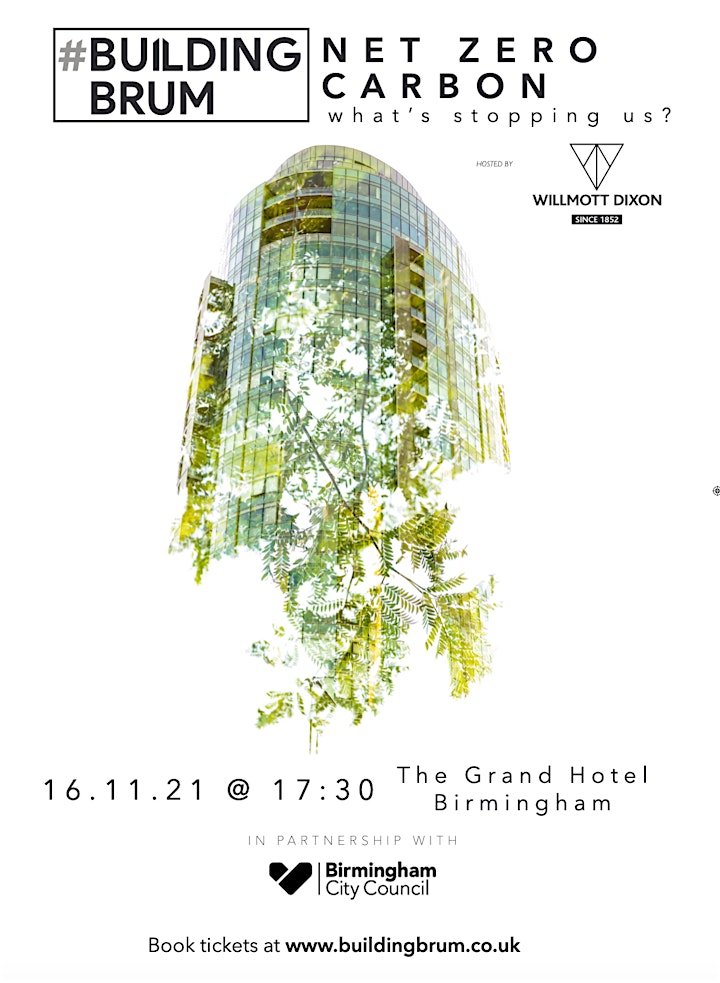 Organiser of Building Brum | Net Zero Carbon: What's Stopping Us?