A fun and interactive course to help to build digital confidence in learners over 50.
About this event
This course will be paced in a way to ensure that all learners are able to achieve and course content will be geared around individual needs. This course will help to support learners with low digital skills whilst also assisting learners with specific learning goals to assist them in becoming more confident with tasks on technology devices and with using certain applications, email, or other programs.
Course aim
A fun and interactive session to help learners to feel more relaxed using the Internet and various applications.
Building Digital Confidence Course - Covid Digital Champions
(Utano Foundation)
Module 1: Device, Information and Data Literacy
1. Understanding your device
1.1 Understanding your mobile phone or tablet
1.2 Learn how to store documents, images and download applications on your device
1.2 Have a better understanding of different icons on the Menu Bar and how and best to use them
2. Search Engines
1.1 Knowledge of which search engines are the most common.
1.2 Ability to choose and set a primary search engine.
3. Data management
2.1 Knowledge of different storage devices and online cloud services.
2.2 Ability to choose appropriate storage devices and online cloud services
2.3 Write and format a structured document using MS Word
2.4 How to create digital signatures
2.5 How to safely locate, rename and save files
Module 2: Introduction to social media and email
1. Email
1.1 What is email?
1.2 Creating an email account in Gmail Email interface
1.3 Sending an email
2. Facebook
1.1 Introduction to Facebook
1.2 Creating a Facebook account and understanding your Facebook profile
1.3 Friending on Facebook and creating posts
1.4 Sending a message on Facebook
1.5 Video calling and live streaming
3. Whatsapp
1.1 Introduction to WhatsApp
1.2 Creating an account
1.3 WhatsApp interface
1.4 Update your profile
1.5 Adding contacts on WhatsApp
1.6 Sending messages on WhatsApp
1.7 Making voice and video calls
Module 3: Content Creation
1. Pictures and video
1.1 Learn how to take different types of photos
1.2 Create photo albums
1.3 Create videos with your mobile device
1.4 Learn how to edit them in camera roll
1.5 Delete and clear pictures and videos
Module 4: Using Finance and Online Services
1.1 Fill in an online form or application
1.2 Understanding budgeting using online tools
1.3 Online banking and how to use a banking app
1.4 Paying your bills and council tax online
Module 5: Online Shopping and Staying Safe Online
1. Online Shopping
1.1 How to buy goods and products online
1.2 How to spot a safe website
1.3 Using the customer service chatbot
2. Risks and Safety Measures
1.1 Using an updated operating system
1.2 Setting up strong passwords
1.3 Installing Anti-malware software
1.4 Regular backing up of data
1.5 Using encryption
1.6 Spotting possible threats to data/information
Evaluation and Review
1.1 Demonstrate skills learnt
1.2 Training evaluation questionnaire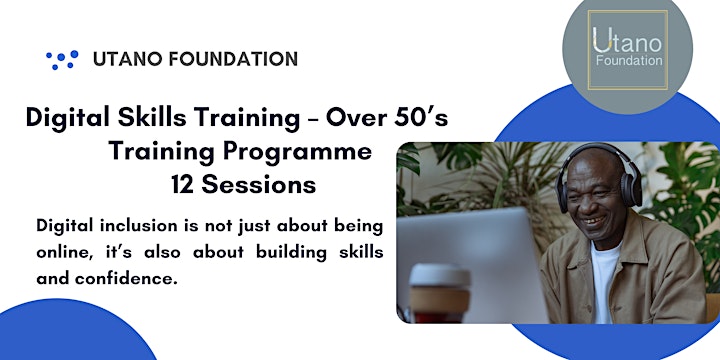 Organiser of Building Digital Confidence Course - Over 50's Digital Skills Class (BAME)