Description
Click here if you like to discover more about the Hardware Pioneers community.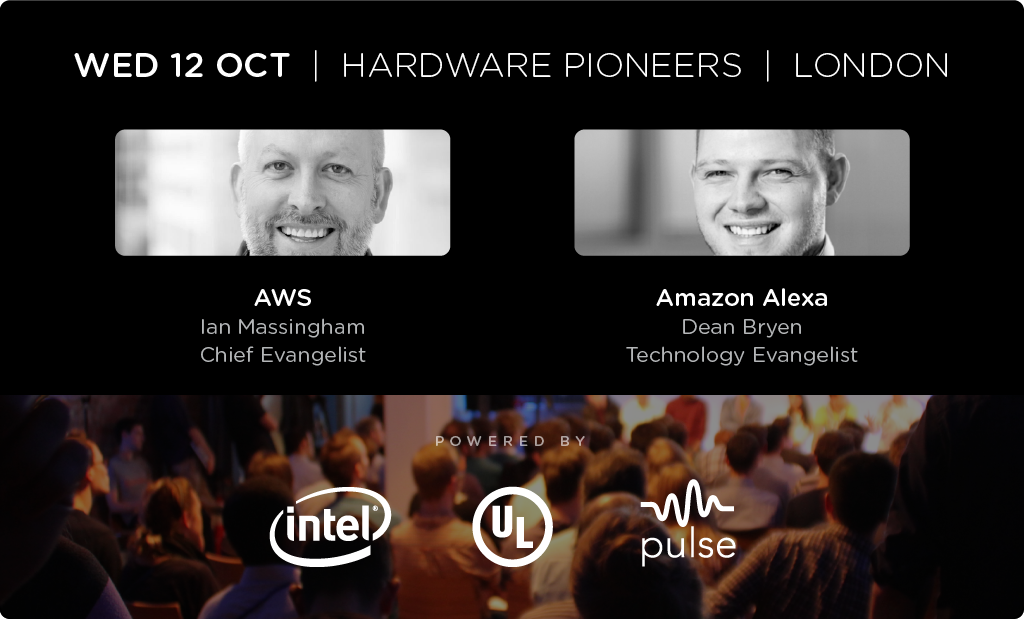 The Internet of Things is about connecting internet-enabled devices that relay information back to us, to cloud-based applications and to each other (device to device).
At our October event we'll discuss the best solutions and tools to efficiently build IoT apps for the cloud with the help of two extraordinary speakers from AWS IoT and Amazon Alexa. Like always, this night is complemented with plenty of free beers!
Like always, this night is complemented with lots of free beers!
This event is kindly sponsored by Intel, UL, and Pulse.
---
Agenda
18:30 - Check in + beers and pizza
18:50 - Event opening
19:00 - Ian Massingham, Chief Evangelist at AWS
19:30 - Dean Bryen, Technology Evangelist at Amazon Alexa
20:00 - Demos + community announcements
This is your time if you would like to share what you are working on with the community or make any sort of announcement. You have 2 minutes max for a short shoutout.
20:20 - Drinks and networking
21:30 - Event ends
---
About the speakers
Ian Massingham, Chief Evangelist at AWS

Talk title: Connected Device Applications without Servers
About the speaker: Ian has been working with cloud computing technologies since 2008. He works to increase the awareness of AWS cloud services and works with customers of all sizes, from start-ups to large enterprises, to help them benefit from the adoption of AWS. Ian has a special interest in the development of Connected Device and IoT applications, and in architecture patterns for the deployment of large scale gaming platforms in the Cloud.
About the company: Amazon Web Services (AWS), a subsidiary of Amazon.com, offers a suite of cloud-computing services that make up an on-demand computing platform. As of 2016 AWS has more than 70 services, spanning a wide range, including compute, storage, networking, database, analytics, application services, deployment, management, mobile, developer tools and tools for the Internet of things.
Video: Introducing AWS IoT
Dean Bryen, Technology Evangelist at Amazon Alexa
Talk title: Creating Voice Enabled Experiences with Amazon Alexa
About the speaker: Dean Bryen works with developers of all shapes and sizes to help create voice driven experiences with Alexa's technology. Previously, he spent 2 years at Amazon Web Services as a Solutions Architect. Dean has spent over 10 years in the IT industry, working in engineering, operations and architecture roles across various hosting and cloud providers. Dean is very passionate about Voice UX, IoT, Devops, Server-Less computing and all things startup.
About the company: Amazon Alexa, the voice service that powers Echo, provides capabilities, or skills, that enable customers to interact with devices in a more intuitive way using voice. Examples of these skills include the ability to play music, answer general questions, set an alarm or timer and more. Alexa is built in the cloud, so it is always getting smarter.
Video: Introducing Amazon Echo
---
UK partners
ihorizon - London based accountants specialising in outsourced accounting and finance solutions to entrepreneurs and tech startups in the UK and US.
Airspace - A new flexible, co-workspace provider on Oxford Street, with a mission to make high quality work space more accessible. Airspace allocation is curated with the goal of building vibrant and thriving communities, with a diverse mix of businesses and individuals.
---
About Hardware Pioneers
Discover more about Hardware Pioneers on our website.
Get notified about future events by subscribing here.
Check out what people say about @HdwPioneers on Twitter!