This is a beginners course (delivered as two half days of 3 hrs per session) for one person only and is therefore highly individualised.
About this event
Course outline
Photoshop is regarded as the industry standard photographic editing software favoured by photographers, graphic designers and people working in the creative industries.  Now in its 25th year, it is a very sophisticated programme, however by learning just a few tools and tricks you will be able to transform your own photographs.
This course is delivered as two half-day sessions, each 3 hours in duration. The second date will be scheduled on a mutually convenient date upon booking the first session.  
 Course Content
Hour 1
Introduction to the Workspace
Create a new document
Controlling the workspace
Customising the workspace
Screen layout and window arrangements
Navigation and zoom shortcuts
Guides, grid and ruler
Learn Palette
File Formats
Image quality and resolution
Bitmap and vector graphics
Image and canvas size
Colour spaces (RGB vs. CMYK)
Hour 2  
Transforming
Cropping Images
Creating custom pre-set crop sizes
Straightening 
 Selections  
Creating selections using the selection tools (Marque, Lasso, Polygon & mechanic Lasso, Quick selection & Magic Wand)   
Improve and refine selections
Adding and subtracting from selections
Saving and loading selections
Hour 3
Layers
Create, delete and edit layers
Name, hide, arrange layers
Merge and group layers
Change opacity and blending modes
Create clipping paths
Blending layers
Hour 4 
Colour Correction and Adjustment
Destuctive vs. non-destuctive  
Use Adjustment layers
Levels and curves
Hue and saturation
Correcting white balance
Shadow and highlights (using smart filters)
Colours and gradients  
Work with the Colour Picker
Use the Eyedropper tools
Save and share colours and swatches
Create and control gradients
 Hour 5
Removing objects from their background
Create layer masks and clipping masks
Using the 'Select & Mask' feature
 Removing unwanted objects from an image 
Using the Content-Aware tool
Using the Clone stamp tool
Hour 6
Image Retouching
Use the healing brushes, Spot Healing & Patch Tools
Use the Red Eye tool
Use the Blur, Sharpen and Smudge tools
Use the Dodge, Burn and Sponge tools
Use the Liquify Filter  
Filters and Effects   
Explore the Filters palette to add 'filters' to your images
Explore the Effects menu to add 'effects' to selections and text  
Output
Output graphics for print or web  
Compress / re-sampling image size
Optional topics which could be covered if time allows or swap with contents above by prior agreement
Text
Create text using the Type tool
Explore character properties
Explore paragraph properties
Working with styles and adding styles to text
Adding effects to Type
 Photo-merging  
Blend multiple images to create a panorama
Create a photo-montage
Painting and working with Brushes
Use the brush tools
Creating custom brushes (e.g. watermark)
Course requirements  
This lesson is suitable for anyone with basic PC or Mac skills who wishes to learn Photoshop from scratch or wants to improve their existing knowledge of the program. You have the choice of working on one of my iMacs or you can bring your own laptop with Photoshop installed (which comes with Abobe Creative Cloud).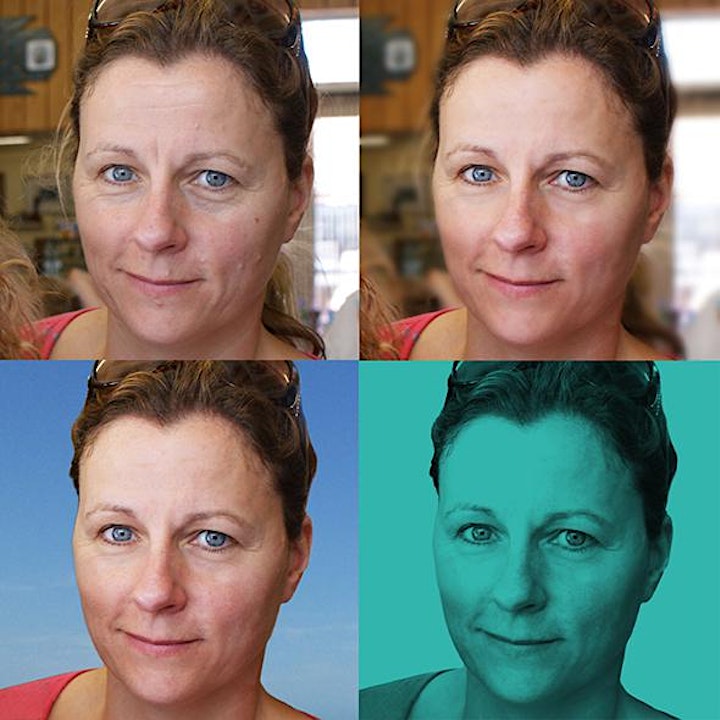 Booking an alternative date
Contact Caroline on 07944 267113 to arrange a mututally convenient alternative date and time to the one shown above if this one does not suit you.
Coronavirus Update March 2021
This one to one training will be offered following government guidelines of social distancing of 2 metres apart using two side by side large screen iMac computers or ideally the participant should bring their laptop computer with Adobe InDesign installed. All surfaces including the keyboard and mouse will be sanitised before commencement of the session.
I am currently offering all training in my large airy conservatory at home located on Cambridge Road near Scotdales in Great Shelford.
Organiser of Cambridge - Adobe Photoshop for Beginners Course - 22 June 2021
PictureGenie workshops are run by Caroline Duffy, a qualified teacher and graphic designer. I offer software training workshops in Central Cambridge. I currently offer;
Adobe Photoshop for beginners

. This 1 day introduction to Photoshop will cover the basics of photo-editing, including cropping and resizing, colour correction, under/over exposure, make-overs, restoration, removing unwanted objects and imperfections, sharpening, special effects and montages. 
Adobe Indesign for beginners

. This 1 day introduction to Adobe InDesign will cover the basics of document production. You will learn how to create your own branded marketing materials, e.g. Newsletters, posters, adverts, business cards, CVs, business plans, proposals, menus, price lists and much more as well as eNewsletters and downloadable content for your Social Media Platforms. 

 

Easy Social Media graphics using Canva. 

This workshop will give you the skills to create your own Social Media graphics branded with your logo, colour scheme and fonts to create your brand 'voice' achieving a consistant look and feel across your Social Media account(s). 
How to create stunning Photo books 

(and other photo gifts) for beginners. Do you have a computer full with digital photographs that you do not know what to do with or have the time to? In this 2 hour workshop you will learn how to turn your digital library into stunning personalised Photo Books and other great gift ideas. 
One-to-One tuition 

in Adobe Photoshop & Indesign can be arranged on an hourly basis and can be tailored to meet your individual learnings needs.

Workshop sizes are small to ensure that each attendee receives the individual tuition necessary to master the aims and objectives of the session.
I also offer one2one training where we can focus on your individual learning needs and tailor the session to you. Contact Caroline on 07944 26711 to discuss your requirements and arrange a suitable date and time.