Description
As with many other metropolitan areas around the world, the West Midlands is facing strong population growth, intense pressure for development and a real urgency to deal with issues of climate change, energy, water, bio-diversity and other resilience and sustainability issues. With its young, dynamic population, the ambition is for it to become the most sustainable and attractive conurbation in the UK based on its environment, education and employment, health, wealth and well-being.
This conference, exploring a new look at landscape, capitalises on the coincidence of a number of transformative agendas that will help establish the WMCA and the UK at the forefront of planning and regeneration. These include the proposal for a National Park for the West Midlands Plateau, the opportunity to provide a unique and enduring legacy for the Commonwealth Games 2022 and the need to respond to the changing physical, social and economic geography that will occur with the arrival of HS2. The aim of the conference is to investigate how, by properly engaging communities with place, location and environment it is possible to put quality of life, health and well-being front and centre of the political agenda.
Seeing the bigger picture, discovering a landscape that has remained unrecognised for centuries and yet is absolutely vital to the regions identity, culture and future development, the conference will contribute to setting the agenda for the WMCA. It is part of an on-going series of initiatives run by CATiD, ADM, Birmingham City University.
CONFERENCE
A truly interdisciplinary event, it draws upon the creativity and knowledge of an internationally renowned constellation of policy makers, practitioners and academics operating at the cutting edge of new way of looking at landscape, transformation and change.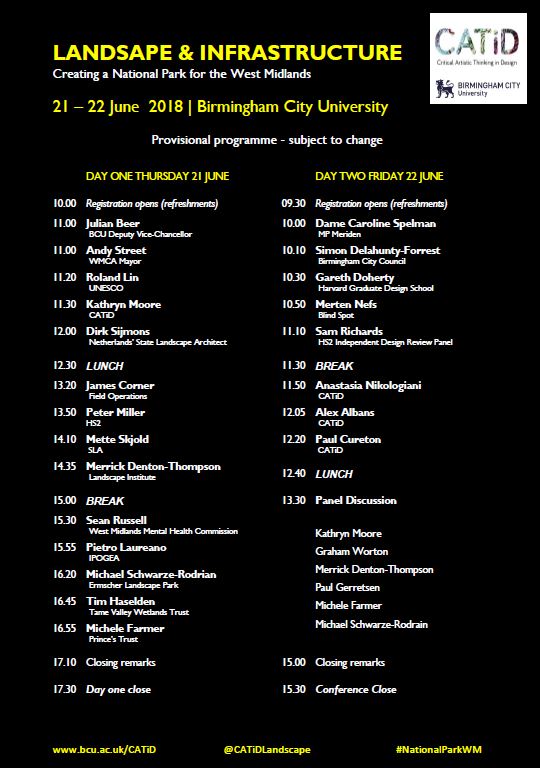 WHO IS IT FOR?
Leaders, policy makers, decision makers, academics and design professionals including planners, architects, landscape architects and engineers, experts in transport, sustainability, health, the arts and ecology.