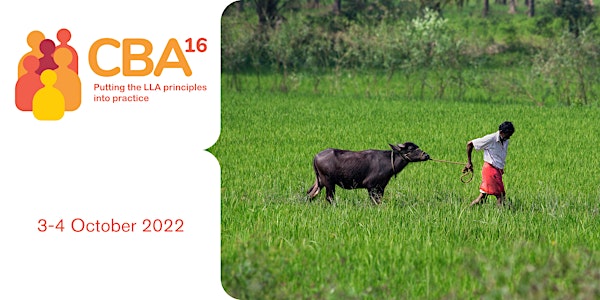 CBA16: putting the LLA principles into practice
The 16th International Conference on Community-based Adaptation to Climate Change
About this event
The 16th International Conference on Community-based Adaptation to Climate Change (CBA16) takes place online from 3-4 October 2022. The virtual agenda offers interactive opportunities for participants to gain ideas and inspiration, and to build networks and connections.
CBA16 brings together practitioners, grassroots representatives, local and national government planners, policymakers and donors working at all levels and scales.
This year CBA16 is a space for the adaptation community to come together to share how to put the principles for locally led adaptation (LLA) into practice, recognising the complexities, innovations and challenges that must be overcome.
CBA16 puts the experiences and knowledge of local communities and adaptation practitioners at the centre, grounding discussions for supporters of LLA in the realities at the forefront of locally-led climate action.
To learn more about the conference objectives visit www.iied.org/cba16 .
Agenda
You can register to CBA16 now. When the CBA16 online conference platform launches in September, you can connect and network with other participants, start discussions on the CBA16 pinboard and plan your agenda. The week before the conference there will also be live networking opportunities through the 'meet-and-greets'.
During the live conference on 3-4 October sessions will take place over three time slots:
9:00 UK BST
12:00 UK BST
15:00 UK BST
As a registered participant you can join live through the conference platform or you can watch the recordings and contribute to the ongoing discussions online.
The agenda for CBA16 will be announced soon; sign up for updates to be the first one to find out.
About attending
Do I need a ticket?
Yes, you will need a ticket to join the platform and sessions. See below for information on how to get a ticket.
How do I attend CBA16?
Join us from your computer or mobile phone! CBA16 is an entirely online event. Register now and you will receive more information about how to log in to the CBA16 online conference platform as soon as it launches.The event sessions will be hosted using the Zoom video conferencing service.
Please make sure to check your local time zone for 3-4 October to account for Daylight Savings Time at www.timeanddate.com/worldclock.
Where can I find the agenda?
The agenda will be published soon and will be available by visiting www.iied.org/cba16.
What language will CBA16 use?
CBA16 will be delivered in English. A limited number of sessions may be available in other languages depending on the session host but this will be clearly highlighted in the online agenda.
Tickets
The funds generated from tickets are the only way for the conference to operate; CBA16 is a not-for-profit event so every shilling, taka, rupee, peso, kwacha, euro and pound goes towards making it all happen.
Every year the CBA programme focuses on a diverse set of voices being heard, and to that end we offer 3 ticket options: Standard, Free and Pay-what-you-can (we ask you to pay what you can and we count on the "honour system").
Standard tickets are £200 (c. US$250) and are intended for inter-governmental organisations, international NGOs, multilateral organisations, policymakers and donors working at all levels and scales.
Free tickets are intended as sponsorship for students, representatives of community-based organisations and grassroots representatives, small NGOs and local government officials based and working in the global South and who do not have support from international organisations. Free tickets focus on stakeholders who tend to be underrepresented at global events. We especially encourage young people and women to attend.
Pay-what-you-can tickets let you decide how much you can contribute for your ticket, whether it's more or less than the Standard ticket. If it is within your means, consider a donation of £300 (c. US$360) and you will be helping others to participate via the CBA16 sponsorship programme to make sure that the right stakeholders can be at the table. By donating, you help to make CBA16 more diverse, inclusive and accessible to all. You will also be acknowledged as a sponsoring participant on the conference platform. Please be responsible in contributing more if it is within your means.
If for reporting reasons you need to have a ticket priced at a specific cost that isn't £200 or need a separate invoice from IIED, please email cbaconference@iied.org and we will support you.
Payment options
Paying by card via Eventbrite is the safest, easiest and quickest way to complete your registration.
Pay-what-you-can tickets for groups are unfortunately not available. (For example, if you want to register 10 people at £100 each). But if you would like to pay by card for a group, please email cbaconference@iied.org letting us know: (1) how many people are in your group and (2) the total amount you wish to pay, and we will support you.
If you or your organisation are not able to pay by card and would like to pay via bank transfer, please complete the online bank transfer request form . This takes a little longer so we recommend getting the process started as soon as possible, as you will not be able to complete your registration until the payment has arrived.
Places are limited so we cannot guarantee your registration if we do not receive your payment. Once we have received your funds you will be sent instructions on how to register.
Disclaimers
1. IIED reserves the right to postpone or cancel the event if unforeseen circumstances warrant such actions.
2. Unfortunately we cannot provide any refunds if you decide to cancel your registration.
3. Many of the sessions will be recorded for distribution and broadcast via the worldwide web. By participating in this event you agree to give your consent to be photographed, filmed and/or recorded, and waive any claims regarding the use of your image or contribution for our promotional materials. Please note you can keep your camera off during all sessions.
4. By registering you agree to receive periodic emails from cbaconference@iied.org strictly related to important CBA event announcements. We will not share your information with any third parties but will continue to contact you after the event with future CBA announcements. You can unsubscribe at any time. Find out more at www.iied.org.
How can I contact the organiser with any questions?
For all enquiries, please contact cbaconference@iied.org and the event organisers will respond as soon as possible.
--