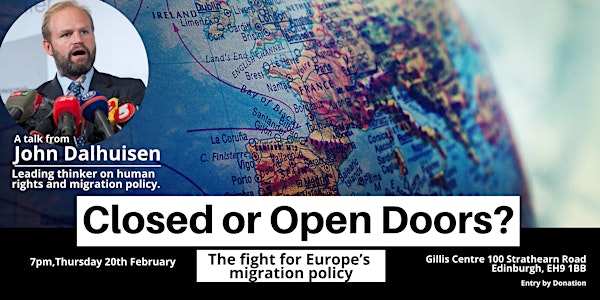 Closed or Open Doors? The Fight for Europe's Migration Policy.
Location
Gillis Centre
100 Strathearn Road
Edinburgh
EH9 1BB
United Kingdom
John Dalhuisen, a leading thinker on human rights and migration policy, gets to the heart of Europe's Migration debate.
About this event
John Dalhuisen will explore the refugee/migrant crisis in Europe.
What's the Christian response? A 'closed doors' policy can be controversial. Some believe an open-door policy may be used by the extreme right to sow discord. There's no easy answer.
John's reflection, formed by his extensive experience, will help you get a clearer picture of a complex issue.
This event is sponsored by the Caritas, Justice and Peace Commission of the Archdiocese of St Andrews & Edinburgh
___________________________________________________________________________________________________
John Dalhuisen is a Senior Fellow at the Berlin-based European Stability Initiative and a leading thinker on human rights and migration policy. He was previously Europe Director at Amnesty International and Special Adviser to the Council of Europe Commissioner for Human Rights. He has written for the New York Times, the Guardian, Politico, Time and Newsweek.