Description
COLLAGE, COLOUR, AND LINE
SAT 2 DECEMBER 10.30 to 15.30
Adult Workshop
Schedule
10.30 to 12.15 Newlyn Art Gallery
12.45 Lunch at The Exchange
13.30 to 15.30 The Exchange
Led by artist Luke Frost you will explore the Robyn Denny exhibition across both sites. Starting with an exhibition walk and discussion, followed by a sketching and collage session at Newlyn, you will then head to The Exchange for lunch. After lunch and a look at the exhibition there, you will work in collage and paint, using mixed materials and a variety of papers and cards, drawing on the knowledge and experiences gained during the morning.
Robyn Denny (1930-2014) was one of an internationally acclaimed group who transformed British art in the 1950s, 60s and 70s, leading it into the international mainstream. Denny's large-scale, resolutely urban abstract paintings captured the cool, modernising mood of the time yet have a sombre and enigmatic presence that makes them seem paradoxically timeless. The exhibition across both our venues offers an understanding of the evolution of his work over three decades and an exploration of the importance and contemporary relevance of his work.
Luke Frost (*1976) comes from a long line of abstract painters including his grandfather Sir Terry Frost and his father Anthony Frost. Luke has exhibited widely since graduating from Bath Spa University College in 1998. He was Artist in Residence at Tate St Ives for a year during 2008, followed by a solo exhibition in the gallery in early 2009. His expertise in colour and his open approach to materials make him the perfect partner for this workshop, offering an in-depth look at Robyn Denny's work.
This will be a day of artistic experimentation and exchange.
Suitable for all skill levels.
All workshop materials are provided.
Lunch is included in the ticket price and will consist of a ciabatta with a filling of your choice, a side salad, a cold or hot drink and something sweet for afters.
You will need to provide your own transport from Newlyn to The Exchange.
It's a ten-minute car ride or a half hour walk.
Advance booking is necessary as spaces are limited.
£40 via eventbrite.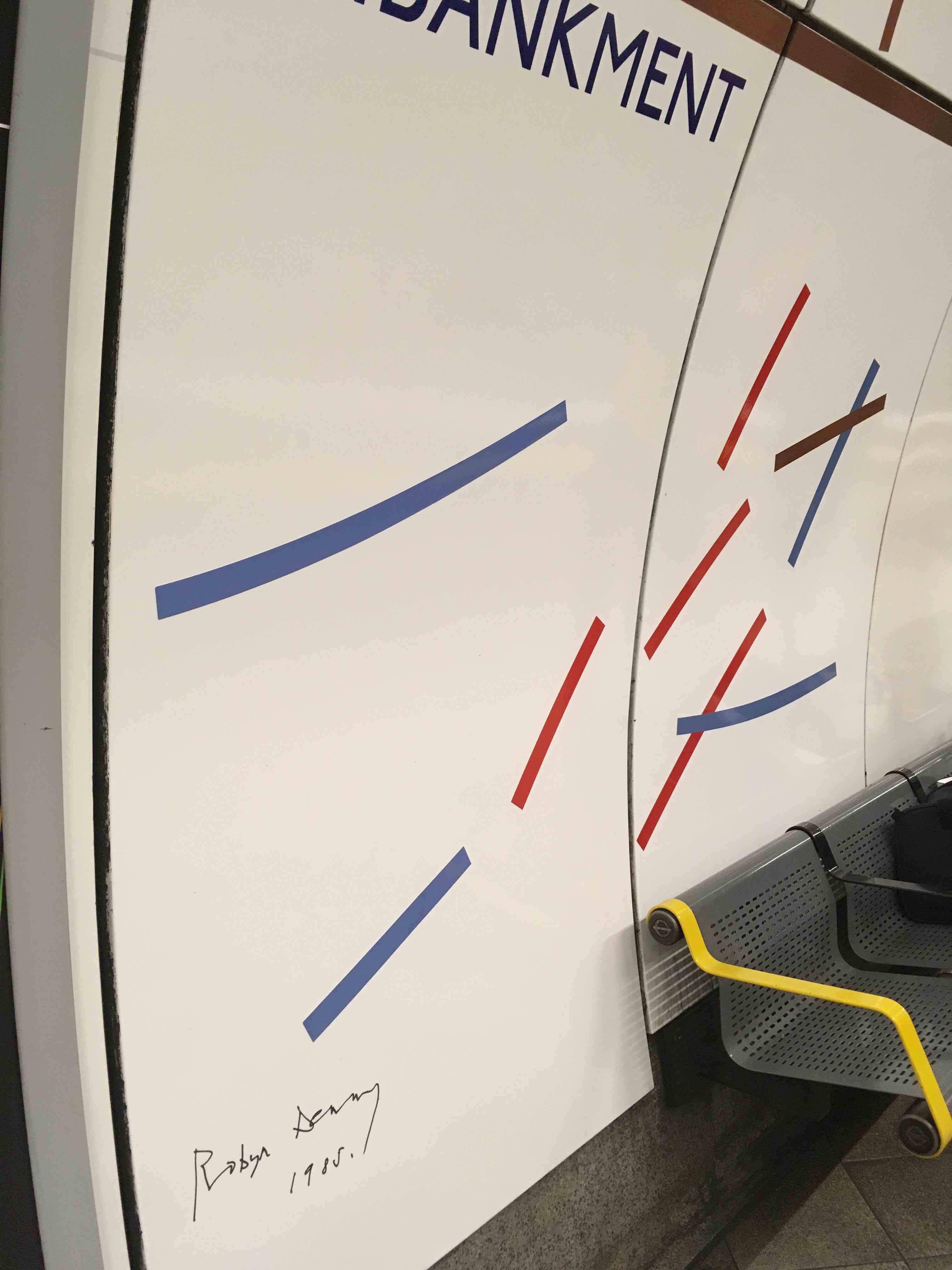 Image Credits:
Robyn Denny, Sweet Nature 4 1976-77, Oil on canvas (Detail)
And above: London Underground Embankment Statio wih Robyn Denny design