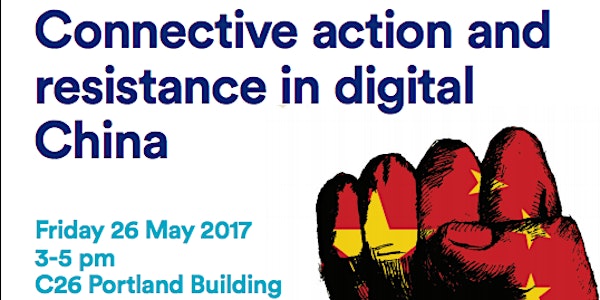 Connective action and resistance in digital China: in-depth case studies
Location
C26, Portland Building
TheUniversity of Nottingham
Nottingham, England NG7 2RD
Description
Digital Culture Research Network presents a Forum with Dr Sally Xiaojin Chen
While the role of the internet in empowering the Chinese public has been celebrated, the control the Chinese Communist Party has over the internet has also been considerable. The meanings attached to Chinese people's resistance in the digital age can only be understood through examination of their emotions, political perceptions, ideology, memories, and experience of embodiment in particular events. Essentially, we need to ask how Chinese people make sense of their resistance or non-resistance and how we make sense of their action or non-action. Sally's research explores the mechanism of Chinese people's connectivity on the internet as highly hybridised processes. Through the two case studies - the 2013 Southern Weekly Incident and the ongoing LGBT legal campaign challenging homophobic content in Chinese textbooks, Sally investigates this hybridisation in Chinese people's connective action that features their resistance in digital China.
Sally Xiaojin Chen is a Lecturer in Journalism at the University of Sussex. Sally has been closely involved with Chinese media and Chinese digital culture both in the industry and in academic research. Sally holds a PhD in Sociology, Media and Cultural Studies from King's College London. Before her academic career, Sally worked as an investigative journalist in China. Sally has carried out interdisciplinary research, particularly on Internet research, China studies, collective action and democracy, citizen engagement, and activism in China. Her book Resistance in Digital China is due to be published by Bloomsbury next year.
The Digital Culture Research Network, based at the University of Nottingham, welcomes those interested in interrogating the significance of the digital, inquiring into how and if it mediates daily experience, power relations or symbolic, embodied and collective meaning making.
Enquiries via email to digitalculture@nottingham.ac.uk
For information on future events, subscribe to the DCRN Facebook page: https://www.facebook.com/groups/uondigital/