Description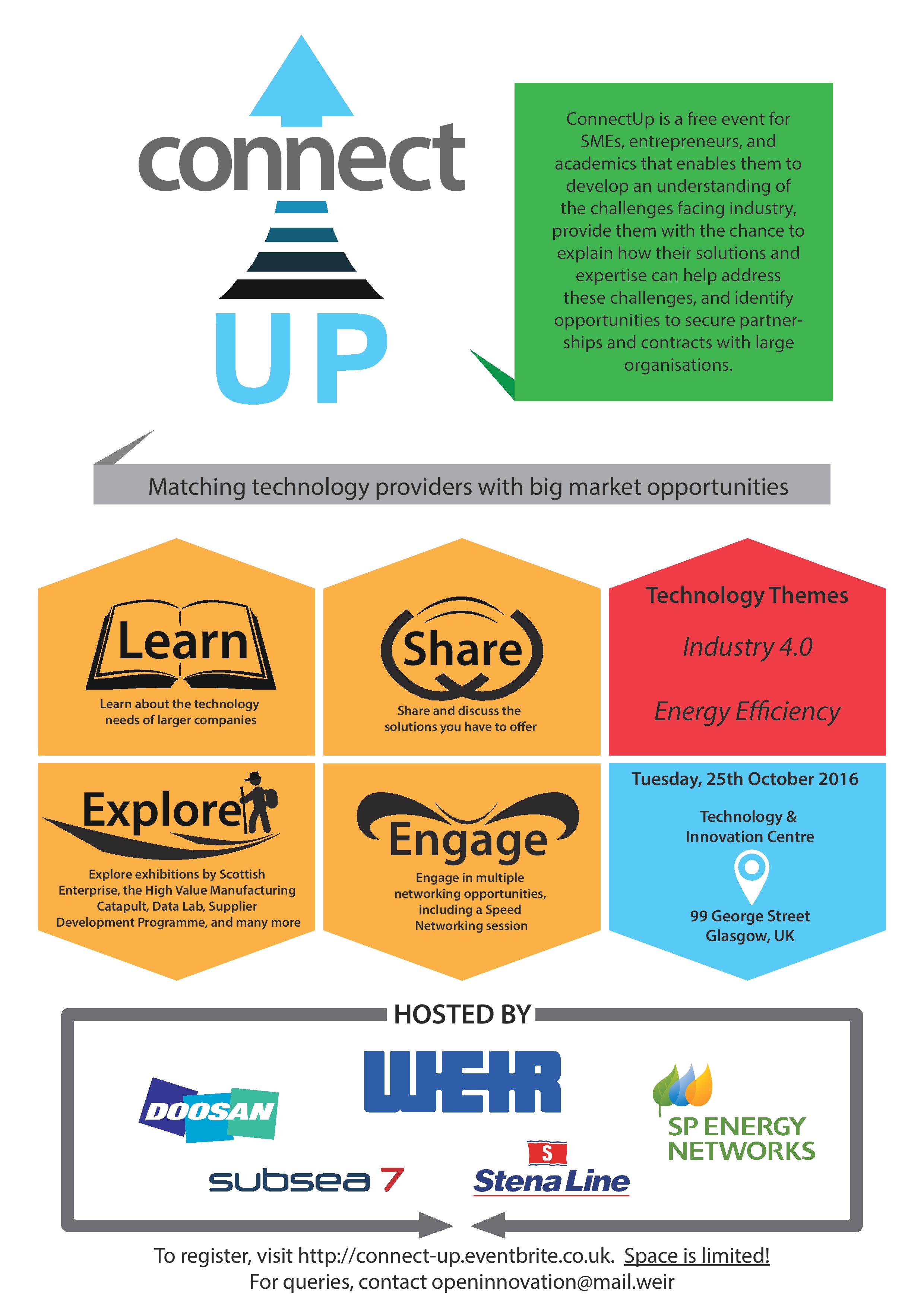 In Association With



---
In today's world, innovation is not just about looking inward anymore. We understand that great solutions can come from anywhere, and we are very interested in learning about some truly innovative solutions that we can help develop and provide to our customers.
That's why we've come together to launch ConnectUp. Brought to you by the Weir Group, Doosan Babcock, Subsea 7, SP Energy Networks, and Stena Line, ConnectUp is a collaborative event that aims to help us facilitate and promote innovative new partnerships with SMEs and entrepreneurs. At this inaugural event, you'll not only have the chance to learn about key technology challenges that we are facing, but you'll also be given the opportunity to share and discuss your innovative solutions with us, all while learning about new opportunities and meeting like-minded individuals and organisations.
You can expect to see presentations from industry and innovation practitioners; learn about opportunities offered organisations such as Scottish Enterprise, High Value Manufacturing Catapult, Data Lab, Supplier Development Programme, and many more; and take part in multiple networking opportunities, including a speed networking event which will guarantee you conversation time with the company of your choice.
This event will be focussed on two key themes Industry 4.0 and Energy Efficiency, but we are interested in meeting innovators with technology solutions across all disciplines.
Industry 4.0: Commonly known as the fourth industrial revolution, Industry 4.0 refers to growing trends in automation and data exchange across systems and technologies. It includes the Internet of Things, smart sensors, and cloud computing.
Energy Efficiency: Energy efficient solutions aim to reduce the amount of energy required to provide products and services. Energy efficiency can be achieved by products or processes that can reduce the energy consumed, or recover waste energy to be re-used.
To register for Speed Networking, please email openinnovation@mail.weir with a list of the companies you would like to speak with.
For more information, please email openinnovation@mail.weir.
We look forward to meeting you!

AGENDA
9:30am Registration
10:00am Keynote by Tim Bedford, Associate Deputy Principal of the University of Strathclyde
10:15am Presentation by Weir Group
10:30am Presentation by Stena Line
10:45am Networking break (tea/coffee) and exhibitions
11:25am Presentation by SP Energy Networks
11:40am Presentation by Doosan Babcock
11:55am Presentation by Subsea 7
12:10pm Panel Session
12:35pm Networking lunch and exhibitions
1:35pm Speed networking and exhibitions