Description
Working with The Mask
A workshop with Rikki Tarascas
Part of Constructed Geographies exhibition
"A mask is a device for driving the personality out of the body and allowing a spirit to take possession of it. A beautiful mask may be completely dead whilst a piece of old sacking with a mouth and eye holes in it may have vitality and presence".
Course content: This is a practical workshop involving the wearing and operating of a mask not a 'mask making' workshop. We will be working with 'the neutral mask'. The neutral mask holds many keys to the nature of performance.
Through tutor led practical exercises the workshop will introduce students to the practical advantages of approaching performance through the body. We will explore the body mind connection through : concepts of centering and neutrality in the body derived from the martial arts and theatre training.
We will observe the importance of focus, observation, sensation and awareness. Working with the breath we will explore balancing , effort and non-effort, stage presence and the notion of the inner life of the performer. We will explore what it is to inhabit a mask and in so doing raise questions about embodiment . Through action and observation participants will become aware of how to make fuller use of all their senses and subtle energies to deliver an engaging performance.
We will explore 'What it is that makes you watchable?
Aimed at all levels this workshop will both fun and fascinating.
Please wear loose clothing.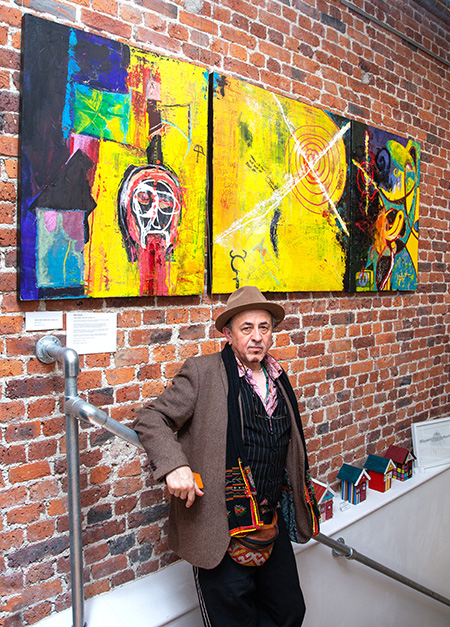 Rikki Tarascas is a Fine Artist, Director, Performer and commissioned writer who has worked across the visual and performing arts. He has been using the neutral mask with exercises combined from the martial arts as tools for training for over 35years.
With a degree in Drama and Photography, Film School and training with Jacques Le Coq ,Phillippe Gaulier and Keith Johnstone, Rikki has explored the relationship between the photographic portrait and the concept of performance. His early directorial and interdisciplinary performance work was fuelled by fragmented narratives, juxtaposition of images and the creative space between text and the photographic image. Through his devised work he created strategies for generating text. His past work ranges from stand up to Shakespeare, Greek tragedy, large scale site-specific and responsive work, musicals, spectacle, fashion shows, devised work, performance poetry and film. He became Director in Residence for the seminal large-scale site specific company Welfare State International,and Director of Performance at the Eden Project.
He's worked in the film industry in various capacities. He won The Alfred Hitchcock Script Award for his short 16mm film Courier a visually led magic realist film that features his spin paintings as a vortex intended to draw the viewer into the sensory world of paint. Screenings have included Cannes, Raindance and Brighton film festivals. His magic realist short film Rocka and the Angel funded by the Lottery and the LFVDA inspired by the book The Drama of the Gifted Child – The search for the true self by Alice Miller was re -commissioned to be written as a stage play with music. His site specific production of One Flew Over the Cuckoo's Nest ,set over four floors of an office block posing as a mental institution, won The Audience Choice Award in Brighton Festival Fringe and transferred to The Komedia, Brighton.
A PGCE qualified teacher, he has taught both full and part time for numerous arts educational establishments including Manchester Metropolitan University BA,Crewe & Alsager College BA, Mountview Theatre School-Screen Acting, Salford University College, Brunel University , East 15 Drama School, Italia Conti Theatre School BA and Performing Arts Diploma.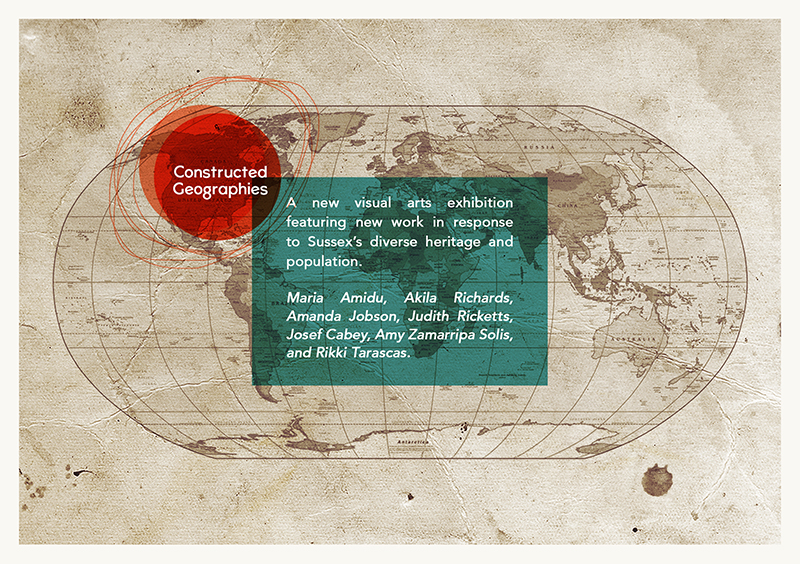 Constructed Geographies is a new visual arts exhibition featuring new art work created in response to Sussex's diverse heritage and population. The artists are: Maria Amidu, Akila Richards, Amanda Jobson, Rikki Tarascas, Judith Ricketts, Josef Cabey and Amy Zamarripa Solis.
The artists work across a variety of mediums including painting, photography, mixed media collage, glasswork, textiles, video and installation.

The broad theme of the exhibition allowed each artist to approach it differently, working to explore the rich cultural heritage of the area and draw out stories from a range of communities. The exhibition seeks to claim a space for all in Sussex.
From the remains of an ancient African women found on Beachy Head to local histories in the African hairdresser in Eastbourne, the exhibition works to dispel the misconception that there is a lack of diversity in the region. You just need to know where to look.

The exhibitions will be accompanied by a public programme of artist talks, workshops and interventions, plus film, music, food and spoken word. Check gallery websites for all dates and times.
Produced by This Too Is Real Ltd
Supported by Arts Council England National Lottery funded Project Grant
6-17 February 2019
ONCA Gallery
14 St George's Place
Brighton BN14GB
More information
2-14 April 2019
Hastings Art Forum
36 Marina
Saint Leonards-on-sea
TN38 0BU
More information
14 April - 4 May 2019
Colonnade House
47 Warwick Street
Worthing, West Sussex
BN11 3DH
More information