About this Event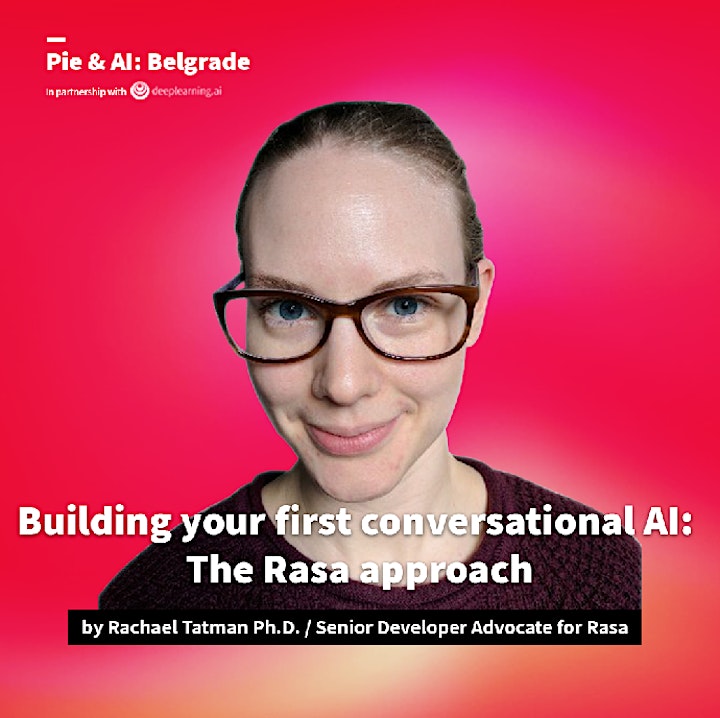 Pie & AI is a global series of deeplearning.ai events that connect AI enthusiasts and professionals globally. Pie & AI: Belgrade is a result of an effort of LazyBrain and Deeplearning.ai to build a more transparent and open deep learning society.
We are happy to announce Pie & AI: Belgrade with Rachael Tatman Ph.D. from Rasa.
Agenda:
06:30 / Introduction by LazyBrain
06:40 / Talk by Rachael Tatman Ph.D.
07:20 / Q & A Session
07:40 / Closing
Talk
Building your first conversational AI: The Rasa approach
by Rachael Tatman Ph.D. / Senior Developer Advocate for Rasa
Abstract
In this talk, Rasa Senior Developer Advocate Rachael will walk you through how to start building a conversational assistant using Rasa Open Source. We'll start with a brief overview of the development process and then jump right into coding: by the end of the talk we'll have an assistant we can chat with!
Bio
Rachael Tatman Ph.D. is a Senior Developer Advocate for Rasa, where she helps folks use the latest NLP research to build useful conversational AI applications. Her Ph.D. is in linguistics, and her research focused on how NLP systems handle natural variation in language use.
Course Promo Code
Pie & AI is a series of deeplearning.ai meetups independently hosted by community groups. This event is hosted by LazyBrain.
After the event, we will provide a limited course promo code for attendees who sign up through the form and complete a post-event survey sent by deeplearning.ai after the event. The code is for 50% off the first-month subscription to any of deeplearning.ai's courses on Coursera.