An online show of inspiring talks and discussion with scientists for everyone who cares about the planet and humanity's future.
About this event
On Demand Virtual Event: Creating a Sustainable Future
Global warming is the greatest existential challenge of our age, requiring massive societal changes to mitigate and adapt to it. Time is fast running out to do that. Hear what we must do to create a sustainable future and about the science and technology enabling it to happen. New Scientist's Creating a Sustainable Future event is for everyone who cares about the planet and humanity's future. Join us online for a day of inspiring talks and discussion with scientists and thinkers at the forefront of research.
Three stages of incredible talks, discussion and debate to watch now on-demand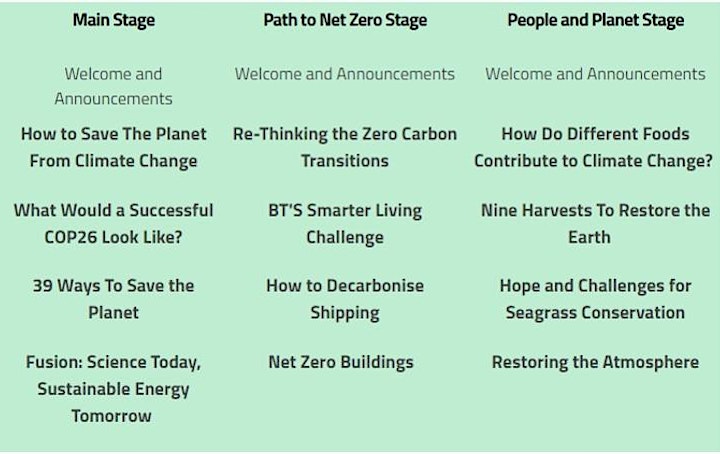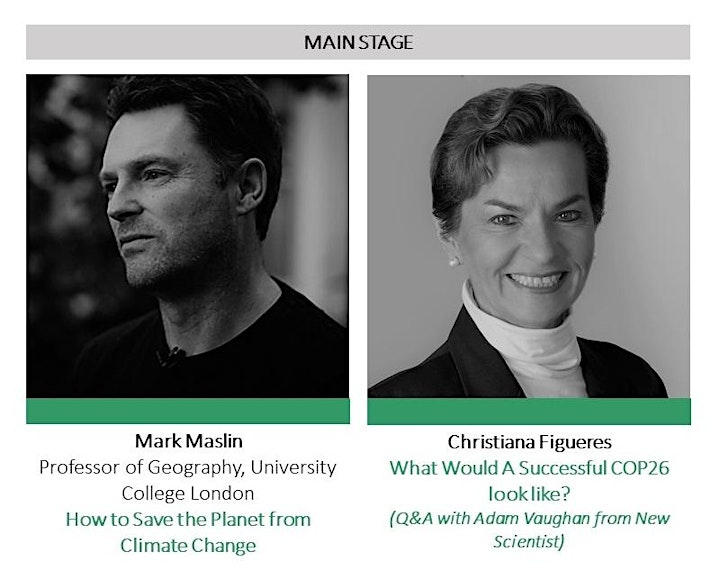 How to Save the Planet from Climate Change - Climate change is the most critical and controversial issue facing the world in the twenty-first century. Everyone agrees we must keep global warming to a under 2⁰C and under if 1.5⁰C if possible. But how can we do this while dealing with the other great challenges of our age: global poverty, population growth , environmental degradation and global security. Climate change seems too big to deal with but Professor Maslin shows us how we can save our planet from climate change, whilst improving everyone's lives.
What Would A Successful COP26 look like?- Join internationally recognised leader on global climate change, Christiana Figueres in conversation with New Scientist Chief Reporter Adam Vaughan, as he asks what are the big things that need to happen in advance of the summit to make a successful outcome more likely? Do we need a vaccination programme of low income country delegates? Should there be a new climate plan from China? What are the key issues the summit needs to make progress on: the emissions gap; finance; the Paris rulebook? What are the big steps we need to see beyond what the governments agree? And can we really keep 1.5⁰C alive, as the hosts hope?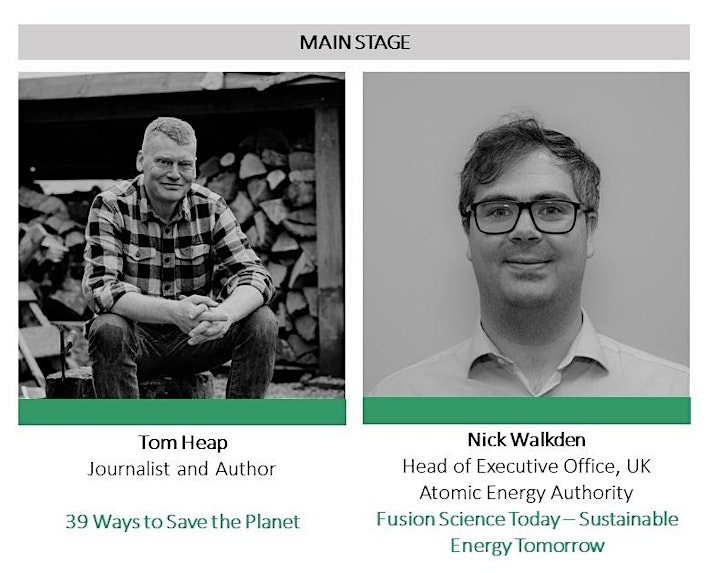 39 Ways to Save the Planet - Only by knowing we can halt climate change will we find the will to do it. Tom has spent the last two years creating a podcast, radio series and book about climate change solutions. This talk reveals the inspiring work of inventors, engineers, farmers, researchers, teachers and so many more from all walks of life who are finding ways to cut greenhouse gas emissions. Alongside these stories of redemption, Tom will discuss whether the dominant climate change narrative of natural peril and personal sacrifice is appropriate or helpful.
Fusion Science Today - Sustainable Energy Tomorrow - In 2100 our grandchildren will charge their phones using the power of a star and the phone chargers they use may be powered by fusion energy. Fusion can provide an abundant, carbon-free, safe and reliable source of energy but the challenges to get their are significant. As we approach a turning point in fusion this decade and the world embarks on the international fusion project ITER, this talk will demonstrate how the exciting fusion science and engineering in the world can help us all to pull together for a sustainable fusion future tomorrow.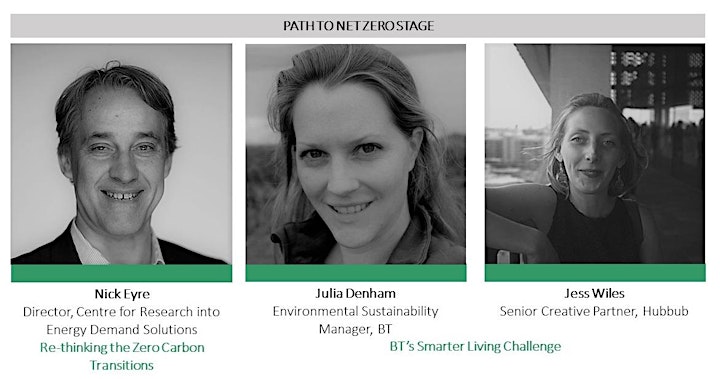 Re-thinking the Zero Carbon Transition - In the transition to zero carbon energy to deliver international climate goals, the key energy sources will be renewable resources that produce electricity directly rather than via heat engines. This talk will argue that the transition will therefore be more than a move away from carbon fuels. It will also be a systematic shift from using heat to using work, with profound implications for the way we use energy in buildings, transport and industry. Most importantly, this transition will allow for large increases in the efficiency of energy use, which itself will make a major contribution to climate change mitigation.
BT's Smarter Living Challenge - BT Group, which has led on climate action for almost three decades, teamed up with environmental charity Hubbub to carry out a three-month Smarter Living Challenge with 61 households to identify how technology can help individuals to cut carbon emissions.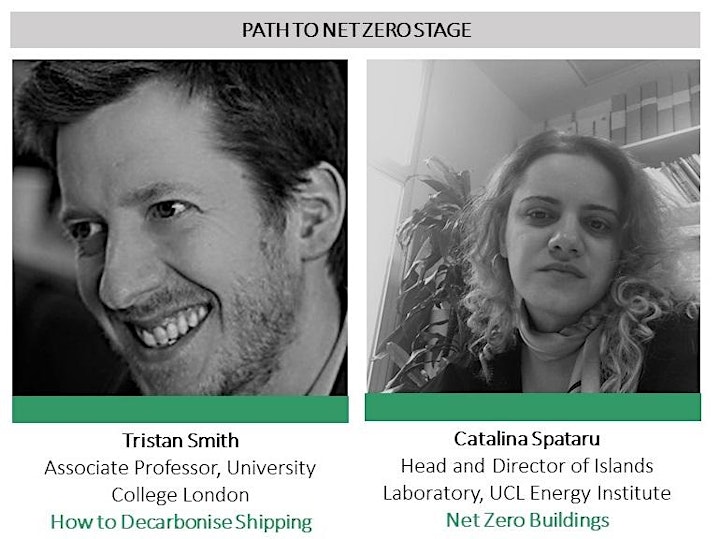 How to Decarbonise Shipping - Over 50,000 ships ply the world's oceans delivering international trade. Many more make up critical coastal transport links and enable livelihoods. Nearly all of these are currently burning oil in combustion engines and will need an alternative - and fast. Some can use batteries, some sails again, but many will need to use hydrogen or a hydrogen-derived fuel. In this talk, Tristian will discuss how the shipping sector can move away from fossil fuels, how long it might take, what it might mean for us and how we can make it happen.
Net Zero Buildings - With the scale of extreme weather we have seen over the past years, 'net-zero' became high priority for policy makers. Achieving a balance, between the carbon emitted and removed from the atmosphere requires strategic planning. Reducing emissions from commercial and residential sectors proved to largely challenged. This talk discusses barriers and ways to scale up 'net-zero' carbon buildings including life cycle and operational emissions; how to reduce embodied carbon and energy demand; emphasizes the role of regulations; the need of intelligent Circular Economy strategies and pathway approaches which private sector building developers and managers could adopt to satisfy end users.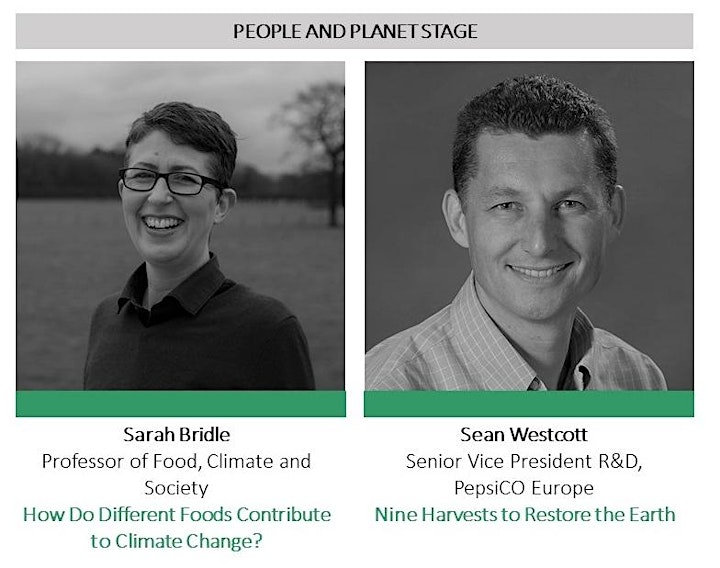 How Do Different Foods Contribute to Climate Change? - Food currently causes about a quarter of all climate change, and this is set to rise. However, different foods cause very different climate impacts, for example a steak dinner causes over twenty times the impact of a beans and potato dinner. Sarah Bridle, author of Food and Climate Change - Without the Hot Air, talks about how different food choices contribute to climate change and what you can do about it.
Nine Harvests to Restore the Earth - Agriculture fuels the food system; however some practices have led to soil degradation, reducing its growth potential and making land vulnerable to extreme weather. PepsiCo is a business built on agriculture. Many products begin life in fields, from Quaker Oats to Walkers Crisps. Our R&D team are finding innovations to crack the code on using agriculture to positively impact the planet. We have committed to spread regenerative farming across our entire agricultural footprint by the end of the decade - aiming to eliminate at least 3 million tons of greenhouse gas emissions. But this means we only have nine harvests to use the latest scientific developments and close partnership with farmers to take action to restore our Earth.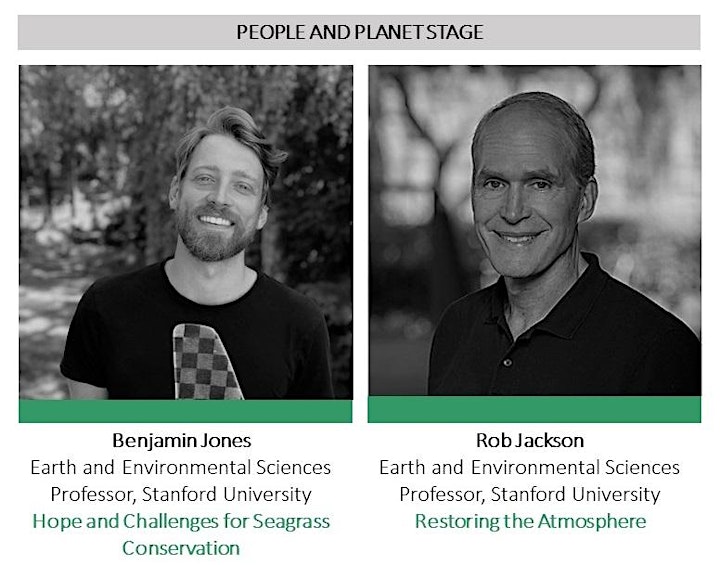 Hope and Challenges for Seagrass Conservation - Seagrass meadows have been utilised by people for centuries. The benefits they provide humans are numerous and have changed in scope as society has developed. In the past 100 years our connection to seagrass has evolved from seeing it as a resource for building to a resource that provides food security and livelihoods to millions. In the context of climate change and the visions for 2030 Agenda for Sustainable Development - for people and for planet - seagrass meadows again offer us a lifeline in their carbon sequestration potential, but we face challenges to keep this connection alive.
Restoring the Atmosphere - The drumbeat of doom marks today's climate news: roofs peeled like bananas from the latest Category 5 hurricane, or another Californian or Australian town incinerated during record heat and drought. Stablising the Earth's temperature to some arbitrary threshold is no longer enough, rolling the dice on which catastrophes we'll avoid. We need to restore the atmosphere. To do it, we'll need to consume less and squeeze greenhouse gas emissions like a vice. We'll need to provide more energy to at least a billion people laboring in energy poverty and injustice. We'll need to preserve more species and habitats, while expanding natural carbon solutions and working lands. We'll need technologies each of us won't like ("oh no, no that one!") and we'll need to hack the atmosphere, actively removing greenhouse gases. We can restore the atmosphere in a lifetime. We have to.
Booking information:
This on-demand online event is available 6 months from 27th September 2021 until the 27th March 2022. All talks from the virtual event which took place on the 25th September 2021 will be available to watch on-demand as many times as you want.
Eventbrite will email you a confirmation immediately after purchase. You will receive a separate email from "Konf" with a link to access the event platform; please note that each link is unique and should not be shared.
Tickets are non-transferable to any other New Scientist event. All tickets are non-refundable.
New Scientist reserves the right to alter the event and its line-up, or cancel the event. In the unlikely event of cancellation, all tickets will be fully refunded. New Scientist Ltd will not be liable for any additional expenses incurred by ticket holders in relation to the event.
Tickets are subject to availability and are only available in through Eventbrite.
Date and time
Location
Refund policy