Description
CREATIVE CITIZENS EVENT at the VERTICAL STUDIO
Find out why creative citizenship is an emerging story for our time
Tuesday 26 April, 6.00-7.30pm
VJ Gallery, Main Building, Park Place, Cardiff
For three years, a research team from six universities has been examining the impact of social media on citizenship. Led by Ian Hargreaves, Professor of Digital Economy at Cardiff University, the project considered case studies in community journalism; planning and design; and creative networks. The geographic focus was on South Wales, Bristol, London and Birmingham.
This event marks the launch of a resulting book: The Creative Citizen Unbound: how social media and DIY culture contribute to democracy, communities and the creative economy. It's co-edited by Ian and Professor John Hartley of Curtin University, Australia. John was the founding Head of Cardiff University's School of Journalism, Media and Cultural Studies.
The Cardiff launch of the book will follow a London launch in the House of Lords. Come and meet the book's editors, writers, researchers and partners to discover more. Discount copies of the book will be available at the event for £15 (cash payments only).
This event will take place in the university's Viriamu Jones Gallery, which will be physically transformed by students in the Welsh School of Architecture, working in collaboration with Creative Cardiff. This innovative Vertical Studio project will provide an opportunity to test and consult on the university's plans to develop a dedicated creative hub. By attending this event you will be able to see this creative space as well as have an opportunity to contribute to and find out more about Creative Cardiff and its future plans.
Hosted by the Creative Cardiff Research Network and the School of Journalism, Media and Cultural Studies, with support from Creative Cardiff.
Followed by a wine reception.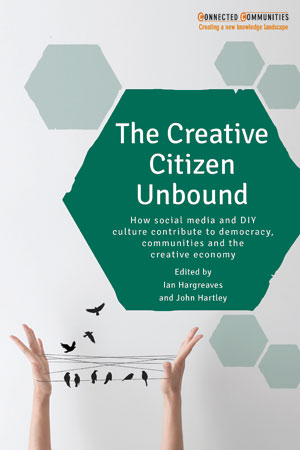 DIGWYDDIAD DINASYDDION CREADIGOL yn y STIWDIO FERTIGOL
Cyfle i gael gwybod pam mae dinasyddiaeth greadigol yn faes sy'n ennill ei blwyf
Nos Fawrth 26 Ebrill, 6pm - 7:30pm
Oriel VJ, Prif Adeilad, Plas y Parc, Caerdydd
Ers tair blynedd, mae tîm ymchwil o chwe phrifysgol wedi bod yn edrych ar effaith y cyfryngau cymdeithasol ar ddinasyddiaeth. Dan arweiniad Ian Hargreaves, Athro yr Economi Ddigidol ym Mhrifysgol Caerdydd, mae'r prosiect wedi ystyried astudiaethau achos mewn newyddiaduraeth gymunedol; cynllunio a dylunio, a rhwydweithiau creadigol. De Cymru, Bryste, Llundain a Birmingham oedd yr ardaloedd o dan sylw.
Mae'r digwyddiad hwn yn nodi lansiad y llyfr sydd wedi deillio o'r prosiect: The Creative Citizen Unbound: how social media and DIY culture contribute to democracy, communities and the creative economy. Ian a'r Athro John Hartley o Brifysgol Curtin, Awstralia yw cyd-olygyddion y llyfr. John oedd Pennaeth a sefydlwr Ysgol Newyddiaduraeth, y Cyfryngau ac Astudiaethau Diwylliannol Prifysgol Caerdydd.
Ar ôl ei lansio yng Nghymru, bydd lansiad arall yn Llundain yn Nhŷ'r Arglwyddi. Dewch i gwrdd â golygyddion, awduron, ymchwilwyr a phartneriaid y llyfr i gael gwybod rhagor. Bydd modd prynu copïau o'r llyfr am bris gostyngol o £15 yn y digwyddiad (talu ag arian parod yn unig).
Cynhelir y digwyddiad yn Oriel Viriamu Jones y Brifysgol. Caiff yr oriel ei thrawsnewid gan fyfyrwyr o Ysgol Pensaernïaeth Cymru sy'n cydweithio â Chaerdydd Creadigol. Bydd y prosiect Stiwdio Fertigol arloesol hwn yn cynnig cyfle i brofi ac ymgynghori ynghylch cynlluniau'r Brifysgol i ddatblygu canolfan greadigol bwrpasol. Drwy fynd i'r digwyddiad, cewch weld y man creadigol hwn a chael y cyfle i gael gwybod rhagor am Gaerdydd Creadigol a'i gynlluniau ar gyfer y dyfodol, a chyfrannu atynt.
Yn agored i bawb, ond dylech gadw lle drwy Eventbrite.
Cynhelir gan Rwydwaith Ymchwil Caerdydd Creadigol ac Ysgol Newyddiaduraeth y Cyfryngau ac Astudiaethau Diwylliannoly, gyda chefnogaeth Caerdydd Creadigol