About this Event
CI Studio #3: What makes creative data different?
This round table studio, led by Delic, will consider how Intellectual Property is handled in the creative process, where data is connected to a living being or estate, rather than historic/transferable information. How do you 'own' or 'capture' an idea, and how can a data-driven approach help to navigate issues of IP in this context?
The studio will start with lightning talks from industry experts covering the current state of play in the music industry with regards to copy right law, publishing, and the role of music labels in a rapidly evolving landscape.
The Delic team will showcase their progressive asset management platform, designed to help independent music labels, management companies and artists maximise the value of their catalogues beyond streaming services, before inviting participants to take part in a design thinking session led by Martin Sweeny of Unstable Creations.
Creative practitioners of all backgrounds are welcome to attend this informal session, which will consider how IP is defined by creatives, how collaborators distribute credit in a creative project, and how a data driven approach could be adopted to address issues that arise when creative IP is disputed.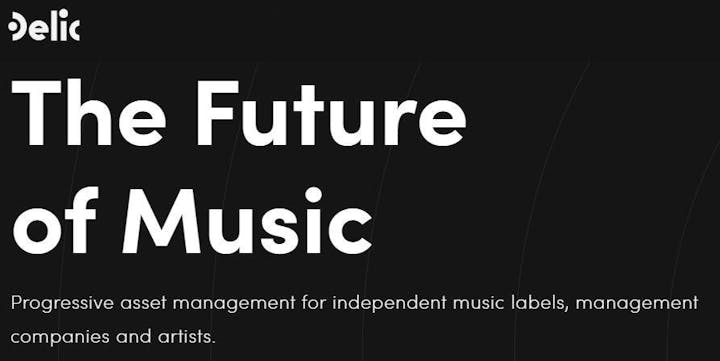 CI Studios are regular, informal events open to anyone working in the creative industries to meet, share experiences, and explore using data and data-driven technologies. They are part of Creative Informatics, a partnership across the University of Edinburgh, Edinburgh Napier University, Codebase and Creative Edinburgh, enabling individuals and organisations to explore how data-driven technologies can enhance their work.
To find our more about the Creative Informatics programme visit https://creativeinformatics.org/
#CreativeInformatics
About Creative Informatics
Funded by the Creative Industries Clusters Programme managed by the Arts & Humanities Research Council as part of the Industrial Strategy, with additional support from the Scottish Funding Council. The programme is part of the City Region Deal Data Driven Innovation initiative.
Data Protection
In providing your completed registration response you are giving explicit consent for us to use this data in our programme monitoring and reporting processes. The data is managed confidentially. Your data will be held and used by the Creative Informatics delivery team based at the University of Edinburgh with some data shared with our funders the Arts and Humanities Research Council and the Policy and Evidence Centre based at Nesta. Your data will only be reported in anonymous aggregated forms and will always be processed in accordance with the Data Protection Act 2018 and therefore also in accordance with the General Data Protection Act 2018 and therefore also in accordance with the General Data Protection Regulation (GDPR).