About this Event
CI Studios #2 - Scanning 3D Artefacts
CI Studio #2 will explore how creative practitioners can share their work in new ways using digital technologies. This session is open to anyone with an interest in learning more about 3D scanning of artefacts, sculptures and spaces.
Participants will be introduced to photogrammetry and affordable 3D scanning tools, provoking discussions on the creative possibilities digital media can bring to augment making practices.
• Try out photogrammetry techniques using smartphones and 3D scanning with a structure sensor.
• Explore the software needed for processing, experiencing and editing 3D images.
• Find out more about online tools such as Sketchfab , 3D printing and experiential techniques such as augmented reality (AR) and screenless projection, and the opportunities these offer to create new audience experiences.
Image credit: John Morrison & Daniel Tocik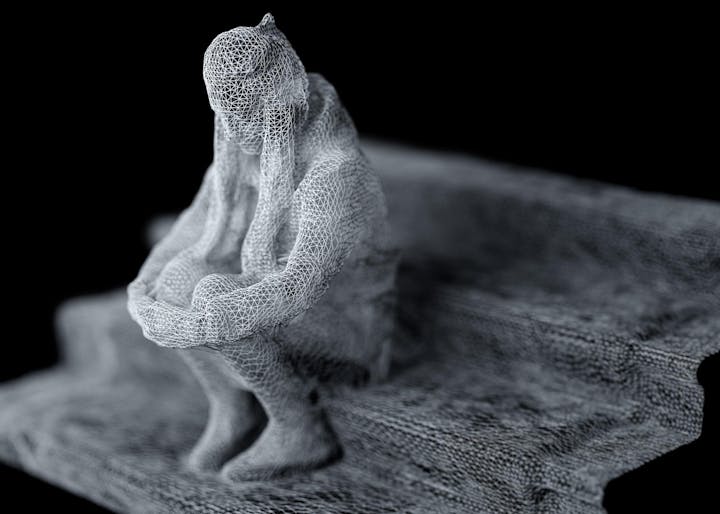 CI Studio #2 will be delivered by John Morrison and Inge Panneels.
John Morrison is an artist and practitioner with a passion for photography, sculpture and digital technologies. He is a lecturer on the Digital Media and Interaction Design programme at the School of Computing, Edinburgh Napier University.
Inge Panneels is an artist and academic whose studio practice engages with space and place.Her practice is rooted in materials, such as glass, wood, steel and concrete. She taught at the National Glass Centre, University of Sunderland, for over twelve years and is now part of the Creative Informatics team at Edinburgh Napier University.
Image credit: Kevin Greenfield

CI Studios are new regular informal events open to anyone working in the creative industries to meet, share experiences, and explore using data and data-driven technologies.
CI Studios are part of Creative Informatics, a programme looking at how innovative approaches and uses of data can transform, inspire, and inform creative work. We have exciting funded opportunities coming up over the next four years to support research and development for creatives in and around Edinburgh.
About Creative Informatics
Creative Informatics is a collaboration across the University of Edinburgh, Edinburgh Napier University, Codebase and Creative Edinburgh.
Funded by the Creative Industries Clusters Programme managed by the Arts & Humanities Research Council as part of the Industrial Strategy, with additional support from the Scottish Funding Council. The programme is part of the City Region Deal Data Driven Innovation initiative.
Find out more at https://creativeinformatics.org/
Data Protection
In providing your completed registration response you are giving explicit consent for us to use this data in our programme monitoring and reporting processes. The data is managed confidentially. Your data will be held and used by the Creative Informatics delivery team based at the University of Edinburgh with some data shared with our funders the Arts and Humanities Research Council and the Policy and Evidence Centre based at Nesta. Your data will only be reported in anonymous aggregated forms and will always be processed in accordance with the Data Protection Act 2018 and therefore also in accordance with the General Data Protection Act 2018 and therefore also in accordance with the General Data Protection Regulation (GDPR).