Losing loved ones in a time of pandemic-induced social isolation is hard. Four Bedford women working in the arts talk about their experience
About this Event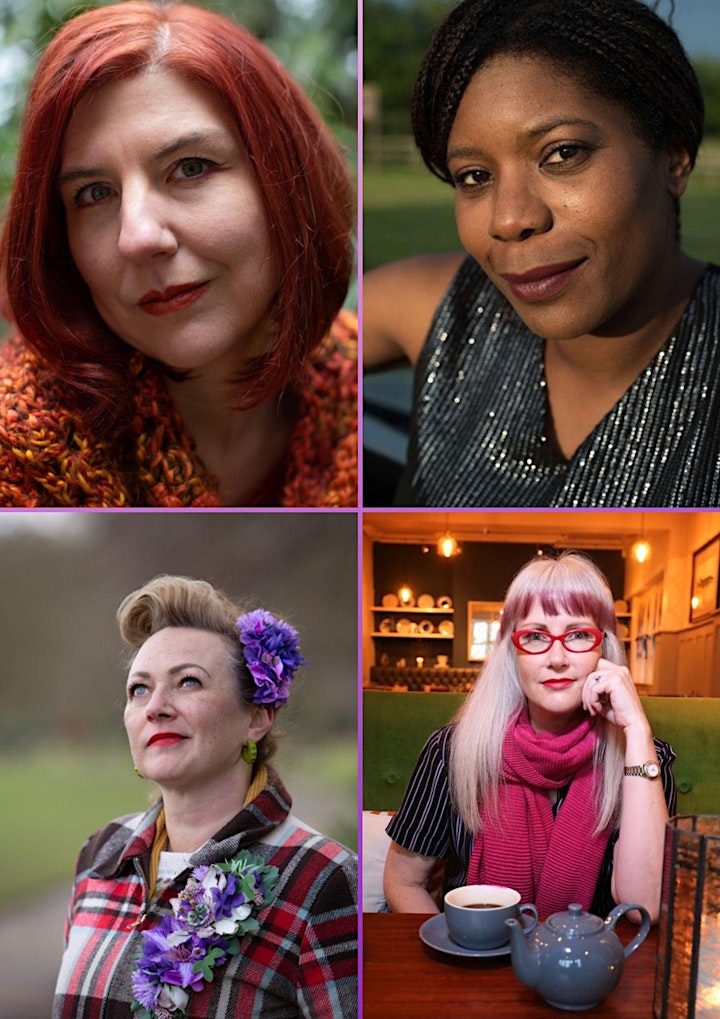 Four Bedford women working in the arts talk about the challenges and benefits of staying creative during the pandemic and how those intersect with gender and loss.
Content warning: in this talk we will be discussing loss and bereavement during the pandemic.
Johanne Hudson-Lett
Johanne Hudson-Lett has spent over 25 years working in the creative arts and media industry and is the Creative Director and founder of Just Purple Presents, a local arts organisation that supports raising the profile of Black ethnic and minority artists, creating local community projects/events and championing the need for accessible arts for all.
As a freelance creative, Johanne also works for; Revoluton Arts as a Young People's Producer; Music In Detention, music workshop leader at Yarl's Wood Immigration Removal Centre and Faith In Queen's Park as the musical director for Fusion Youth Choir. When time allows Johanne is also known to indulge in acting, writing and singing.
Johanne's love for the arts, especially theatre began after watching her first pantomime at the age of 5 which spurred her onto learning to play various musical instruments and later gaining a diploma in Musical Theatre at Mountview Theatre School. Johanne's role as the Bedford ambassador for the Philharmonia Orchestra allows her to promote their work to new and hard to reach audiences that may feel that classical music isn't made for them. 'Ars longa, vita brevis', 'art is long, life is short', so enjoy the journey
Sharon Edwards
Sharon Edwards is a Bedford based freelance costume stylist and supervisor who has worked for organisations such as Madame Tussaud's and the Panacea Museum in Bedford. She runs her own business 'Ruby Boo Makes' making bespoke floral pieces for vintage events, weddings and burlesque artists. Influenced by her parents successful antiques business, she has a strong passion for vintage fashion and homewares.
The past two years have involved her caring for both parents as well as her own young family. Following hospitalisation of both parents in 2019/20 she sadly lost her dad Tony. Since then Sharon and her brother Rob, alongside a part time carer, have been nursing her mum back to health.
Sharon has started to process her grief by creating a signature collection called 'A Daughter's Love' creating floral pieces inspired by her parents garden and dedicated to the memory of her dad.
Chiara Mac Call
Chiara Mac Call is an Irish/Italian photographer and socially engaged practitioner who has made Bedford her home. Chiara has has worked with St Mungo's, Routes - an organisation that offers mentoring and support to women in the asylum system - and locally with NOHAT, Bedford Creative Arts and Gigs for Kids.
Chiara's first solo exhibition was in 2019 in Cavtat, Croatia, following a residency at the Museum of Vlaho Bukovac. She has also exhibited in and curated an exhibition in London as part of the Common Land Collective, is a member of the Eagle Gallery and of the Made in Bedford n13 collective.
Prior to making the financially questionable life choice of becoming a full time photographer in her 40s, Chiara worked as a youth justice worker and civil servant, on issues including youth justice, diversity in policing and criminal law policy. She continues to be passionate about social policy, social change, inclusivity and the importance of representation, drawing on her past profession as a source of knowledge, experience and inspiration for the work she does now more freely as a photographer.
At the start of the first UK lockdown Chiara started going on daily walks where she would take doorstep portraits of local residents at their windows from a safe distance. The project is inextricably linked to the passing of her mother in May 2020.
Kris Wilkinson Hughes
Kris Wilkinson Hughes aka My Girl The River, The Frogs' Chorus and Wonderfuel Productions, is an American artist/songwriter/performer living in Bedford. She has worked within the Bedfordshire community over the years through her performances, workshops in schools and providing unique early years music sessions. She is also a Giggle Doctor, a specialist entertainer who works with children in hospital, currently through virtual visits.
My Girl The River which features Joe, Kris' husband, on bass and their daughter Ruby on ukulele and vocals released their second full length album to critical acclaim in May 2020, during lockdown and just two short months after the unexpected death of Kris' mom, Judy, back in America. A new song, Sad Dog (released February 26), represents Kris' processing of grief and loss and provides a cathartic experience for the listener. Kris hopes to record more new material for an album later this year.
Who are Women of Bedford?
Women of Bedford is a volunteer-led community organisation. We believe representation matters. The group came together when we realised that despite a wealth of strong, high-achieving women in our history, not one of the 11 existing statues in Bedford is of a woman. This is echoes a national problem.We are raising funds to install the first statue in the town which celebrates a woman and have picked educational reformer, suffragist and politician Amy Walmsley. However, the stories of the many and diverse women of our town cannot be summed up by one statue. For us Amy is a beginning, not an end. We are working with schools and community groups to raise awareness of the amazing stories and achievements of Bedford women, past and present, to educate and inspire the next generation.
Our 2021 programme of talks runs from 1-8th March, leading up to International Women's Day and highlighting the work, stories and achievements of some of the extraordinary women in Bedford today.
We hope to continue regular talks into 2021. If you have any thoughts on topics or people you would like us to make space for, please contact us. For now we invite you to join us, to connect and to celebrate.