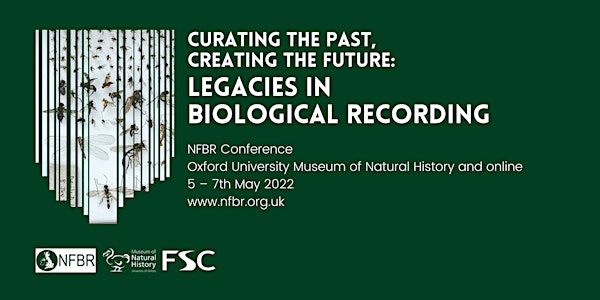 Curating the Past, Creating the Future: Legacies in Biological Recording
Location
Oxford University Museum of Natural History
Parks Road
Oxford
OX1 3PW
United Kingdom
Sales Have Ended
Ticket sales have ended
Sales have ended for this event. Presentations will be available after the event on NFBR's YouTube channel.
The National Forum for Biological Recording Conference 2022, an annual celebration of biological recording in the UK
About this event
Join National Forum for Biological Recording (NFBR) and fellow biological recorders at the University of Oxford Museum of Natural History (OUNHM) or online for our 2022 conference!
The theme this year is the legacies created by biological recording. From safeguarding historic specimen collections to dealing with personal photographs, we aim to cover various aspects of usefully preserving biological recording outputs for present and future generations.
The conference talks will take place at Oxford University Museum of Natural History on 5th & 6th May, and will be live streamed for online attendees.
This will be followed on Saturday 7th May by a field trip to Wytham Woods, a species rich site which has been maintained and researched by Oxford University for 80 years. You can learn about the site on their website.
Those attending in person will also get an opportunity for a behind the scenes tour of the Museum.
Many thanks to our partners, OUNHM and the Field Studies Council (FSC), who are helping us to deliver this event.
For those seeking accomodation, here are some hotel options:
There are also numerous B&Bs along the Abingdon Road and in Kennington.
The Museum is 1 mile / 20 min walk from Oxford Train Station. Those driving may like to use the Oxford Park and Ride system.
Please find the programme below.
Thursday 5th May Programme
13:30 In person registration
14:00 Welcome (Sarah Whild, NFBR)
14:10 From museum to Moth Trap: following in the footsteps of an Edwardian Entomologist (Katty Baird, National Museums Scotland)
15:00 Recording nature where it matters: The DECIDE Project for precision citizen science (Michael Pocock, CEH)
15:20 Comfort break
15:35 Supporting Science - A small project with a big ambition to smooth the flow of lepidoptera data (Rachel Conway, Butterfly Conservation)
15:55 Giving nature a number (Katie Cruickshanks, NatureMetrics)
16:15 DNA, genomes, and biological recording (Liam Crowley, Darwin Tree of Life)
16:35 Digitising the archive (Henrietta Pringle, TVERC)
16:55 Closing Remarks (Steve Prentice, NFBR)
17:00 Close of Day One
17:15 – 18:00 Museum Tour (in person only)
Friday 6th May Programme
09:30 In person registration
10:00 Welcome (Elaine Wright, NFBR)
10:05 You Can't Take It With You: the problem with personal collections and what to do with them (Sarah Whild, BSBI)
10:25 Recording the immature stages of British and Irish Butterflies (Peter Eeles, UK Butterflies)
11:15 Break (plus refreshments)
11:45 Waking the Dead: promoting and recording Carrion beetles (Ashleigh Whiffin, National Museums Scotland)
12:05 The role of photography in Biological Recording (Penny Metal)
12:25 Deep data sharing: proactively decolonising natural science collections (Rebecca Machin, Leeds Museums and Galleries)
12:45 Closing Remarks for online participants (Sarah Whild, NFBR)
12:55 NFBR AGM
13:15 Lunch
14:15 Workshop session (in person only)
● Workshop A: Making reference collections today (Zoe Simmons, UONHM)
● Workshop B: Curating photos for biological recording (Martin Harvey, CEH & Teresa Frost, BTO)
15:00 Workshop conclusions
15:15 Closing Remarks for in person participants (Teresa Frost, NFBR)
15:30 Close of conference