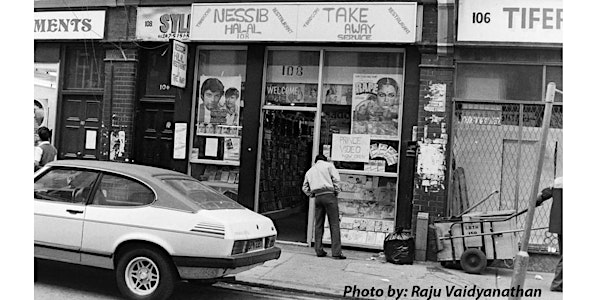 Currying to tunes: musical tales from Bengal in the curry houses of Britain
Currying to tunes: musical tales from Bengal in the curry houses of Britain By Budhaditya Bhattacharyya
About this event
Currying to tunes: musical tales from Bengal in the curry houses of Britain
By Budhaditya Bhattacharyya
Thursday, 7 October 2021, 6.30-8.30 pm
Dean Mahomed hailing from a Bengali Muslim family famously opened the Hindoostane Coffee House in London in the early nineteenth century, now widely considered to be the first 'Indian' restaurant in Britain. The following two centuries saw a remarkable rise in the demand for 'curry', thereby earning Brick Lane the title of 'UK's Curry Capital'. Historically, the majority of these restaurants branded 'Indian' have been ironically run by Bengalis, largely from Sylhet in Bangladesh.
In an attempt to unravel the deep connections of the gastronomic and auditory routes towards striking compromises between personal constructs of identity, and one, more economically feasible, this paper listens to the everyday sounds of these Bengali-run curry houses across Britain; anecdotes from chefs, waiters and customers; restaurant playlists; simultaneously not sidestepping print sources such as old newspaper advertisements, and ephemera.
Budhaditya Bhattacharyya is a PhD candidate at Durham University, researching musical histories of migration and citizenship between Bengal and Britain under the supervision of Professor Martin Clayton FBA and Dr Laura Leante, funded by a Durham Doctoral Studentship. Parallelly a Hindustani classical vocalist, composer and teacher, Budhaditya specialises in khayāl and has performed extensively in India, Britain, and continental Europe, Thailand and China; he is simultaneously expanding his repertoire in dhrupad, dhamār, sādrā, thumrī and Bangla ādhunik under the tutelage of Padma Bhushan Guru Ajoy Chakrabarty. His research interests range from music history, ethnomusicology, music iconography to ecocriticism of music and sound in the broad context of South Asia and its diasporas.