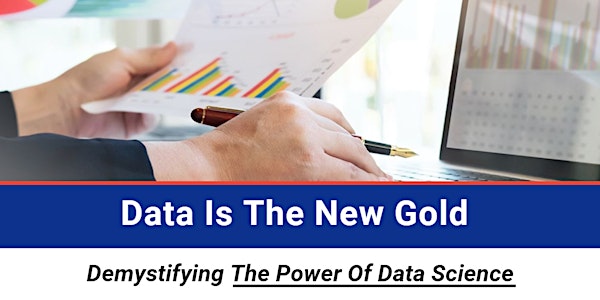 Data Is The New Gold: Demystifying The Power Of Data Science
Data is the new gold. Demand for data scientists is still growing fast, even in 2020 and will increase. Data skills can help you get ahead
About this event
Data Science is one of the highest paying fields in the world., both in terms of job salaries and startup investments. In fact, during the ongoing COVID crisis, data science and analytics related jobs have shown themselves to immune to the volatility seen in other fields and fairly recession-proof (Are Analytics Jobs Recession-Proof? ). In fact, data science and analysis jobs are expected to increase in the future. In this online-only episode, I am going to help you understand in detail how:
Data Science Skills Can Help Job-Seekers Stand Out In a Shrinking Job Market & Give Companies a Competitive Edge
However, harnessing the power of data science to deliver value and improve career prospects requires debunking some myths. I am going to debunk some of the most common data science myths holding you back:
Myth 1: You need to have a PhD in mathematics or computer sciences in order to learn and use data science
Reality: You can get started with practical data science implementation and move to building practical applications with basic mathematical and computer skills. Advanced coding and maths skills are not needed to embark on your data science journey.
Myth 2: Data Science is only used in a few specialized industries and has little public relevance/widespread appeal
Reality: AI is revolutionising fields ranging from medicine to surgery, to wildlife conservation to identifying fake news. Even Facebook uses data science and so does Google. Whatever your field, chances are data science influences it directly or indirectly. Learning AI can potentially help you retain your job or even get a promotion in this era of automation.
Myth 3: You need to return to university or spend a lot of money to gain practical data science skills
Reality: You can now master practical data science now without leaving your job. And you don't have to spend thousands of dollars to gain practical data science skills.
After teaching 64,000+ students practical data science and artificial intelligence, I am well-placed to provide you with the know-how and practical tools to chart your data science journey to a rewarding career. Remember, you are unique. Your data science journey is going to be unique. The know-how and guidance I provide will help you gain relevant and tangible data science skills by:
1) Gaining a robust and jargon-free knowledge of how data science links with other fields such as machine learning
(2) Learning the different fields where data science is used to help you understand your options
(3) Understanding the theory behind some of the most common data science-related terms
(4) Learning which tools are available to you to start with data science and tips on selecting the right learning paths for your needs.