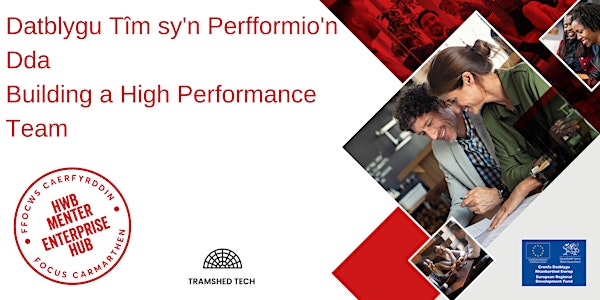 Datblygu Tîm sy'n Perfformio'n Dda | Building a High Performance Team
Datblygu Tîm sy'n Perfformio'n Dda | Building a High Performance Team
About this event
MI FYDD Y SESIWN HON YN CAEL EI GYNNAL YN SAESNEG AR-LEIN. Mae yna ddogfennau Cymraeg ar gael os oes angen.
THIS SESSION WILL BE DELIVERED IN ENGLISH ONLINE. Welsh documents are available upon request.
------------------------------------------------------
Gall cael diwylliant gwaith cadarnhaol gael dylanwad gwirioneddol ar berfformiad tîm. Os ydych chi yn y broses o adeiladu tîm a'ch bod eisiau i bawb weithio tuag at yr un nod, mae'r weminar hon ar eich cyfer chi!
Gyda chymorth hyfforddwr busnes profiadol, a pherchennog Natural Flow Consultancy, Kevin Mascarenha, byddwn yn eich helpu chi i gael dealltwriaeth well o'r prosesau sydd eu hangen er mwyn datblygu tîm sy'n perfformio'n dda.
Beth fydd dan sylw yn y digwyddiad?
Ar ôl y gweithdy hwn bydd cyfranogwyr yn gadael gyda:
Dealltwriaeth o'r seicoleg bersonol sydd ei hangen i fod yn aelod tîm gweithredol.
Ymwybyddiaeth o'r meddylfryd tîm sydd ei angen ar gyfer llwyddiant
Dealltwriaeth o sut y gall diwylliant gael effaith gadarnhaol ar berfformiad tîm
Ar gyfer pwy mae'r gweithdy hwn?
Unrhyw entrepreneur neu arweinydd mewn busnes sydd â diddordeb mewn dysgu sut i adeiladu tîm o'u hamgylch, gyda phawb yn gweithio tuag at yr un nod.
Cefndir y siaradwr
Mae Kevin yn hyfforddwr busnes profiadol sy'n arbenigo mewn datblygu sylfaenwyr, Prif Weithredwyr a'u timau o fusnesau technoleg newydd. Gan weithio fel ail ymennydd a phartner meddwl, mae'n herio safbwyntiau'n strategol a thactegol. Mae'n benderfynol o greu busnesau gwydn, addasedig y gellir eu datblygu ar gyfer y dyfodol, lle mae pawb yn cydweithio ac yn gwneud eu gwaith gorau er llwyddiant pawb.
******************************************************************************************************
Having a positive work culture can really influence team performance. If you're in the process of building a team and you want everyone to work to the same goal, this webinar is for you!
With the help of experienced business coach, and owner of Natural Flow Consultancy, Kevin Mascarenha, we'll help you better understand the processes needed to develop a high performing team
What will the event cover?
In this workshop participants will leave with:
An understanding of the personal psychology needed to be a functional team member
An awareness of the team mindset needed for success
An understanding how culture can positively impact team performance
Who is this workshop for?
Any entrepreneur or leader in business who is interested in learning how to build a team around them, with everyone working towards the same goal.
About the speaker
Kevin is an experienced business coach specialising in growing founders, CEOs and their teams of tech start-ups. As a second brain and thinking partner, he challenges perspectives both tactically and strategically. He's on a mission to build resilient, adaptive and scalable businesses of the future where everyone shows up to do their best work in collaboration for the collective success of all.
Mae Hybiau Menter Ffocws yn darparu gofod arloesol i ddeori a sbarduno busnesau newydd a'r rhai sy'n ehangu. Mae Hwb Menter Ffocws y Drenewydd a Hwb Menter Ffocws Caerfyrddin yn cael eu hariannu'n rhannol gan Gronfa Datblygu Rhanbarthol Ewrop trwy Lywodraeth Cymru
Mae'r digwyddiadau a ddarperir neu a gynhelir gan raglen Hybiau Menter Ffocws Llywodraeth Cymru am ddim ac yn agored i bobl o bob oedran, ond rhaid archebu lle ymlaen llaw. Mae'r niferoedd yn brin a disgwyliwn alw mawr am lefydd, felly archebwch yn gynnar i ddiogelu'ch lle.
Focus Enterprise Hubs are an innovative space to incubate and accelerate new, and growing businesses. Focus Newtown and Focus Carmarthen Enterprise Hubs are part funded by the European Regional Development Fund through the Welsh Government
Events delivered or hosted by the Focus Enterprise Hubs programme for the Welsh Government are free and open to all ages but must be booked in advance. Please be advised that numbers are limited and we expect high demand for places, so book early to secure your place.