Decoding Renaissance Paintings: Trinities, Symbols, and Pagan Origins
Event Information
Refund policy
Refunds up to 1 day before event
Eventbrite's fee is nonrefundable.
Decoding Renaissance Paintings: Trinities, Symbols, and Pagan Origins by Constantinos Biliouris
About this event
In this talk, artist Constantinos Biliouris looks closely at the figures of the Three Wise Men (also known as the Three Mages) in the Nativity scene as depicted by various Renaissance artists, including Leonardo da Vinci, Filippo Lippi, Botticelli, and others, while reflecting on contemporary theological and historical conditions. One of the aims of the presentation, timed to coincide with Advent, is for speaker and audience alike to explore and question inherent matters relating to artistic creativity in relation to these themes.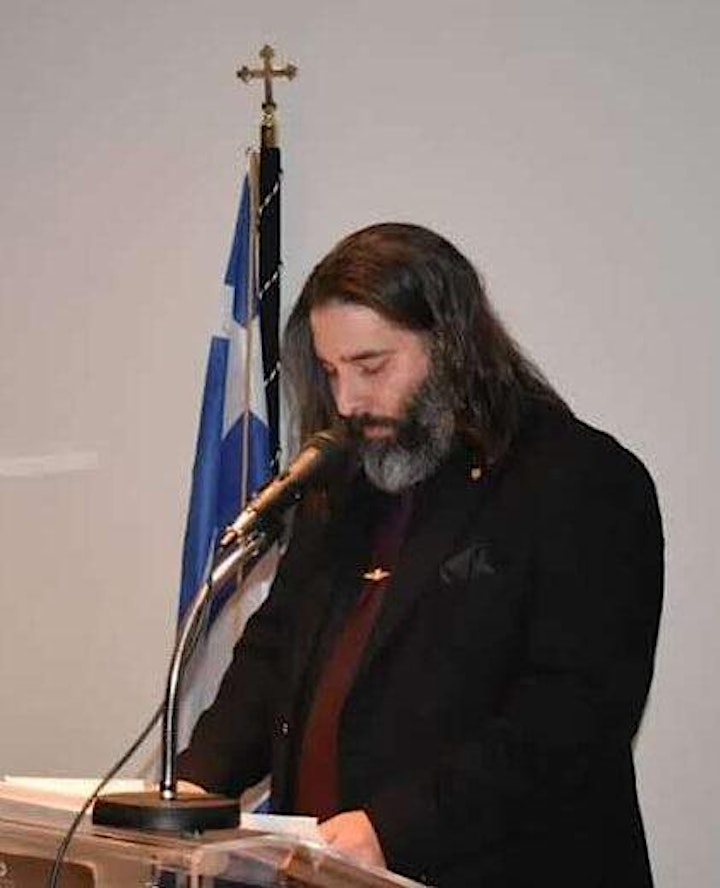 Constantinos Biliouris was born in Nea Ionia, Magnisia, in 1982. He has lived in Karditsa since 2010.
He studied Fine Art at the Florence Academy of Fine Art, graduating in 2004 with a specialisation in Artistic Anatomy.
He has presented 5 solo exhibitions and has participated in a number of group shows, two of which were hosted at the historic cafe of Futurist artists, «Giubbe Rosse», in Florence. His last solo exhibition was entitled «La Divina Commedia: Reference to Dante, an illustrative attempt ("Ionos" Gallery, Karditsa 2016). In 2017 he participated in a group exhibition of artists from Thessaly, Greece, on the theme of the "Republic" by Agenagoras Asteriadis (Municipal Gallery of Larisa).
In 2013 he founded the association "Action for Cultural Documentation in Education and Art – GRANA-ZEI Artech," based in Karditsa, under which he organises annual seminars, drawing and fine art, comics, and animation seminars. GRANA-ZEI's visual art team participated with an installation in an exhibition entitled "LOVELETTERS TO CHAOS" (mettamatic:taf Art space, Athens 2003).
Constantinos has studied the theory of medieval and Renaissance art, analysing symbols and their usage by the great artists of these periods (Archaeological Museum of Karditsa 2016, Diachronic Museum of Larisa, 2019).
Since 2021 he has been studying Philosophy at the University of Ioannina.
His interests include semiotics, symbols, and esoteric and mystical traditions. His paintings are allegorical and his art is infused with elements of metaphysics, alchemy, and the surrealist movement.
Since 2020 he has begun creating a number of ritual items, such as handmade Masonic aprons and other relevant works of art.
Several of his original paintings are on view and available for purchase from The Attic Gallery. See more>>
Date and time
Location
Refund policy
Refunds up to 1 day before event
Eventbrite's fee is nonrefundable.
Organizer of Decoding Renaissance Paintings: Trinities, Symbols, and Pagan Origins
Diogenes' Barrel is The Attic Gallery's online series of events exploring all things Greek: culture, the arts, mythology, folklore, philosophy, ancient and modern, and their intersection with the wider world. Curated by Dr Sasha Chaitow, the series hosts scholars, artists, poets, and practitioners sharing their thoughts, practices, and creative responses to modern quandaries in a Diogenean spirit. We use our platform to create a modern-day agora of respectful, challenging, meaningful exchange. Welcome to The Barrel in the Attic!