Are you an unpaid carer for a loved one with dementia or memory loss? Join our group & chat to others in Somerset in the same situation.
About this event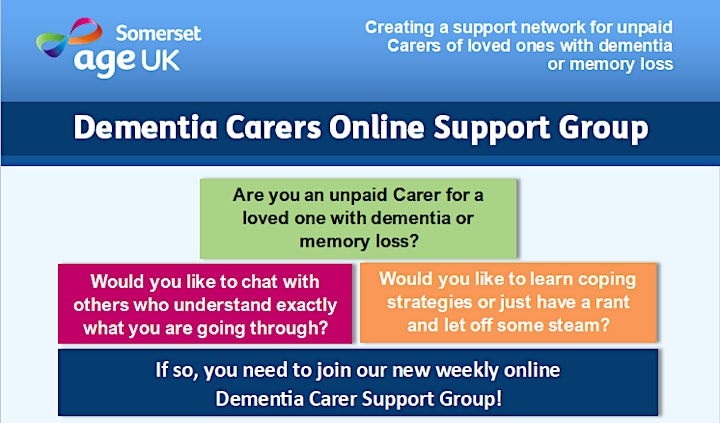 Dementia Carer Support Group
This is a new group which we hope will provide a useful Support network for anyone who is an unpaid Carer for a loved one with dementia or memory loss in Somerset or North Somerset.
No need to travel!
Sessions take place online (Zoom) every Wednesday at 3pm
Our online support group will be a safe environment where Carers can discuss any difficulties they may be experiencing as well as sharing their individual tips for coping to help others in similar situations.
A member of Age UK Somerset's Memory Connections team will be at each meeting to kick things off, but the topics discussed will be led by the group.
We would love to see you there.
Please note: Numbers for each session are limited and places must be reserved in advance using the ticket button.
Cost: We ask for a small donation to book your space and help to cover our charity's costs. Minimum £1, suggested donation £3. If this is a problem please contact us as we will be able to help infoandadvice@ageuksomerset.org.uk
Not sure about Zoom?
When you book your place you will receive confirmation from Eventbrite. You will then receive an email reminder closer to the session which will contain the Zoom link. A lot of people are now familiar with Zoom but many are not. If you need any assistance please contact infoandadvice@ageuksomerset.org.uk mentioning the Online Dementia Support Group.