Description
DRAW TO PERFORM 4 - A Two Day International Festival of Drawing Performance
Saturday & Sunday, 4-5 March 11:00-17:00 at Fabrica, Brighton's Centre for Contemporary Art.
Participating Artists: Yael Flexer - Flexer and Sandiland (UK), Marega Palser (UK), River Lin (Taiwan/France), Nelly Lewis (UK), Katrina Brown (UK), Ram Samocha (Israel/UK) and Paul Hartnoll (UK), Cesar Forero (Colombia/Canada) and My Johansson (Sweden/UK), Jan Rae (Australia), Fiona Geilinger (UK), Jasmin Schaitl (Austria), Echo Morgan (China/UK), Rossella Emanuele (Italy/UK).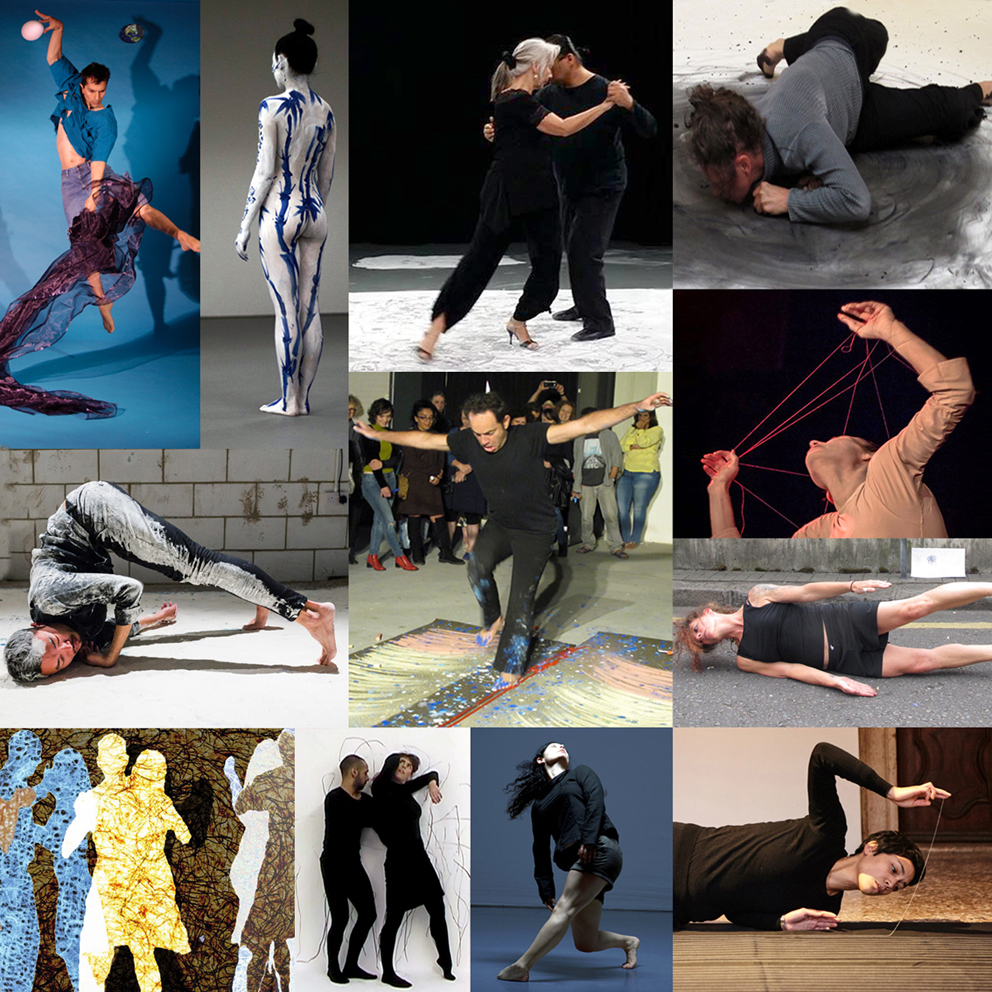 Day 2: Day of Workshops, Sunday 5 March 2017, 11:00 to 17:00
Day Two of Draw to Perform will include bookable workshops provided by international and local artists and performers. The workshops will explore drawing as performance and strategies for forming a dialog between drawing, dance, process and performance. Participants will draw live, share and discuss their outcomes and ideas. Workshops will target different groups and issues in drawing and performance and will allow the general public the opportunity to experience an art form first hand, work with and be tutored by some of the leading artists in their field. There's no experience required to join the workshops and all abilities are welcomed.
- Some materials will be supplied but if there are any materials of your own you would like to bring, please do.
- All workshops are suitable for all ages and for those with or without drawing/dance experience.
Please note Fabrica has limited space capacity and workshops have limited numbers of tickets. Book your tickets online now to reserve your participation in this event!
Schedule:
Workshop 1 (11:00-12:00) with Marega Palser (UK) http://www.mrandmrsclark.co.uk
MarkMaking/Moving - This workshop combines movement/dance and drawing.
Using improvisation and play, the workshop draws quite literally on the idea of taking a line for a walk.
It seeks to release us from our usual patterns of physical behaviour whilst releasing our inner scribbler.
This is NoT about drawing, more about what happens when we put a mark on a blank piece of paper. . . similar to when we put our body into a blank space.
Where does the mark take your body? Where does your body take the mark?
The workshop is suitable for all ages and abilities. Please DO bring an Open mind.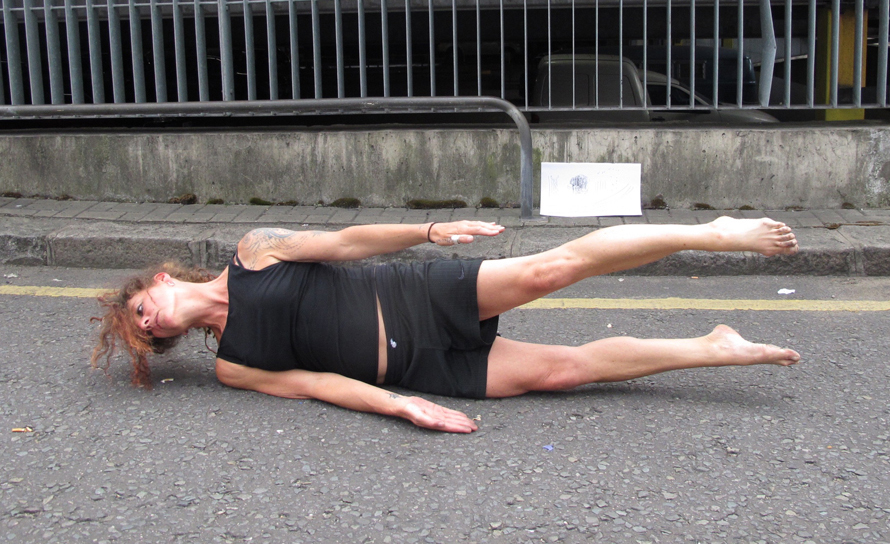 Marega Palser is a performance based artist living in Newport, South Wales. She originally studied at the London School of Contemporary Dance, and after graduating in 1985 went on to work with various theatre companies, as well as being a founder member of the dance theatre group Paradox Shuffle who were based in Cardiff. Since 2001 she has worked with Gareth Clark as one half of the performance duo Mr & Mrs Clark.
She has collaborated with many artists and musicians and has performed and made work for Gallery spaces and for outdoor events both in this country and abroad. In 1994 she went to Japan to study and work with Butoh dancer Tetsuro Fukuhara.
In 2008 she completed a BA Honours in Fine Art at Howard Gardens (UWIC) in Cardiff, and a year later received a Creative Wales Award to develop her art and performance practice.
______________________________________________________________________________________________________
Workshop 2 (12:15-13:15) with Nelly Lewis (UK) http://butomima.wixsite.com/mysite
Imagination is a great Painter - Discover the magic of mime and the power of drawing in an empty space.
Learn how to turn the invisible visible, dream images on an empty canvas, imagination is a great painter!
In this workshop we will have fun learning basic mime techniques that will allow participants to master mime numbers such as – The wall, playing with an imagery ball and much more. We will explore the trace of our movements in space and celebrate together the joy of colour and movement. Nelly Lewis's workshop is playful as it
- This workshop will appeal to all ages including children and family audiences -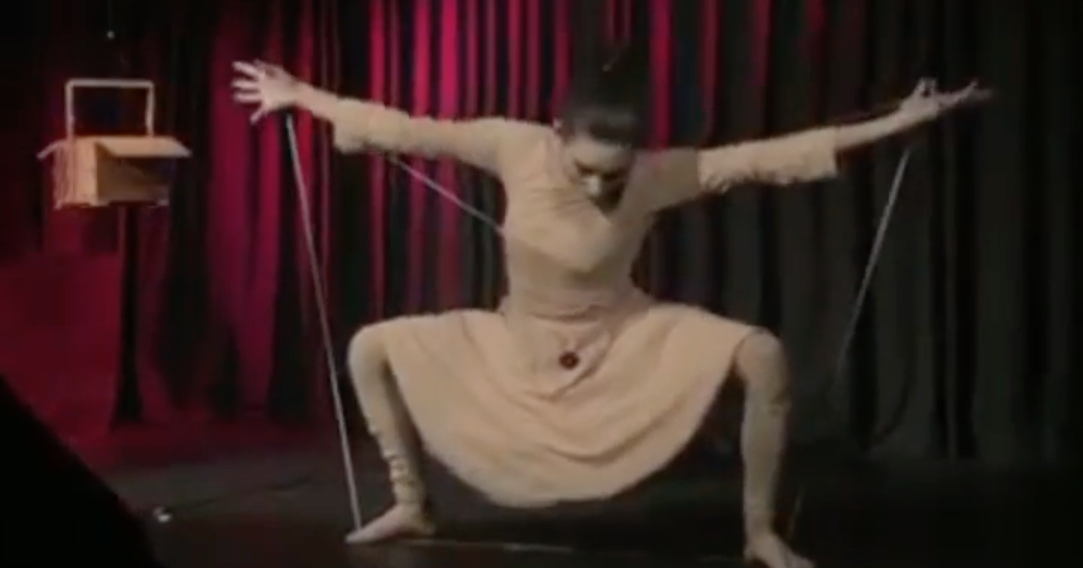 Nelly Lewis is an award-winning mime artist based in Brighton, UK. She works with the stage language she developed since 2004 - Butomima, which is a hybrid of mime and butoh, a language that is all about transformation, imitation and truth. Lewis mission is to bring her audience into a calm state where they can experience a catharsis. Nelly Lewis taking forward the amazing language of mime and opens new possibilities to contact with adults and children without words.
______________________________________________________________________________________________________
Workshop 3 (13:30-14:30) with Jasmin Schaitl (Austria) http://www.jasminschaitl.com/jasminschaitl/
The line in our body, the line in architecture -
In this workshop we will work with body awareness, space awareness and with creating visible and invisible relations between our physical body and its surrounding. We will work with thread and lines, as a major tool to collaborate, intervene and create in the space.
Jasmin Schaitl will be leading excercises to highten own awareness in a space, to connect yourself with a space, and to work with material to create remnants reflecting on the physical intervention in Fabrica.
This workshop can be attended by anybody, and does not require any experience in performance, movement or dance. Minimum age: approx 14 years.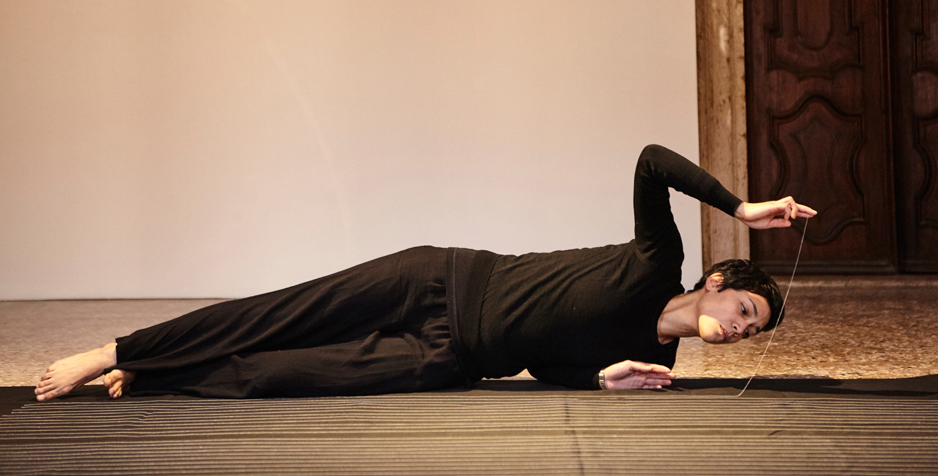 Jasmin Schaitl is an artist and performer with a visual arts background. Her work mainly includes performance, as well as video, photography, installation, and drawing; and focuses, primarily, on time, both actual and perceived, and the presence or absence of the body. Schaitl creates solo works, as well as collaborates with performing and visual artists to create interdisciplinary group performances. Her work consists of clear and minimal performances, which allow the performer, as well as the audience, a sharpening of focus to reveal details of the performance.
In 2015 she started implementing, focusing and working with choreography and contemporary dance from a conceptual perspective, mostly collaborating with dancers and sound artists. She has performed, exhibited, led workshops, and organized in Europe, the US, the UK, Central and South America.
______________________________________________________________________________________________________
Workshop 4 (14:45-15:45) with Jan Rae (Australia) http://www.janrae.com.au
Tango & the Art of Connection - The connection that is created between 2 people when dancing tango is a conversation without words. Can this dialogue be seen? Can we draw this connection? Explore movement and mark-making through an introduction to the romantic dance of tango.
- Dance experience is not necessary -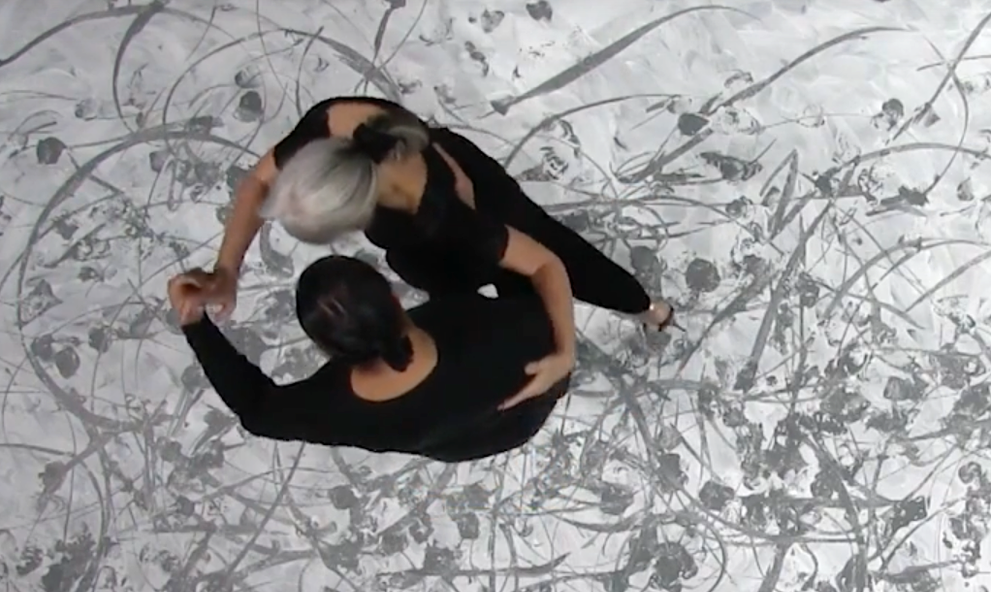 Jan Rae attempts to visualise the sensitivity and energy of the dance of tango and to portray a unique and very specialised interpretation of movement and sound. Rae's process-based artworks exploring the dance movements of her own feet when dancing tango. The feet maintain a connection with the floor whilst changing weight and it is this 'groundedness' of the free leg that connects with the music and gives the dance its own character and a patina of imagined patterns on the floor.
Jan Rae is the winner of the 2016 Drawing Prize Waverley. In 2016 Jan Rae completed her Masters level degree at UNSW Art & Design, Sydney.
______________________________________________________________________________________________________
Workshop 5 (16:00-17:00) with River Lin (France/Taiwan) http://www.riverperformance.com
Drawing Movements - Come to exercise your body to be a tool of drawing. River Lin will be leading a research-based movement practice considering the relationship between drawing and dance; combine it with element from Eastern performance, dance and movement techniques.
- This workshop will appeal to all ages including children and family audiences -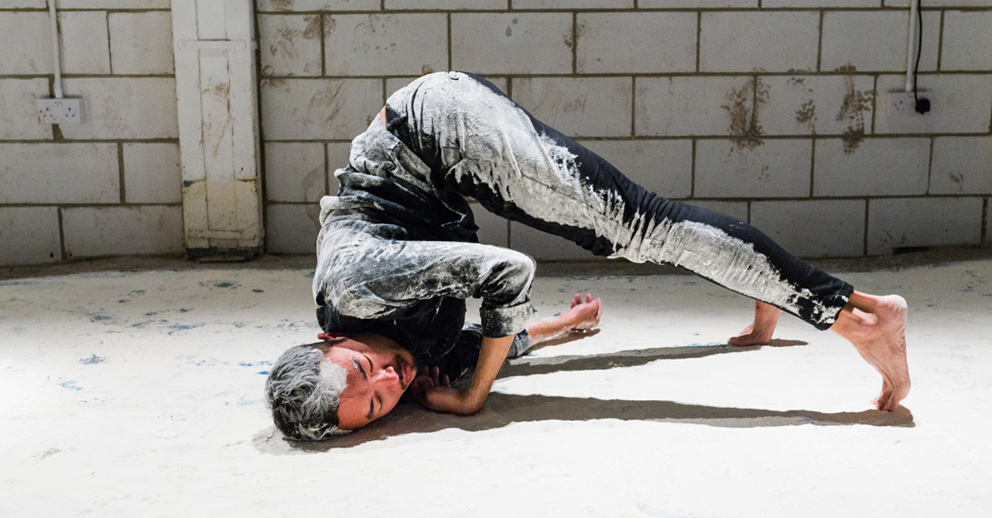 River Lin is an artist and curator working across the fields of performing and visual arts. River's work includes site-specific performance, live art, theatre, dance, and installation. River takes cultural studies as a point of departure, the everyday and ritualistic of specific cultural context, the relationship between body and the spatial-temporal, and the bodily form in between dance and performance art are centrally concerned in River's live art and curatorial practice. His performance work has been presented at festivals and exhibitions in Europe and Asia. His curatorial projects have been presented by the Taipei Performing Arts Center, Taipei Fine Arts Museum and more. He writes about dance and performance as the feature writer of Art Plus Magazine Taiwan. River currently lives and works in Paris.
FAQs
What is drawing performance?
Drawing performance is a stream of performance art in which artists create their artwork in front of a live audience while communicating with the viewers. Mark making in drawing performance is often a result of powerful physical gesture and body movement connecting elements of line, movement, space and time. This exciting art form often combines art, theatre and dance in a vibrant and dynamic way.
Drawing performance is gathering a larger fan base in the UK and its art is becoming more widely collected worldwide. The exciting performances appeal to art lovers, drawing fans and students as well as families (children are often encouraged to participate in the performances).
Are there ID requirements or an age limit to enter the event?
There is no age restriction.
What are my transport/parking options getting to the event?
By train: All trains to Brighton station.
By bus: All buses to Brighton city center.
Public parking available in the area.
What can/can't I bring to the event?
There is no need to bring materials for drawing. Materials for all workshops will be provided. No professional cameras please, but photos can be taken with mobile phones.
Is my registration/ticket transferrable?
Yes
Where can I contact the organiser with any questions?
websit: www.drawtoperform.com
email: drawtoperform@icloud.com
Where can I buy ticket for Day1 - Live Drawing Performances?
https://www.eventbrite.co.uk/e/draw-to-perform-4-day-1-live-performances-tickets-31380043555
https://www.eventbrite.co.uk/e/draw-to-perform-4-day-1-live-performances-tickets-31380043555