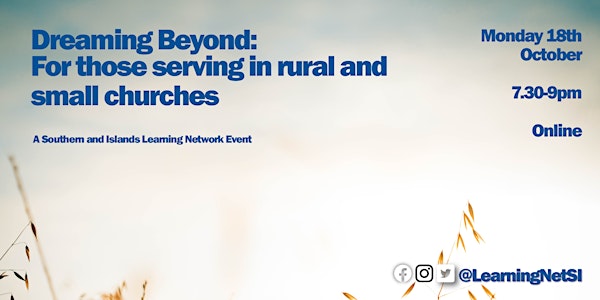 Dreaming Beyond – for those serving in rural and small churches
Church Governance - Friend or Foe of mission?
About this event
Church Governance - what does it mean? What does it allow us to do? How can it free us up? What does it stop?
We'll discuss these issues with Sarah Hulme, Rural Officer for the Methodist Church, Tizz Tizzard, Intergenerational Mission Enabler for the Southampton District, Rev Margaret Dudley and Rev Phil Wagstaff, Rural Officer for the South East District.
FAQs
How much does this training event cost?
This event is free to all.
I'm not a Methodist. Can I still come?
Of course! We're keen to support leaders from any denomination, lay or ordained, paid or volunteer.
I have not received joining instructions for this online event. Where can I get them.
Eventbrite sends out emails to all attendees with joining instructions for online training 3 times:
7 days before the event
2 days before the event
60 minutes before the event
This means everyone will receive information on how to access our online training at least once before the event starts. Please check your Junk or Spam folders in case the information is in this folder.
What are my transport options for getting to the event?
This event is happening online via Zoom. Please visit https://www.zoom.us/download once you have booked tickets to find the best way for you to access this event.
Where can I contact the organiser with any questions?
Feel free to get in touch, and one of our friendly team will get in touch with you.
Can I update my registration information?
Yes. Feel free to get in touch, and one of our friendly team will help you to make necessary adjustments.
Do you accept refunds?
This event is free, therefore we won't give refunds. We do, however ask that you make efforts to let us know if you cannot attend.
The name on the registration/ticket doesn't match the attendee. Is that okay?
We ask that the key person that made the booking is in attendance. Other attendees do not need to have their name attached. If this is an issue, please get in touch.
What is the Connexional Learning Network?
Learning and development across the Connexion is supported by the Methodist Church's Learning Network. This work has four aims:
nurturing and equipping Christ-like disciples
challenging and equipping mission-shaped communities
forming and equipping those who share in lay and ordained ministry
enabling and encouraging creative thinkers in an environment of scholarship, research and innovation.
The Southern & Islands Region of the Learning Network covers the Channel Islands, South-East, and Southampton districts of the Methodist Church. The region is supported by a team of Learning and Development Officers and a Regional Coordinator who work in partnership with many other people who have a heart and passion for learning and development in the context of mission and ministry.
http://www.methodist.org.uk/learning/network-regions/southern-islands-region