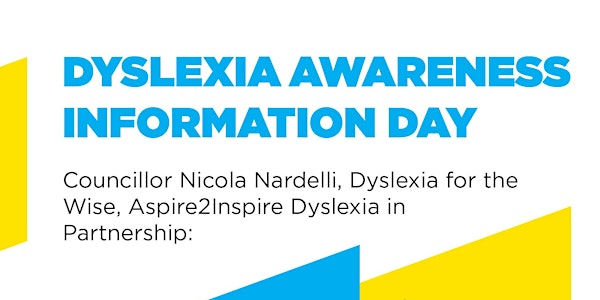 Dyslexia Awareness Information Day
Location
Civic Suite
Wandsworth High St
London
SW18 2PU
United Kingdom
Description
This event is for the community, professionals and anyone wanting to find out more about Dyslexia support and information available.
We will be hiring stands for the event, pricing at £50 per stand.
Stands confirmed: Sprint plus, Spectacles Coaching, Dyslexia for the Wise, Aspire2Inspire Dyslexia, Explore Learning Wandsworth, Equniox Communications, Branduin, TeachTapin, A2nd Voice, Urbis Business Consultancy, Wow Mums. Adult Dyslexia Organisation, Royal British Legion Industries, Access to Work,
Successful Dyslexic Guest Speakers: Nicola Nardelli (Former Mayor of Wandsworth) Melanie Hampton (Cllr of St Mary's Ward) Councillor Marie Hanson MBE (Founder of Storm Empowerment) David Millet (Equinox Communications and Branduin Business Support) Donald Schloss (Adult Dyslexia Organisation) Lucia Daniels (Wandsworth Family Information Services).
If you require further information, please don't hesitate to contact us:
Liz Kwarteng-Amaning
t:07752 358 261 e: liz@a2idyslexia.co.uk (to book a shand)
Zoe Joseph-Pennant
t:07449 413 000 e: info@dylexiaforthewise.org
THIS IS A FREE EVENT!
EVENT TIME: 10AM-6PM