East London Raspberry Jam 2nd Event

Saturday, 11 February 2017 from 12:00 to 16:00 (GMT)
Event Details
Welcome to the second East London Raspberry Jam.
Do you like programming and coding?
Want to learn about technology?
Do you have a Raspberry Pi, BBC Microbit or something elses and don't know what to do with it?
This is the event for you.
There will be a range of events to choose from. 
It will run from 12-4. Drop in for an hour or stay for the whole event.
Drop in activites with Scratch and Python - Try out some activities and get some help.
You will need to bring your own laptop for these.
You will also be able to try out Anik Overdrive and VR.
YOU WILL BE CONTACTED TO BOOK ONTO WORKSHOPS
There will be workshops on:
1. Raspberry Pi 
PieDucation
"As sweet as Raspberry Pie"
Learn Programming using Python (not a snake)
Learn how to use sensors, motors and LED lights
Design robots and cars
Make light displays
Have Fun :)
Learn what Raspberry Pi is (not an actual pie) and learn how to use it
2. DIY make your own toy bike
The lightning bolt (the toy motorbike) 
LET THE TECH AND FUN BEGIN
learn how to build a toy motorbike with simple steps 
know the vital rules of connecting electricity 
learn how to gather your own elements 
make lots of things out of scrap materials that actually work
3. 3D design (Will Run Twice)
The introductory class would feature an overview of 3d modelling and 3d printing using Form Z Free.

We'll cover basic concepts, tools and functionalities: Introduction to Object Modelling, Transformation and Deformation; Materials, Texturing and Rendering, Introduction to the 3d Printing process and online resources for future learning
4. Build a crumblebot 
Learn how to make a simple robot using a crumble control board.
Program it to move and sense its surroundings.
5. BBC Micro:bit
Use the block editor to make a pedometer.
Use the block editor to make a simple game.
YOU WILL BE CONTACTED TO BOOK ONTO WORKSHOPS
Final Schedule: (Please note time change on Crumblebot)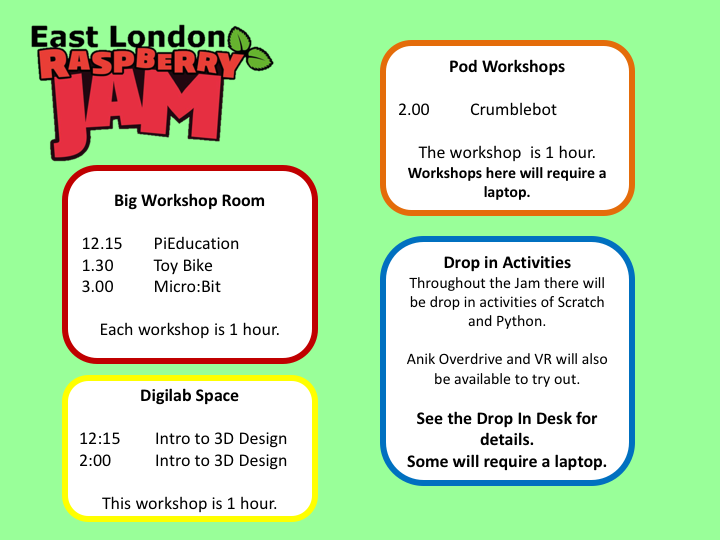 There will be opportunities for show and tell where you can show off and explain your tech projects to others.
(Please contact me if you have something you would like to show.)
Please check back for more details.
Thanks to Digilab for helping us with the space and pi-top for the use of there equipment.
·     
When & Where

Barking Library
Barking Learning Centre
2 Town Square
IG117NB Barking
United Kingdom


Saturday, 11 February 2017 from 12:00 to 16:00 (GMT)
Add to my calendar
Organiser
Nic is a self confessed IT geek.
He is a class teacher, Head of Computing at his school, Primary CAS Master Teacher, CAS Hub leader, a Raspberry Pi Certified Educator and works as an educational consultant for 3BM.
He loves to explore different ways to teach programming and is a massive fan of physical computing and robotics. In the past he worked alongside the education team in Redbridge as a AST for ICT, running training, supporting schools and writing curriculum. He has been lucky enough to speak at a number of conferences over the years about his work with robots, physical computing and the application of Games Based Learning in the classroom. He is is eager for more teachers to learn about Computing and how to teach it effectively in their lessons.
Follow him @duck_star on twitter and he has a blog at nicholashughes.blogspot.com.