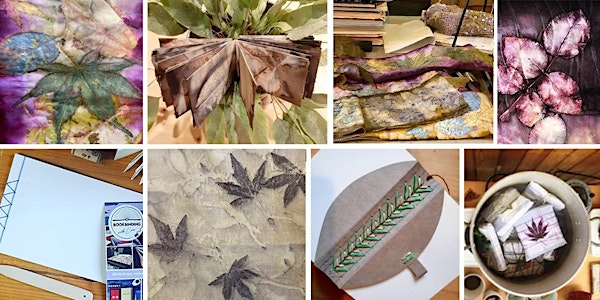 Eco-print, Dye & Stitch: a creative workshop weekend
Eco Printing and Bookbinding extravaganza with Scottish Bookbinder Cass Barron & French textile Artist Elisabeth Viguie-Culshaw
About this event
Our base for the two amazing days will be the creative bubble we have set up for you in our online event. For the first day we will virtually share Elisabeth's cosy studio in the West end of Glasgow and for the Bookbinding Cass's quirky container studio in Leith Edinburgh... You will be working from home and we will all keep creative and safe in the Covid time... but no one will stop us being creative and sharing good time together.... and making beautiful things.
Creating a safe and comfortable environment is a top priority for us when running workshops, so while we are unable to do this physically just now we cant miss out in running our regular collaboration because Cass and Elisabeth have been working on new techniques they want to share with you without delay ...
After some careful thought, we have come up with this online workshop. Via the Zoom platform we will create our very own "creative bubble" to engage with you, allowing you to learn and create in your own space. We have worked hard at making it easy for you to experiment with the techniques we will share with minimum disruption and in the comfort of your own home.
We will Eco Print and Book-bind and create a wonderful 3 books and some paper while setting up with you some techniques you can keep on using at home at a later stage.
If you are in the UK you will receive most ingredients in a neat starter pack included in the cost of this workshop but if you leave overseas you will receive a convenient list of material and equipment to organise so you can take part.
How this online workshop will work:
Ecoprinting with Elisabeth -
At 10.00 (British Summer time) on Saturday 1st May via Zoom, Elisabeth and I will welcome you to the workshop and show you what you will be making. Elisabeth will then lead an 'Eco Print' workshop aired from her home studio - this will be a mix of demonstration, inspiration sharing, tips and an opportunity to ask questions.
She will share with you two of her newly developed Eco Printing techniques onto paper and fabric using Tannin, Iron and Sapan wood. You will be able to work from your own space during the day and in addition to the kit you receive will only need your kitchen cooker and a cooking pot. The session will last 3 hours and then we will take a break and to give you time to complete your own eco papers/fabric that will go on to be used in your books.
The video recording of this session will be share after the workshop so if you are overseas and its an unfriendly time you can join in later :)
We will meet again the next day for a one hour "Show and tell", during this session you will show off your progress and ask Elisabeth any last technical questions.
Following the morning session you will be sent a recording of the Zoom event so you can return to it and work through some of the more complex techniques in your own time, along with a PDF file including step-by-step instructions of the process.
Bookbinding with Cass -
Following the Zoom event on 1st May you will receive a link to 3 bookbinding tutorials that have been specially recorded for this workshop by Cass. These will show you, step-by-step, how to transform your eco printed fabric and papers into a series of hand-made books.
The techniques covered include - an A5 leaf-inspired exposed stitch nature journal, a folded artists book and Japanese Stab style sample book which you can use to record your printing experiments. The bonus of these bookbinding tutorials being pre-recorded is that you can really see the detail and work through them at your own pace.
Sharing Event -
On Sunday 16th May between 4pm and 6pm, Cass and Elisabeth will host a 'Ecoprint & Bookbinding' sharing event over Zoom. This will be an opportunity to find out more about both our work, ask questions and share your work with the group (if you want to). Seeing other peoples work can be a great source of inspiration and we can't wait to see what you will produce!
Materials / tool kit -
To enable you to fully participate in these workshops, you will be sent a materials/tool kit containing everything you need to experiment with the techniques outlined above and make your three books, plus a list of the "kitchen" equipment you need for the ecoprinting and advice on what leaves to collect - The Spring leaves are really strong they are full of tannin so the iron/tannin technique should show great results!
We'll also pop some tea and biscuits in there to fuel your creativity! The kits will be posted out at the end of April so you have them ready for the first session.
This weekend retreat builds on our popular day-long and week end long collaborative workshops but has been designed to allow more time and space to introduce and experiment with a range of eco-printing techniques, binding methods and materials.
From this workshop "weekend" you can expect -
Passionate and friendly tutors with long-term expertise in their field
The chance to experiment and get creative without judgement (we believe in creativity for everyone)
A body of prints on cloth and papers for you to keep
Several hand-bound books to take away
An eco-print and bookbinding starter kit so you can continue your creative play at home (if you are in the UK) and some easy tools to get your Eco Printing work going.
A wealth of information on where to source materials and where to go for further inspiration
For more info about Cass and Elisabeth, see below. If you have any questions please do not hesitate to get in touch
Elisabeth Viguie Culshaw - Textile artist and Eco-upcycler - "I start the day with a walk in the park where I pick up my supplies (leaves) before returning to my studio where i find the essentials needed to create my art...via my local B & B where I will be given discarded bed linen to up-cycle. I love 'remaking' and mixing old with new, gathering the elements of my creations from well loved objects. My artistic practice finds its roots in a conflicts between ecology and industrial waste. Through my creations ephemeral botanical beauties gain an eternal lease of life and join forces with discarded objects to become desirable pieces.
My work find its sources in traditional well executed crafts techniques associated with witchcraft. Hot cauldrons, needles and thread and sand paper are side by side on my worktable. In my personal work I am forcing a relationship and a personal narrative between nature and nurture.
My work takes place in the circular local economy, I remake discarded objects drawing on botanical witchery and industrial texture building. For those who want to learn my craft I have endless passion and skills to pass on.
Cassandra Barron - Bookbinder - "I began making my own sketchbooks while studying Fine Art Sculpture at Art School but have really honed my bookbinding practice over the past 7 years. I create artists books, as well as undertaking commissions, which include visitor books, wedding guest books, travel journals, photo albums and bespoke sketchbooks, for a range of clients and have also developed a dynamic programme of bookbinding and mark making workshops.
I use and teach traditional bookbinding techniques, which I combine with more contemporary processes, using everyday materials and found objects to create one-of-a-kind books. I particularly like the challenge of working with scrap and pre-loved materials, giving them a new lease of life by transforming them into unique and usable books.
I am continually inspired by nature, more specifically the ephemeral quality of water, flora and fauna, which I incorporate into my books through processes such as relief printing, pyrography, cyanotype and eco-dying. I get a real buzz out of sharing my skills and passion for bookbinding and deliver workshops both independently and in collaboration with artists from other disciplines, as well as community organisations, zero wate charities and art institutions. Scotland, and Edinburgh in particular, has a rich history of bookbinding and papermaking and I am passionate about keeping this craft alive and relevant – inspiring others to experience the sense of satisfaction that comes with creating your own hand-bound books."