Description
The conference will be the inaugural Irish Ecological Association event and will be held from 24th-26th November 2016 in IT Sligo. The conference aims to increase visibility of the discipline of ecology in Ireland and raise the international profile of the Association. It will provide an opportunity for networking among ecology researchers and practitioners based in Ireland or with an interest in Irish systems. It will also provide a forum for dissemination of latest research developments in ecology and evolution.

Early bird registration is now closed.

---
Abstract submission
Oral and poster presentations

*** Deadline has now passed***
We are accepting abstract submissions for both oral and poster presentations. All abstracts will be peer-reviewed. Where demand for oral presenations is high we may offer poster presentation slots to some delegates who request an oral presenation slot. Please indicate if you wish to be considered for an oral or poster presentation in the email heading. To submit an abstract email IrishEcologicalAssociation@gmail.com by October 7th 2016. Abstracts should be no more than 200 words and should follow the format below. Please use font Calibri, font size 11, single spaced and justified text.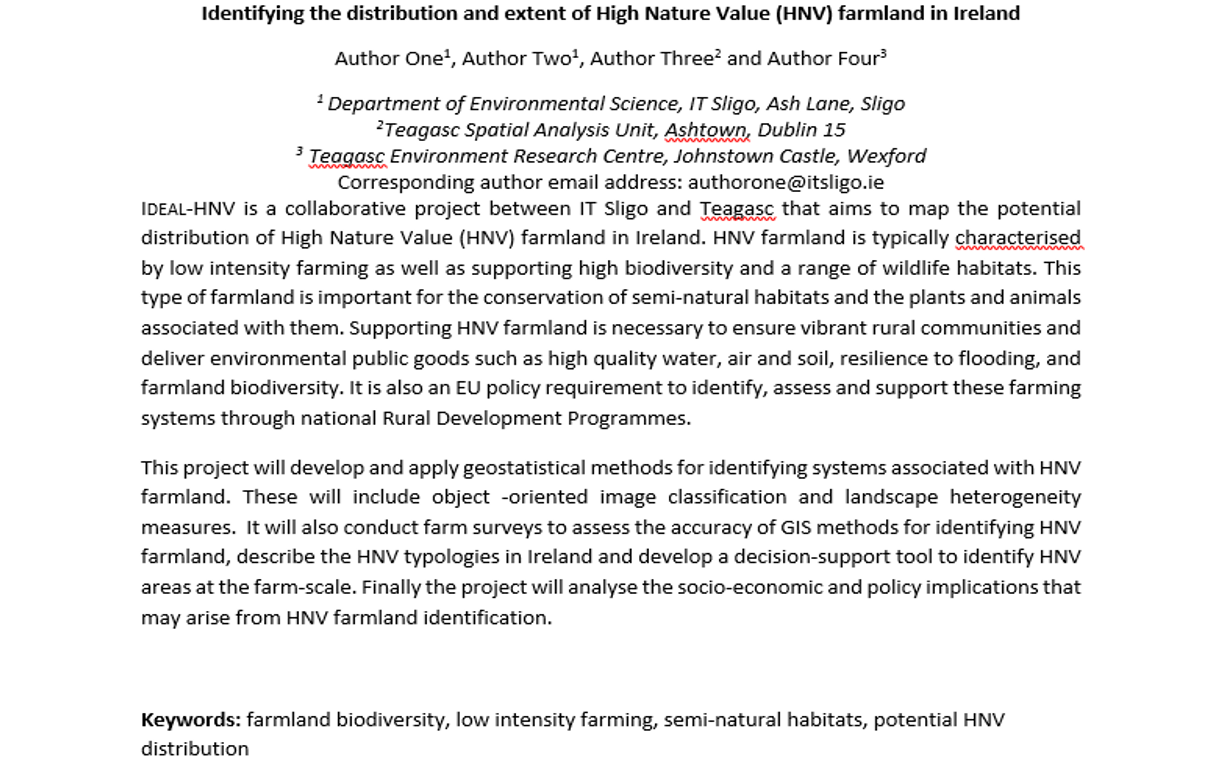 We will get back to people on whether their abstracts have been accepted for oral or poster presentations by the end of October.
Poster and talk guidelines
We received a high volume of abstract submissions for the conference. To allow as many people to present their research as possible we have offered oral presentations in shorter slots than usual but it was still not possible to accommodate everyone. We will have a very exciting poster session also. We feel that this format will allow for conference delegates to get a flavour of the depth and breadth of ecology and evolution work and research ongoing in Ireland at present.
For talks- Powerpoint presentations musy be uploaded in advance of the beginning of your session.
There will be prizes awarded for best student speaker
For posters-Please provide A0, portrait orientation posters
There will be prizes for best student poster
Registration

***No refunds can be issued after November 10th***
Keynote Speakers
We are very pleased to present the following keynote speakers who will present an insight into their own research areas.
Dr Tom Doyle

NUI Galway

Broad-scale mapping to venom extraction: the different scales of jellyfish ecology

Professor Jane Memmott

University of Bristol

Restoration ecology: theory, field experiments and implementation

Professor Ian Montgomery

Queens University Belfast

Natives and invaders: ecological impact of Ireland's introduced mammals

Dr Dara Stanley

NUI Galway

Pesticides and pollination; investigating the impacts of sublethal pesticide exposure on bee behaviour
Programme

The provisional programme can now be viewed below

Workshops
A number of workshops will be on offer over the course of the conference including
Ethics in Research
Getting Published
Challenges and rewards in applied ecology
Academic and Alternative Careers
Science Communication
These workshops are open to everyone but will be particularly focused on postgraduates and early career researchers.

Where to stay

The Clarion Hotel is right across the road from the IT and will have a special rate for conference delegates for Thursday and Friday night. Call the venue and mention the Ecology and Evolution Ireland conference when booking to get the best rates.
Single occupancy €69 B&B per night

Double/Twin €89 B&B per person per night
Triple rooms €40 per person per night B&B

http://www.clarionhotelsligo.com/
The Glasshouse Hotel in Sligo town will be the venue for the conference dinner and is a 20 minute walk from the IT.
Double room €119 B&B per room per night if you book for both nights

Double room €129 B&B per room per night if you book for one night only

Some triple rooms also available
There are lots of other accommodation options in Sligo town that would be within walking distance of the IT. Check out http://www.sligotourism.ie/
Conference dinner

The conference registration fee includes dinner in The Glasshouse Hotel on Friday night. We will have a three course meal with a strong emphasis on locally sourced and seaonal food. This will be an excellent opportunity to see Sligo town while networking with your Ecology and Evolution colleagues. Email sullivan.caroline@itsligo.ie if you have any dietary requirements. One of the meals on the menu will be vegetarian. Also, do let us know if you won't be able to attend the dinner to reduce any potential food waste.

Organising committee
The Ecology and Evolution Ireland conference national organising committee members are Prof Yvonne Buckley, Trinity College Dublin; Prof John Quinn, University College Cork; Karen Cogan, University College Cork; Prof Ian Montgomery, Queens University Belfast, Alain Finn, Trinity College Dublin and Dr Caroline Sullivan, IT Sligo.
The local organising committee members are Dr Frances Lucy, Dr Dolores Byrne, Dr James Moran, Mr Declan Feeney, Dr Yvonne Lang, Dr Caitriona Maher and Mr Julien Carlier, IT Sligo and Dr Gesche Kindermann, NUI Galway.

Please email irishecologicalassociation@gmail.com or sullivan.caroline@itsligo.ie with any queries
Dr Tom Doyle

NUI Galway

Broad-scale mapping to venom extraction: the different scales of jellyfish ecology

Professor Jane Memmott

University of Bristol

Restoration ecology: theory, field experiments and implementation

Professor Ian Montgomery

Queens University Belfast

Natives and invaders: ecological impact of Ireland's introduced mammals

Dr Dara Stanley

NUI Galway

Pesticides and pollination; investigating the impacts of sublethal pesticide exposure on bee behaviour