Description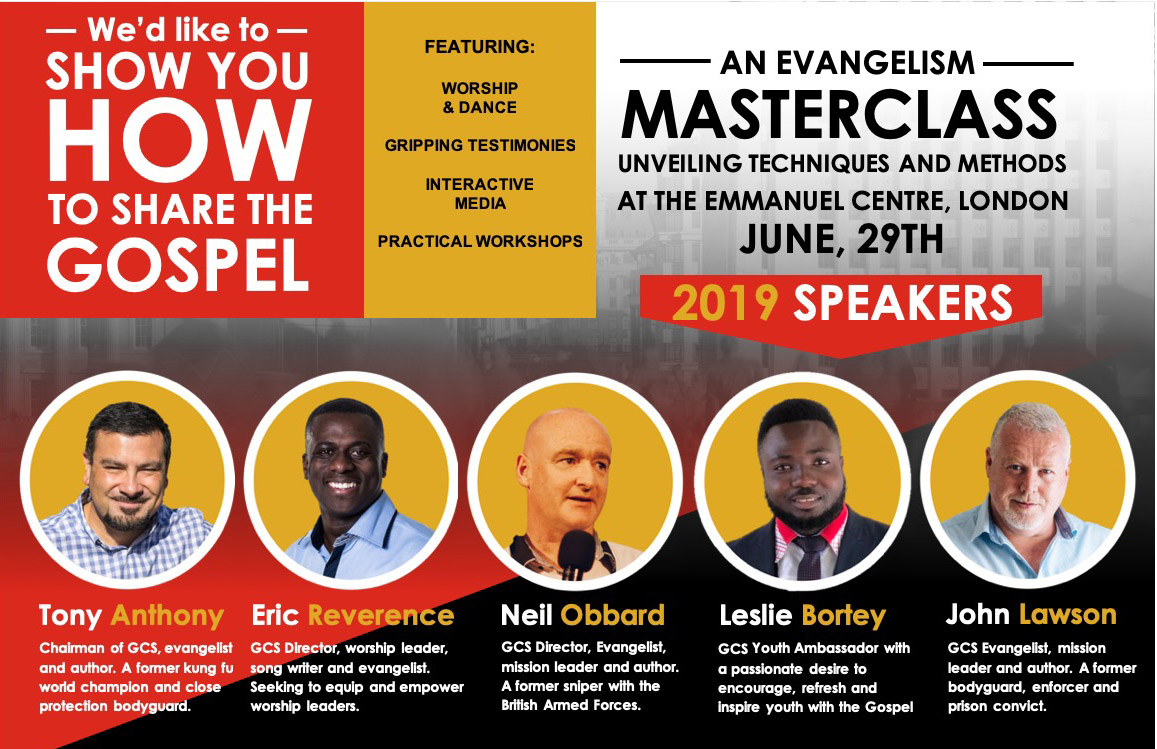 Engage 2019 is an all-age conference that will enable people develop a fresh vision for the lost; build a deeper understanding of the Gospel; and gain effective methods to evangelise.
Dynamic and practical evangelism training by experienced international evangelists. We will explore a wide range of contemporary issues relating to spreading and presenting the Christian faith across different cultures. We will show you imaginative, powerful and effective methods of evangelism that make a practical difference in the real world. Combining biblical training, practical experience and missionary strategy, we help students of all skill levels, backgrounds and ages develop a fresh vision for the lost and equip them with the practical tools needed to fulfil that vision.
FEATURING:
WORSHIP & DANCE
GRIPPING TESTIMONIES
INTERACTIVE MEDIA
PRACTICAL WORKSHOPS
A day to inspire and equip worship and encounter the presence of Jesus Christ.
COME AND BE:
FIRED UP TO WORSHIP...
FIRED UP TO TESTIFY...
FIRED UP FOR MISSION...
FIRED UP TO DO GREAT THINGS...
JOIN THE GOSPEL REBELLION...
---
SIN REBELLION
There is so much pain, brokenness, evil, and death in the world because there was a SIN REBELLION against God Himself. We see in Genesis how the first humans chose to rebel against God. Out of pride and selfishness, they went against His will. The ripple effects are more profound than we can fathom. All that is wrong with the world can be tied directly back to this event - all of it, even death itself is a result of this rebellion. And the most important result was separation from God. Broken relationships with other humans and with creation are significant, but a broken relationship with our Creator is eternally devastating.
GOSPEL REBELLION
The good news is that the story does not end there, because God loves the world He created. In the most faithful, pure, self-sacrificing way, He loves humans. And it is because of this love that God is on a mission. Ever since the rebellion of the first humans, God has rebelled right back at sin by being on a mission of love to make an eternal stand against sin, redeem humans and restore His creation.
Of course, the word "rebellion" has somewhat of a negative connotation, because of the evil ways people have rebelled throughout history. It is important to recognise that Jesus lived a rebellion free life. He lived the way humans were made to live. And the forces of evil threw everything at Him that they could. They even killed Him on a Cross. Jesus died, but this too was not the end of the story. On the third day after He died, He was raised back to life. Absolutely incredible! It was through the death and resurrection of Jesus that God defeated evil and death - and in so doing rebelled against evil. This was God's GOSPEL REBELLION, and one day, the entire universe will be made right, completely restored to peace and goodness and beauty. The lion and the lamb will lie down together. There will be no more tears or mourning or death. God will be in His rightful place as King over all. It will all be the way God intended it to be. And this will all happen because of the life, death, and resurrection of Jesus.
He has stood up against evil and defeated it, and today He invites all humans from every tribe and tongue and nation into a restored relationship with God. You can have the selfishness, pride, and evil in your life completely forgiven because of the death of the completely good one on that cross. You can have the hope of true life the way God designed it. You can be made new, from the inside-out. Jesus has completely paid the penalty for our rebellion. And He now requires that we abandon our own agendas in life, believe in and follow Him. Rebel against the sin in your own life, by refusing to sin any more. He has paid the price for our participation in the evil of the world. And He offers us new life. This is the story. It is a story of hope. It is a story of redemption and restoration. It is a story that has changed lives for generations. It is the GOSPEL REBELLION.
This mission to bring good news into an evil world was truly a GOSPEL REBELLION against evil - and we continue that today as we bring the good news to the lost.
Ephesians 6:10-20
The Fight against Evil
Finally, let the mighty strength of the Lord make you strong. Put on all the armour that God gives, so you can defend yourself against the devil's tricks. We are not fighting against humans. We are fighting against forces and authorities and against rulers of darkness and powers in the spiritual world. So, put on all the armour that God gives. Then when that evil day comes, you will be able to defend yourself. And when the battle is over, you will still be standing firm. Be ready! Let the truth be like a belt around your waist and let God's justice protect you like armour. Your desire to tell the good news about peace should be like shoes on your feet. Let your faith be like a shield, and you will be able to stop all the flaming arrows of the evil one. Let God's saving power be like a helmet, and for a sword use God's message that comes from the Spirit. Never stop praying, especially for others. Always pray by the power of the Spirit. Stay alert and keep praying for God's people. Pray that I will be given the message to speak and that I may fearlessly explain the mystery about the good news. I was sent to do this work, and that's the reason I am in jail. So, pray that I will be brave and will speak as I should.
---
---
Visit the GCS website
DOWNLOAD EASY DIRECTIONS TO GET HERE
http://www.emmanuelcentre.com/emmanuelcentre-find-us-map.pdf